Free and Cheap Afterschool Programs in Boston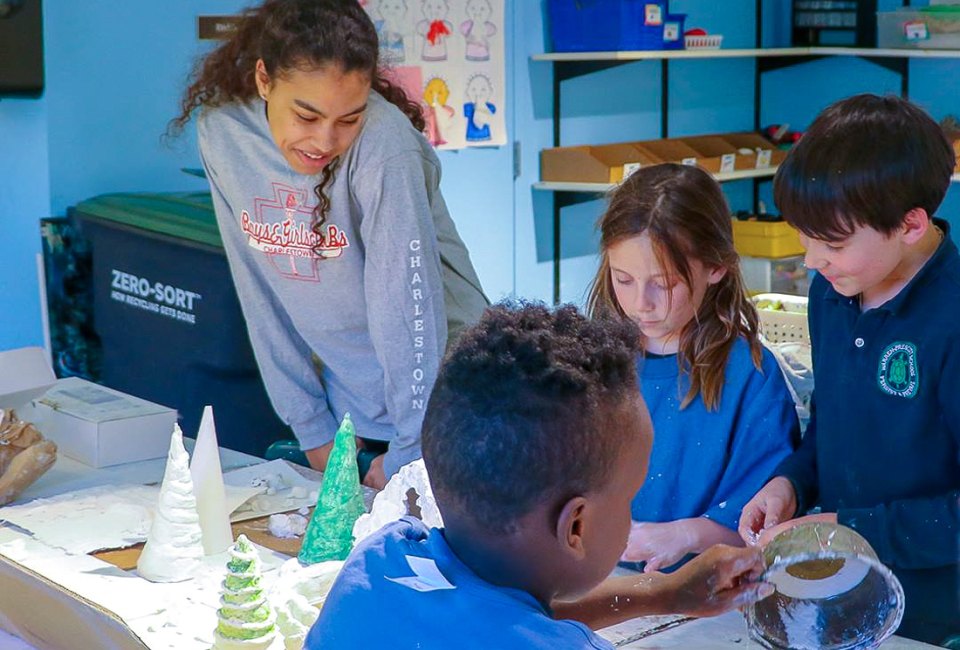 8/20/23
- By
N Ferreira
The school year is headed toward us full steam ahead, which means it's time to start thinking about afterschool programs in Boston. Families looking for affordable (or even free) programs for Boston kids have lots to choose from. From sports to arts, academics to theater, there are programs for your kids, no matter their age or interests. Check out our picks for free and cheap afterschool programs in Boston!
Did you know you can now book classes and more activities directly from the Mommy Poppins calendar? Find events with the "book it" button or filter for classes for simple registration in just a few clicks. Here are some of our picks for virtual and local Boston classes available now!
On-Campus Afterschool (Mostly) Free Classes & Programs
Most Boston elementary and middle schools host a program that offers free or low-cost enrichment classes on campus. However, please check with the programs at your school, as hours and offerings are different at every location. Contact your school to see what is offered and how to enroll your child.
Afterschool Programs in Boston - Free & Low-Cost Classes & Programs
PartnerBPS is an excellent resource and online platform for students, families, schools, and school-community partners. Families are able to use the "school search" tool to find a list of programs available. There are mentoring programs, arts programs, after-school programs, mental health resources, and other programs offered by School-Community Partners.

The YMCA is home to great afterschool programs. Photo courtesy of the YMCA of Greater Boston
The YMCA is a national organization with a long history of kids' programming. Many YMCA branches in Boston and the greater Boston area welcome children after school for homework help and enrichment classes including STEM, creative writing, drama, and computer lessons. Prices vary by location, and scholarships are available.
The Boys & Girls Clubs provide a safe place where kids can be themselves and participate in fun programs that build a range of skills from sports, education, arts, health, workforce readiness, and character development. The Club provides mentors, meals, and life experiences for kids 6-18. The national website has a page for finding the nearest club by zip code.
The Homework Assistance Program (HAP) is a free after-school service guided by Harvard-trained teen mentors offering homework help, mentorship, and activities for students in grades K through 8. Join online or in person 3:30 - 5:30 pm at select branches for a safe space to work on homework with peers. Bilingual help is available at select locations.
Free & Low-Cost Classes & Programs in the Greater Boston Area
Cambridge Youth Programs (CYP) offers year-round, quality programming for tweens, middle schoolers, and teens across five Youth Centers in Cambridge. They offer programs Monday through Friday after school, during school vacations, and even offer summer programs. The youth centers have classroom spaces, gymnasiums, and kitchens. Kids can participate 2, 3, or 5 times a week. The program cost is affordable (based on family income) and free for 6 to 8th graders.
The Flagship Clubhouse is a creative, safe, and free afterschool program where young people, ages 13-18, from underserved communities work with adult mentors. Here, kids are able to explore their own ideas, acquire new skills, and build confidence in themselves using technology. Special programs include Girls Day, Clubhouse-to-Career Pathways, Family Open Houses, and a Flagship Youth Leadership Council.
​
Kids engage in hands-on activities in Boston's afterschool programs. Photo courtesy of South Shore Stars
Stars offers programs for kids in grades K through 6. The staff works in collaboration with parents to create a homework plan so students can get any help they need after school. In addition to homework help, kids get to enjoy activities such as drumming, digital media, and robotics. Stars also has programs for middle and high school students.
Afterschool Free & Low-Cost Classes & Programs Near Boston
FKO has 11 locations across MA where they offer activities and downtime for kids in the transition time between school and home. Kids will arrive at the program, have a snack, and participate in learning and enrichment classes. Funding options are available to families needing extra support.
​
Boys and girls flourish in Boston's afterschool programs. Photo courtesy of Hoops & Homework
Hoops and Homework is a safe, neighborhood-based after-school (and summer) program offering opportunities for kids living in low-income areas of Framingham. They have staff and volunteers that supervise children, offering homework help and a variety of recreational, cultural, and enrichment activities. This also includes healthy meals every day.
Click Here to Sign Up!