5 Best Boston Afternoon Tea Spots for Families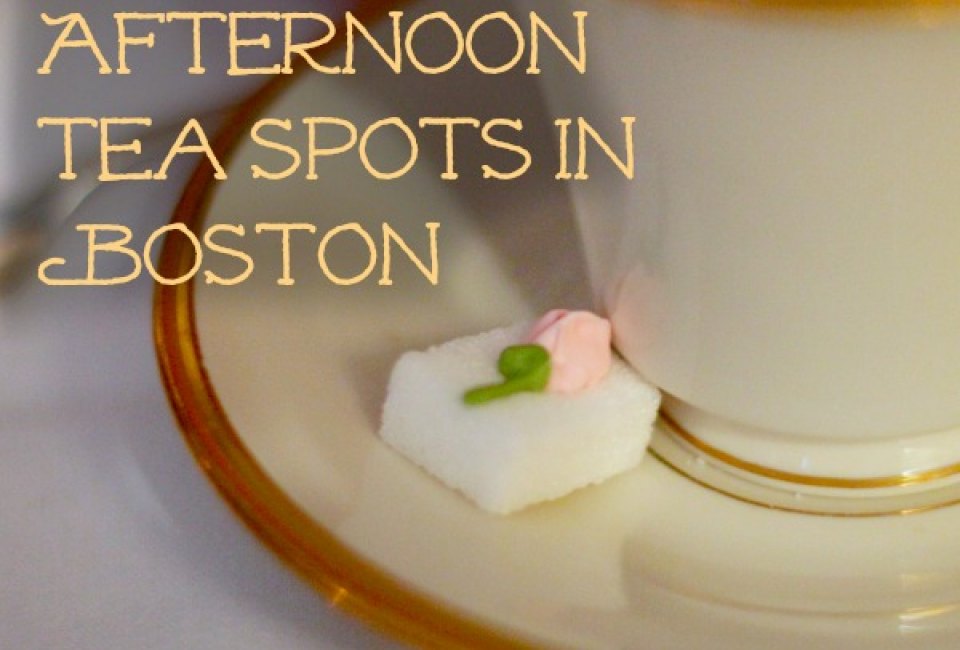 2/23/15
- By
Anna Fader
One of my family's favorite special occasion treats is afternoon tea. The combination of delicious sweets, fancy sandwiches, pretty china, and the tradition of an afternoon tea service is something we can all agree on. Despite the gentile settings, children are generally welcome at places that serve afternoon tea. But, when you're talking fancy schmancy eating experiences with kids, it's always good to know where children will be most welcome and which experiences will be the most fun for them. After all, a special occasion should be fun for everyone. We got out and tried a few of the best afternoon tea spots in Boston so we could share the inside scoop with you.
With its storied past with tea, there's no better place, outside Britain itself, to celebrate with a traditional English afternoon tea than Boston. So, pinkies up! Here are five great places for afternoon tea in Boston.
A traditional English afternoon tea is usually a pot of tea, scones with clotted cream and preserves, finger sandwiches, and some little petit fours or cakes, often served daintily on a three-tier stand. It's a fair amount of food, albeit lots of sugar, so it can replace a meal or, if you're going between meals, you may want to share. Not all places allow sharing, however, so plan accordingly. Reservations are recommended at all venues and should be made well in advance, especially during the holidays.
Bristol Lounge at The Four Seasons
The Four Seasons is a favorite for afternoon tea in Boston. With views of the famous swan boats on the lagoon in the Boston Public Garden, it's an especially nice stop for visitors after seeing the "Make Way for Ducklings" statue or ice skating on the frog pond. Despite the elegant service and luxurious sensibility, the Bristol Lounge area is actually a more casual setting, offering some fancy-schmanciness without any snootiness — perfect for kids, in other words. The contemporary leather club chairs, instead of a more gilded age look, might appeal to some boys more too. The Four Seasons offers a very traditional English tea, but children can order the Georgetown Cupcake Tea, which is a trio of fancy mini-cupcakes and hot cocoa or juice, a more appropriate portion for little tummies. Weekends only.
French Room at The Taj Hotel
Also across from the Boston Public Garden, another favorite is the afternoon tea at The Taj. With the most opulent, old world setting, kids will feel like little princes and princesses as they are serenaded by a live harpist, surrounded by original oil paintings, golden drapes and crystal chandeliers. And, yet, it's also one of the most kid-friendly tea experiences in Boston. Their Child's Tea includes kid-friendly tea sandwiches, a cookie, a chocolate covered strawberry, and a cup of cocoa. During the holidays The Taj goes all out for kids with a special Teddy Bear Tea, including storytelling by Mrs Claus, cookie decorating and more. Tea at the Taj is expensive, but, if you're on a budget (or diet), there's a slimmed down adult tea with just tea and pastries (no sandwiches or champagne). And, you can't beat the setting.
Tiffin at The Langham
The Langham is most famous for its weekly Chocolate Bar, an all-you-can-eat chocolate buffet, but they also offer a luxurious afternoon tea. We visited over the holidays and got to try their special White Christmas Tea, an extravaganza of classic tea sandwiches, scones and Devonshire clotted cream and treats with a seasonal twist. We especially loved the eggnog trifles adorned with mini candy canes and ham sandwiches with cranberry relish. While The Langham does not usually serve a child's tea, during the holidays they do, offering hot chocolate trifle, peanut butter and jelly tea sandwiches and other perfect morsels. If you go with kids another time of year, they are happy to swap out cucumber and PB&J sandwiches in a regular tea service, but there is no reduced price. Sharing is fine, however, and possibly recommended since there is quite a bit of food.
Rowes Wharf Sea Grille at Boston Harbor Hotel
If you prefer a tea without the old world parlor scene, you'll like the contemporary dining room of Rowes Wharf Sea Grille at the Boston Harbor Hotel. Enjoy a tower of treats while looking out over beautiful Boston Harbor. I think this is the best value of all the teas when considering the quality and quantity of the food as well as the lovely, though non-traditional setting. We felt like modern royalty being seated at a rose petal strewn table and served a tall glass of champagne. Come hungry for the tower of classic tea sandwiches, scones and pastries which will be more than you can possibly eat and sharing isn't allowed. Although they don't advertise it, they do offer a Children's Tea which includes a full three-tiered service with PB & J tea sandwiches, simple pastries that change daily, and a hot cocoa. During the holidays there might be cookie decorating and other special activities as well. Make sure to tell them if you have any allergies or dietary restrictions. They served a tasty gluten-free service for one person in our group. Rowes Wharf is steps from the aquarium along the greenway, a carousel and a nice walk along the water if you want to make a day of it.
Abigail's Tea Room At The Boston Tea Party Ships & Museum
How better to get into the true spirit of afternoon tea in Boston than by pairing it with a reenactment of the Boston Tea Party? Visit the fun museum, then step in for a hot cuppa. The history even extends to the actual tea; you can sample the favorite teas sipped by the British colonials in Boston in 1773. The setting is very casual and kid-friendly and your tea will come with a dose of educational value on the side.
Click Here to Sign Up!
i