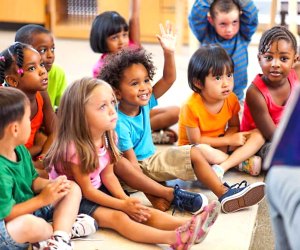 Full-Day Preschools for Westchester Families
Ready to send your little one off to preschool? There are lots of options throughout Westchester—from cities and towns with universal pre-K programs to nature preschools and half-day cooperative nursery schools. If you're looking for a school that offers longer hours to accommodate your schedule, we've rounded up preschools that offer full-day sessions.
While there are many preschools that offer add-on programs outside of their core morning or afternoon hours (including, for example, early drop-off or extended day), the schools on this list all have core full-day options, many of which include early morning drop-off and early evening pick-up options.
For even more options, check out our Preschools Guide for Westchester Kids.
Alcott Montessori School – Scarsdale and Dobbs Ferry
This pre-K class is made up of kids between the ages of 3 and 5, and students take part in activities from music and nature to riding bikes. There are half-day options available (either morning or afternoon), with the full day running from either 8:45am or 9am, depending on the location, to 3:15pm.
All Aboard Childcare Education Center – Ossining and Valhalla
For parents looking for a pre-k option with longer hours and a year-round schedule, All Aboard—which has locations in both Ossining and Valhalla—is one option. Hours are from as early as 7am to as late as 6:30pm every day of the week, including throughout the summer. The Pre-K program is for 3- and 4-year-olds, and along with learning, kids can also try their hand at things like martial arts and yoga.
Bright Horizons – Multiple Locations
Bright Horizons has locations all over the country, including a number right here in Westchester—from Armonk to Yonkers. The preschool program focuses on everything from language (writing letters of the alphabet, telling stories) to science and art, as well as things like nature, nutrition, and more. Hours vary depending on the location, but almost all start at 7am and most are open until 7pm.
RELATED: Co-op Preschools in Westchester

Children's Corner Learning Center has seven locations throughout Westchester County.
Children's Corner Learning Center – Multiple Locations
This childcare center has a whopping seven locations throughout the county, including Briarcliff Manor, Purchase, Scarsdale, Yorktown, Harrison, and two in White Plains, so no matter where you live, you're likely to find one nearby. All the locations are open from 7am to 6pm, and meals and snacks are included. The pre-k class helps get kids ready for kindergarten with lessons and curriculum that are tailored to their needs, as well as lots of time outside.
Discovering Me Nursery School – Larchmont​
While there are both morning and afternoon-only options at this Larchmont nursery school, the full-day hours run from 7:30am to 5:30pm. Kids will enjoy a variety of activities, from playing with blocks to doing arts and crafts, based on what they've learned that day.
The Goddard School – Hastings-on-Hudson
Hours at this pre-school are from 7am to 6pm every day, with summer camp options as well. In the pre-k program, teachers aim to meet kids where they are in the learning process and also urge them "to explore their passions and interests and teach them to recover from mistakes." There are also activities, like music, and events held throughout the year.
Kids Allowed Preschool – Yonkers
This Yonkers preschool is open every weekday from 7am to 7pm and offers a program that "integrates the cognitive, social, physical, emotional, language, self-help and aesthetic areas for the total development of the child." There are summer programs available, as well as activities like yoga and music.
Little Leaf School – Hastings-on-Hudson and Yonkers
Here's an option for outdoor-loving families: This "nature preschool," which has two locations in Westchester—at Andrus-on-Hudson in Hastings and at Lenoir Nature Preserve in Yonkers—offers a full-day session from 9am to 2:30pm. Kids learn through a variety of activities, including gardening, nature walks, as well as indoor time.
Mamaroneck Community School – Mamaroneck​
At this co-op preschool in Mamaroneck—which means that there's lots of options for parent participation—the full-day schedule for the 4- and 5-year-old class is from 8:45am to 2:45pm. (There are half day schedules, as well as early drop-off and extended day until 4pm, too.). The school follows The Creative Curriculum, which "is designed to address academic content while keeping a purposeful play philosophy."
RELATED: Ways To Ease the Preschool Transition for Kids—and Parents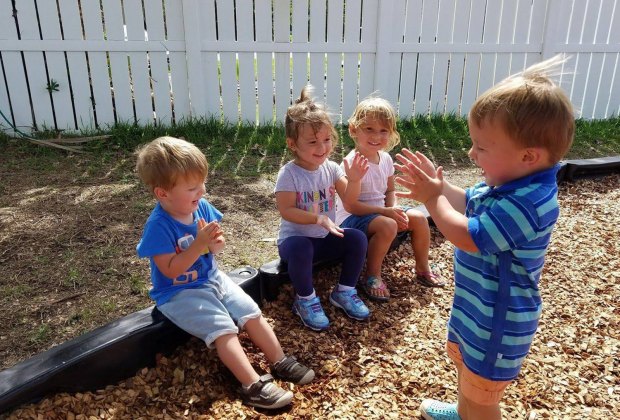 The Nurtury Montessori has an outdoor area for nature exploration and play.
The Nurtury Montessori – Larchmont and New Rochelle
In the Primary Program at this preschool—which follows the Montessori method—kids between the ages of 3 and 6 are in the same classroom together. The full-day program runs from 7:30am to 6pm; there is also a half-day option, as well as a school-day option that ends at 3:30pm.
The Worthington Nursery School – White Plains
The full day at this White Plains nursery school situated on 1.5 acres runs from 7:30am until 2:45pm, with an option for kids to stay until 6pm. Children must be at least 3 years old, and the school offers a variety of age-appropriate subjects (science, Spanish, French, etc.), as well as activities ranging from yoga to gardening. Worthington follows a Montessori curriculum.
Photos courtesy of the schools