Best Spots for Irish Breakfast with Kids in Westchester County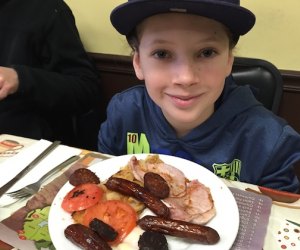 You've set your leprechaun traps, baked your soda bread, and dug out all the green clothing from your closet. In other words, you're ready for St. Patrick's Day. While there are a number of family-friendly activities for St. Patrick's Day in Westchester County, you can also get your Irish on by taking your wee lads and lasses to a proper Irish breakfast.
Ireland's signature dish has something for everyone: eggs, beans, grilled tomato, and enough pork products to last a lifetime. So if you're thinking of skipping the St. Patrick's Day parade and heading straight to a kid-friendly brunch, these are the best spots in Westchester to settle in for the top o' the mornin'.
The Chipper Truck Cafe - Pelham
This bright, cozy cafe is the bricks-and-mortar counterpart to the famous "Chipper Truck," an Irish chips van that specializes in late-night food in the Bronx. Here it offers both a traditional Irish breakfast of eggs, black-and-white-pudding, Irish bacon, grilled tomato and bangers, as well as an "Ulster fry," which includes eggs, the puddings, beans, mushrooms, Irish bacon and boxty. (If you've never had boxty, an Irish potato pancake, you're in for a treat.) Both dishes offer enough food to feed a small army, so you could easily share your meal with your wee folk.
Eileen's Country Kitchen - Yonkers
You'll feel like you were transported to the Emerald Isle at this family-friendly Irish diner in Yonkers, where many of the servers speak with a lilting Irish brogue. Breakfast service begins at 6am, which is perfect if your kids are early-risers. Start out by munching on the basket of Irish brown bread you'll find at your table before ordering off the expansive menu of Irish dishes, including traditional breakfast and Ulster fry. If your kids have a hankering for non-Irish fare, you'll find a full menu of pancakes, waffles, eggs and more.
Irish Coffee Shop - Yonkers
Just down the block from Eileen's, the Irish Coffee Shop features Irish breakfast for leprechauns of all sizes. The mini Irish breakfast offers the full experience in lesser quantities, which is perfect for smaller appetites and the breakfast "toastie"—a toasted sandwich of ham, eggs and cheese—is sure to keep Irish eyes smiling. But the real treat at this coffee shop are the fresh-baked goods, including Irish brown bread, soda bread and scones. Don't forget to order a to-go loaf of the soda bread, which you can snack on for the rest of the day--that is, if it lasts that long!

The Irish Bank Bar and Restaurant - Hartsdale​
​This popular bar and restaurant is a relatively new addition to the Irish breakfast scene, and is packed with tables, TVs and a lively crowd that is totally welcoming to young families. Order the traditional Irish smoked salmon, coddled eggs or the Bailey's Irish Cream-stuffed French toast (just don't share that one with the kids). There is a separate kids' menu featuring pancakes, French toast and eggs along with other American favorites, like grilled cheese and burgers.
Garth Road Inn - Scarsdale
​If you're looking for a post-parade brunch in lower Westchester, Garth Road Inn is a great spot. Brunch service begins at noon, so it won't be your first meal of the day, but it might just be your best. Choose from the breakfast menu if you want traditional Irish breakfast or the Irish Eggs benedict, which features Irish Smoked salmon. Or eat from the lunch side for bangers and mash, fish and chips or a pot pie. A separate kids' menu will keep little diners happy. Best of all, Sunday evenings and special events feature a live traditional Irish music session, providing much-needed entertainment for wee folk who struggle to sit still in restaurants.
Photo taken by the author.