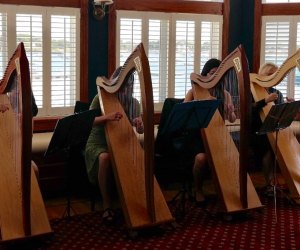 13 Free St. Patrick's Day Activities in Westchester
Looking for ways to celebrate St. Patrick's Day? Plenty of parades are happening throughout the area, but if that's not your family's thing, you're in luck: There are also lots of events that give kids the opportunity to learn, be creative, and have fun—while honoring all things Irish.
Whether your little lads and lassies would love to hear some traditional Celtic music, create their own hanging shamrocks or take part in a "leprechaun yoga" class, we've rounded up a baker's dozen of FREE activities that offer something for everyone.
Looking for more events, holiday-related and otherwise? Check out our Event Calendar!
Pastel St. Patrick's Day Decorations – Pound Ridge
Friday, March 10, 2017
Your budding artist will be able to learn more about working with pastels in this evening class, which offers a chance to make a St. Patrick's-themed piece.
St. Patrick's Day Holiday Craft – Peekskill
Friday, March 10, 2017
Start the weekend off on an artsy foot with a crafting session where lucky little ones starting at 3 years old can make a Peekskill parade-ready craft.
In Celebration of St. Patrick's Day: An Afternoon of Celtic Harp Music – New Rochelle
Sunday, March 12, 2017
Spend the afternoon enjoying the harmonious sounds of harp music from the Westchester Harp Ensemble. Great for the whole family, this performance features 12 harps, with musicians performing a variety of Celtic songs.
St. Patrick's Day Celebration – Yonkers
Tuesday, March 14, 2017
This special holiday party at the Grinton I. Will branch of the Yonkers Public Library features stories, crafts and more for kids ages 4 to 8—who should wear their best green get-ups.
St. Patrick's Day Stories & Crafts – Montrose
Tuesday, March 14, 2017
Little leprechauns from 4 years old through first grade will have the chance to listen to a St. Patrick's Day-themed story and create an easy-to-make craft at this after-school event.
St. Patrick's Day Kids Craft – Tuckahoe
Wednesday, March 15, 2017
They're breaking out the art supplies for a fun crafting session with a St. Patty's Day twist at the Tuckahoe Library, where kids between the ages of 5 and 8 can create something festive for the holiday.
A Story from Ireland – White Plains
Thursday, March 16, 2017
Kindergarten through second graders will love hearing this Irish-themed story at the White Plains library, where they'll also be able make a craft and enjoy some yummy cookies. Tickets are first-come, first-served and distributed 30 minutes before story time.
Paper Shamrocks – Mount Kisco
Thursday, March 16, 2017
What's St. Patrick's Day without shamrocks? Kids in third grade and up—and younger kiddos with a parent or caregiver—can make their own hanging paper shamrocks at this fun event at the Mount Kisco Public Library.
St. Patrick's Day Stories & Crafts – Bronxville
Friday, March 17, 2017
Get the little ones in on the green fun, too: Kids as young as 3 can enjoy an afternoon of St. Patrick's Day stories and crafts at the Bronxville Public Library.
St. Patty's Day Story & Craft – Katonah
Friday, March 17, 2017
Celebrate the holiday with a story and craft at Little Joe's Coffee & Books in Katonah. Plus, if you need a little after-school pick-me-up (and who doesn't?), you can grab a coffee and treat while the kids are entertained.
St. Patrick's Day Craft – Yonkers
Friday, March 17, 2017
Who needs the end of the rainbow when you can create your own pot of gold? Kids 12 and under—dressed in their favorite green gear—can do just that at this holiday celebration, which also features traditional Irish music.
Untermyer Performing Arts Council Presents Mary Courtney and Morning Star – Yonkers
Sunday, March 19, 2017
Keep that St. Patrick's Day spirit going all weekend long with a live concert from Mary Courtney and Morning Star. Presented by the Untermyer Performing Arts Council, this upbeat band will play both classic Irish music and original songs.
Leprechaun Yoga – Yorktown
Saturday, March 25, 2017
Stretching for St. Patrick's Day? Sounds good to us! In this leprechaun-themed yoga class—which is geared towards kids starting at 5 years old—instructor DeEtta Laino will not only help kids perfect their downward facing dog, but will teach them more about Ireland, too.
Photo courtesy of the Westchester Harp Ensemble