Team up with FCS Athletics
Middle & Upper School Campus

Online Robotics Camp
Young Gates - Kids Online Personalized Classes

Artificial Intelligence with Scratch Online Camp
Young Gates - Kids Online Personalized Classes
Sign up for our free newsletters.
Top 10 Delaware County Playgrounds Your Family Needs to Check Out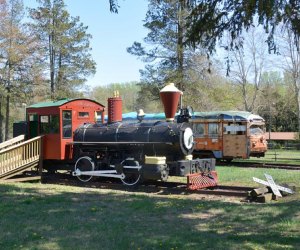 4/22/19
- By
Lindsay Li
Delaware County, often referred to as Delco, may be on the small side, but it is one of the most populous counties in the state as many families of young children are opting to live or move to Delco for the beautiful parks and trails. And with this abundance of young families and parks comes loads of fun playgrounds to choose from. A great bonus is many of these playgrounds are ideal for families with multiple children, supporting various ages and stages. While there are a ton to choose from, a few are real standouts and worth the trip even if you don't live in the area—here are our top 10 picks!
1. Kid's Dream Playground—Glen Mills
The handicapped accessible playground had a recent makeover and features new ADA-compliant equipment and play areas for children 2-5 and 5-12 years of age.
2. Freedom Playground—Havertown
What makes this playground worth the trip is all the bonus fixtures, such as a climbing wall, a sandbox, and even a large boat structure. In warmer months the park also has misting stations to help keep everyone cool.
3. Tot Lot—Media
This is the best playground for toddlers! The soft, bouncy floor is fun and functional. Kids can climb through the big tube and ride the tire swings, or climb a pretend car.
4. Drexel Lodge Park—Newtown Square
Home not only to a cool train-themed playground, but also a railroad museum!
5. Thatcher Park—Swarthmore
This playground has slides and swings as well as a unique fire engine climbing structure.
6. Merry Place Playground—Havertown
A great spot for a day of play with jungle gyms, castle bridge, and swings for kids of all sizes. Plus a giant sandpit for "beach" volleyball.
7. Kent Park— Broomall
This newly constructed playground is next to a dog park so families with fur babies will want to check this spot out.
8. New Ardmore Ave Park— Marple
Featuring all-new playground equipment, excellent natural tree shading and a huge space to roam. There is also a picnic and BBQ area.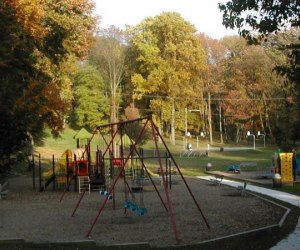 Photo courtesy of Marple Township
9. Upland Park—Brookhaven
Formerly called Camp Upland, this playground is part of a sixty-acre park, which also features wooded picnic groves, playing fields, and nature walks.
10. Ridley Creek State Park—Media
Home to four playgrounds, this exceptional green space is a wonderful place to go as a family. There is a. five-mile paved multi-use trail that is perfect for family bike rides or walks within this 2,600-acre park. Playgrounds are located in areas #3, 8, 11 and 17 (get your map in the visitor center if you want to explore them all).