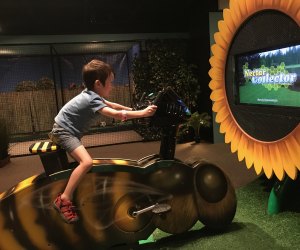 What's in Your Backyard? Backyard Adventures at the Academy of Natural Sciences
Backyard Adventure is an exploration of the science of your backyard at the Academy of Natural Sciences. This exhibit runs until September 10, 2017, and families are invited to explore the magical world that surrounds them daily, but with different eyes. I got a chance to explore the space with my four-year-old as we set out to discover science in our own backyard!
There is so much to do when you first enter the exhibit that it takes a moment to take it all in. You can ride a bee bike to collect nectar, be predator or prey in a food web pond, dress up like living creatures, walk through the seasons, or even try your hand at building a birdhouse, and more! The goal of the exhibit is to teach kids about biology, chemistry, and math, all while exploring things they may encounter in a park or their own backyard (depending on where you live).
The exhibit is definitely well thought out, but my son was a bit too small for some of the exhibits, so I definitely recommend going with kids that are slightly older to enjoy all the exhibit has to offer. I wouldn't make a special trip just for this exhibit, but if you plan on going to the Academy of Natural Sciences, it is a fun addition to check out while you're there.
On the bee bike you use pedal-power to fly around and collect honey and make nectar. Unfortunately, my little guy was a bit small for the exhibit, but he did his best! We also explored some of the more physical play options, from a mini golf course to a place to try your hand at throwing or kicking a ball for speed, to a big dirt pile, my little guy was loving it!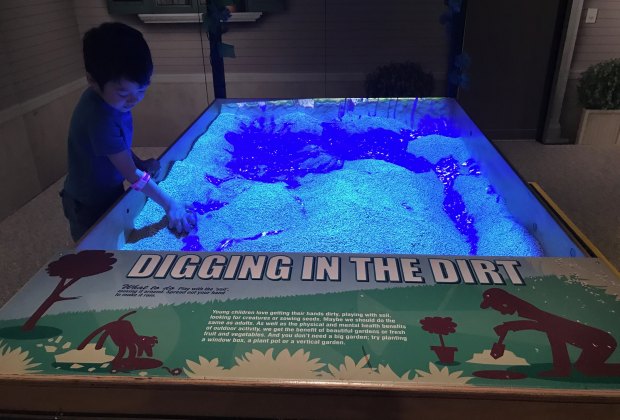 My son loved the texture of the "dirt."
The exhibit that I thought was the most interesting was their use of a treadmill to walk through time. As you walk, the seasons change and you can observe plants growing in super time.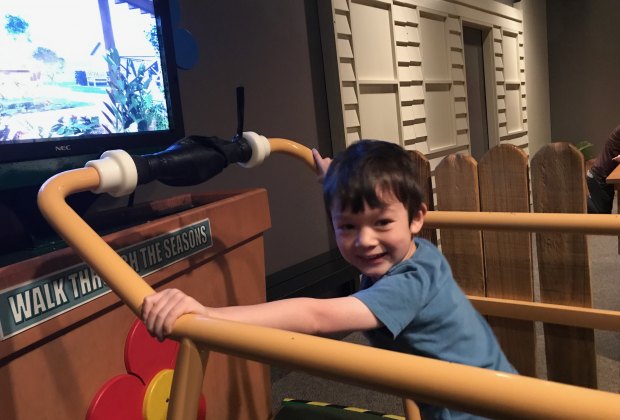 Walking through the seasons.
While we missed the live demonstrations, throughout the run of this exhibit there will be an opportunity to get hands-on experiences, including crafts and a microscope cart. The exhibit includes a chance to:
Play backyard-themed mini golf
Dig in the dirt of an augmented reality garden bed
Find out how fast you can throw and kick a ball
Dress as a spider, bee, or ladybug
Take a walk through our digital garden and observe plants growing in super time
Create the world's biggest vegetable
Using special lenses, see how different creatures such as bees and dogs see the world around us
Step inside the shed and build something with the tools and objects on the work benches
Help complete a garden path using oddly shaped pavers
Try your luck at pollinating flowers and collecting pollen for honey production
Match critter calls with their sources
Backyard Adventures runs through September 10, 2017. Tickets are available for purchase online. Backyard Adventures is free for members or an extra $5 on top of general admission for non-members. The Academy of Natural Sciences is located at 1900 Benjamin Franklin Parkway, Philadelphia, PA 19103.
All photos courtesy of the author.
Academy of Natural Sciences of Drexel University
1900 Benjamin Franklin Parkway
Philadelphia, PA 19103