Best Mini Golf Courses Near Philadelphia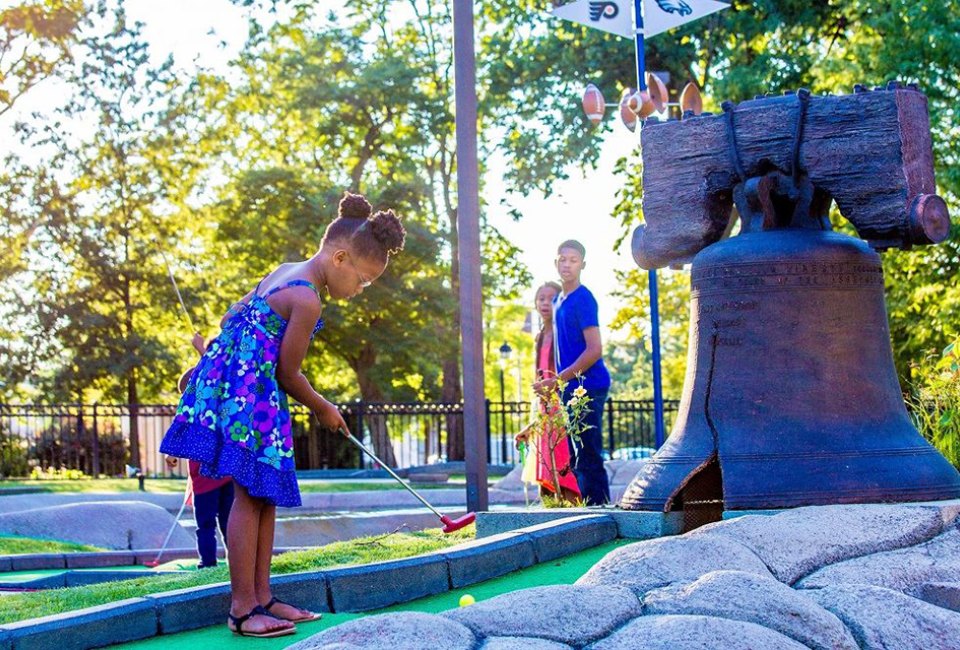 8/18/23
- By
Becki Melchione
Miniature golf is one of those summertime activities that entertains the whole family. A putter, a brightly colored ball, and the possibility that your three year old will get a hole-in-one, and everyone is bound to have some fun. Although there aren't as many mini golf courses around here as at the shore, there are a few great spots in the area to grab a putter and try your skills.
Looking for more fun things to do with little ones? Check out these Top 21 Things To Do with Preschoolers in Philly or check out our 100 Things To Do in Philly With Kids Before They Grow Up.
A staple in center city, Franklin Square Mini Golf is open year round. With holes featuring beautifully recreated historic landmarks like the Ben Franklin Bridge, the Philadelphia Museum of Art, and the Liberty Bell, the 18-hole course will keep older kids entertained, but may take more time than littler ones have patience for. Thankfully, it's located in Franklin Square so kids can run around the fountain, take a ride on the Carousel, or head to the playground once they're done playing. Rent the Pavilion at Franklin Square for birthday parties and entertain your guests with miniature golf and unlimited carousel rides.
Recently renovated, the Burholme Golf and Family Entertainment Center on Cottman Avenue in the Northeast offers mini-golf, golf lessons, batting cages, and more. The center has a cafe so the fun doesn't have to stop for meals. The new mini golf courses feature sculpted rock formations, a charming walk-through "cave," cascading waterfalls, and playful fountains. Don't forget to celebrate at the 18th hole – ring the bell and unlock a special certificate for a free game, valid throughout the season.

Putt Putt Fun Center : Photo by the author
Putt Putt Fun Center is a year-round outdoor facility with courses for players at every level. With four progressively more difficult courses, all on relatively flat terrain, even the littlest ones will feel their confidence grow as they get their first hole-in-one. Located in the back of a a strip of connected shopping malls (look for the sign for Planet Fitness), Putt Putt Fun Center has an arcade and snack bar, too. With all sorts of weekday and early morning specials, it offers an affordable and fun day for the family. Birthday parties at Putt Putt Fun Center include 18-holes of miniature golf with trophies, ribbons, and prizes for everyone, so everyone's a winner. Birthday party packages are available and include arcade tokens, pizza, hot dogs, and ice cream birthday cake.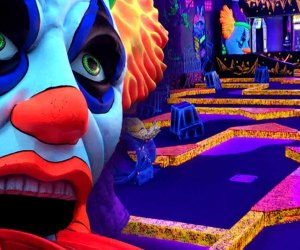 Monster Mini Golf
Discover adventure at Monster Mini Golf in Cherry Hill. The whole family can enjoy this immersive 18-hole glow-in-the-dark mini golf course adorned with spooky effects and animated monsters. With a range of arcade games and interactive attractions for all ages, this indoor golf course guarantees fun. Whether it's a unique birthday celebration, corporate event, or casual outing, book your unforgettable experience today and create some lasting memories.
Visit Golf Adventure Mini Golf in Fairless Hills for a fantastic family outing. With a picturesque course including ponds, streams, and a waterfall, it's great for families and adults alike. Golf Adventure also hosts groups and is a wonderful spot for birthdays, school trips, and fundraisers. The course is open from April to November 1st, weather permitting.
Located in Abington township, the charming Hilltop Miniature Golf and Ice Cream is a nostalgic course that sits atop a hill. This 18-hole course is slightly challenging due to the change in elevation, but fun for kids and adults. Enjoy some ice cream after your round, topping off a perfect day or evening activity.
With two stunning 18-hole mini-golf courses, a farm zoo, batting cages, a driving range, and homemade ice cream, Freddy Hill Farms is a perfect summer weekend destination for the whole family. The two courses, named Discover America and Waterfall Adventure, have been beautifully designed and landscaped with waterfalls, rapids, caves, and mountain terrain. Discover America is the easier of the two, although both are challenging. Freddy Hill Farms has birthday packages with miniature golf, private party tables, snacks, and gift bags.
Experience the enchantment of Boulder Falls, the premier 19-hole mini golf course in Chester Country. Designed by a leading golf course artist, it features cascading waterfalls and winding streams, creating an exciting putting adventure in a beautifully landscaped oasis of relaxation. Perfect for unforgettable family moments.

Linvilla Orchards Fore! The Planet
Discover Linvilla Orchards Fore! The Planet – an engaging and educational exhibit by the Academy of Natural Sciences in Philadelphia. Open from January to March every year, this 9-hole mini-golf experience features environmental themes and interactive displays. Journey through butterfly metamorphosis, a tropical rainforest, evolution, dinosaur extinction, food chains, and more. Ideal for all ages, it's a family-friendly opportunity to learn about our environment through enjoyable mini-golf fun.
Tee's Golf Center offers batting cages, a driving range, and mini golf courses. You family can enjoy two challenging 18-hole courses that showcase natural granite boulders transformed into stunning waterfalls flowing into streams, promising a memorable time for both parents and kids. Tee's Golf Center has birthday party packages with mini golf, a private gazebo, pizza, and cake.

Delcoland Mini Golf Photo by the author
Dubbed the "Disneyland of Delco," this mini-golf course offers 9-holes of Delco-themed attractions. Grab a cheesesteak and milkshake and take in the Delco history while playing the course.
Markie's features an expansive 26,000 square-foot, 18-hole golf course with picturesque greens bordered by streams, ponds, and a waterfall. The beautifully landscaped rocky banks are interwoven with streams. It's a place where both adults and kids can have fun – grown-ups can face the water challenge, while children enjoy retrieving stray balls. With unlimited play for the cost of a single round, families can enjoy the course to the fullest, taking breaks in the air-conditioned snack bar for Nelson's Ice Cream and sports updates.
This post has been updated for 2023 by Nicole O'Donnell.
Unless noted, photos courtesy of the golf courses
Sign up for the Mommy Poppins Newsletter today!
i