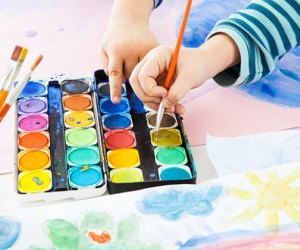 Fun Classes in Hudson County for Kids of Every Age
Tired of driving your kids all over town to their various age-related activities? How about choosing a venue where all your kids can be satisfied (and maybe even their parents?) Ranging from age-combined classes to back-to-back options for various age groups, here are some fun and fantastic options in Hudson County. A lot of these facilities will offer you a free trial class, so be sure to check out each facility's website for further information.
Find more NJ kid classes in our Classes Guide and comprehensive NJ Directory.
Jersey City
Hamilton Health & Fitness Swim Lessons
Swim classes offered are Mommy/Daddy and Me, Children Beginner, Children Intermediate and a combined class. Kids of different ages can be signed-up for the same class level. Classes are eight-weeks in length. Private lessons are also available. (201) 714-7600
Gymboree
Located in downtown Jersey City, Gymboree is a great place for your little one to be physical, especially when it's too cold for the park. Choose a level based on your child's age, and pick from a variety of classes including Gym, Play & Learn, Music, Sports, Art and more. Plus, take advantage of "open gym time," when you register for a class and bring along your kids of any age. Classes vary in price and you can sign up on a month-to-month basis. (201) 918-6988
Jersey City Art School
This art school offers a Kids Academy for children ages six through 12. Classes are 90 minutes long and include animation, techniques in painting and music instrument making. Preschoolers can partake in Morning Art, Reading and Math, which runs every morning for 2 hours and includes crafts, circle time, reading, math and lunch time. (732) 877-9116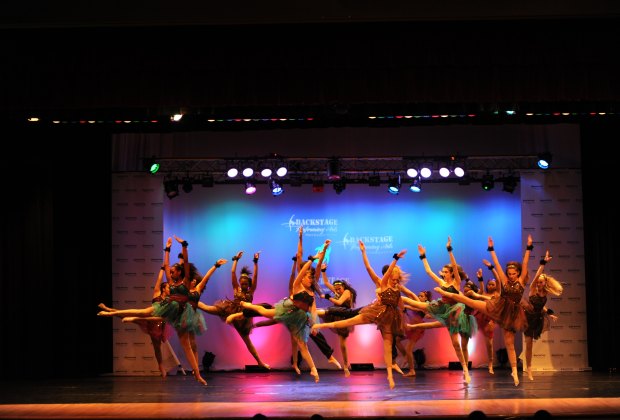 All ages can spin and twirl at Jersey City Dance Academy. Photo courtesy of Flickr.
Jersey City Dance Academy
Jersey City Dance Academy, located on Westside Avenue, offers dance classes for kids age two through adults. Early childhood classes include pre-gymnastics, creative movement and rising stars. Youth and teen classes include gymnastics, ballet, hip-hop, jazz and more. Many classes are offered, so there is much opportunity to schedule classes back-to-back for all the kids in your family. Tuition varies based on how many hours per week you attend. (201) 435-8943
My Gym
This fun facility houses parent/child movement and tumbling classes from 6 weeks on plus sports and gymnastics classes for kids to age 13. School break camps and birthday parties are offered as well. (201) 205-1218
Next Step Broadway
Do you have dance-lovers of all ages in your home? Next Step Broadway, located in Hamilton Park, offers classes in tap, ballet, jazz, hip-hop, musical theatre and more. Classes vary based on age and begin at age two. Many afternoon classes make it easy to sign up multiple children. (201) 706-3025
A Sound Start
This small space, located in the Van Vorst neighborhood, offers classes including Itsy Sign & Sing and Kindermusik programs. Classes are categorized based on age group from newborn to six years and they handle siblings with ease. (201) 200-1342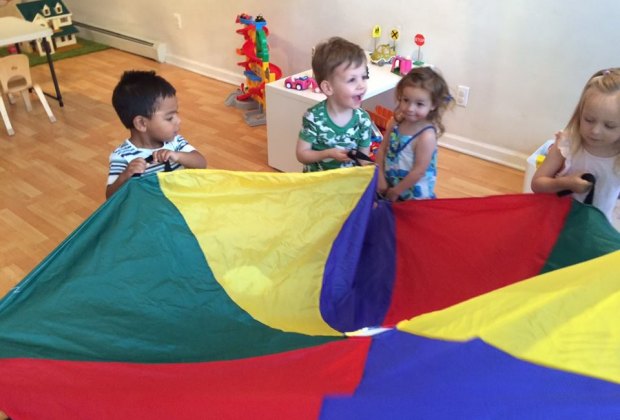 Make an umbrella of color at three little birds. Photo courtesy of Facebook.
three little birds
three little birds offers classes and workshops for children of varying ages including music, yoga, sewing, show biz kids, art and more. Additionally, they provide a nursery school/drop-off program, with morning and afternoon sessions, called "creative little creatures. " Every day has a different theme: Building, music, yoga, dance and art. Schedule an art class with your older child and use the drop-off for your younger child or vice versa! three little birds makes it easy to take classes and workshops if you have multiple children. (201) 528-3212
Rockness Music (formerly Preschool of Rock)
This music class, offered in downtown Jersey City at the three little birds, "delivers a cerebral experience filled with exciting and intelligent programming." Classes are offered for kids six months to five years old. Check out their schedule here for both Jersey City and Hoboken. (732) 205-1971
Hoboken
Hoboken Aardvarks
Created in 1997 in Brooklyn, this interactive musical class is fun for all ages. Sign all your kids up from three months through five years in the same class and have a jam session. Hoboken classes are held at Local Barre, Devotion Yoga and Monroe Street Music Space. The classes are always low-key and lots of fun. (917) 400-4524
Hoboken Historical Museum
Take in the history and culture of Hoboken through classes at this great museum, offered for grades Pre-K through 8th. Current offerings, which focus on Hoboken icon Frank Sinatra, include Dance to the Music, Italian-Americans: From Scapegoats to Superstars and Sinatra: The Man and the Music. Plus, check out the museum's ongoing free storytimes. (201) 656-2240
Bricks 4 Kidz
At Bricks 4 Kidz, children learn to "build unique creations, play games, and have loads of fun using LEGO bricks." Programs are offered for different ages including after-school enrichment classes, preschool classes, camps and birthday parties. Hoboken classes are offered at Monroe Center. (201) 747-7070

Kids of all ages tapping away at Garden Street School of the Performing Arts. Photo courtesty of the school.
Garden Street School of the Performing Arts
Classes in music, dance, acting, street art, taekwondo and more! There are so many classes and pricing options, scheduling multiple kids for classes is a breeze. Check out the website for further information. (201) 683-9100
Mimi Kids Yoga
This yoga studio offers yoga to children from newborns to teens. Classes include Mom and Baby Yoga, Downward Puppies and Twisty Kids. Tweens can sign up for Peaceful Warriors where they will work on flexibility and confidence. Check out the 3 hour day camp in the summer. (201) 222-1814
Monroe Street Movement Space
This studio offers dance and movement classes for all levels and ages. Parent/child classes include movement, music and language, plus a drop-off program. There are several "all ages" classes offered, so you can take the class with all your children. Dance classes include ballet, modern, classical and Soo Bahk Do Karate. Art camps are also available for summer or for school breaks for kids 3 to 12. (201) 222-8033
Steven's Aquatics Swim Lessons
Swim lessons are offered at the pool at Steven's in Hoboken. Sign all your children up for the same class! You can also join the pool for lap, recreational and family swim times. (201) 216-5590
Urban Arts
This studio offers art classes for toddlers, preschoolers, art exploration for ages four to seven, painting and drawing for ages seven and up and more. (201) 222-5400
Bayonne
Creative Imagination Art Studio
Artist Stacey Kaelin offers art classes for kids ages 7 and up, including drawing and painting. Group lessons and private are available. (201) 436-8152
Dance with Me
Ages 2 and up can explore a variety of dance genres at this Bayonne dance center. The younger set can learn creative movement and pre-ballet while school-aged children can get moving in hip-hop jam, acro-jam, ballet and tap. (201) 823-1233
Weehawken
Weehawken Recreation
Weehawken offers a lot of different programs for residents through the recreation department. Programs for children include arts & crafts, toddler tumbling, art play, gymnastics, karate, yoga and kid's cooking classes. You must register for each activity. Residents also have free access to the Steven's Institute of Technology swimming pool. You must fill out an application and prove residency to use it. (201) 319-6061
Photo via Bigstock.