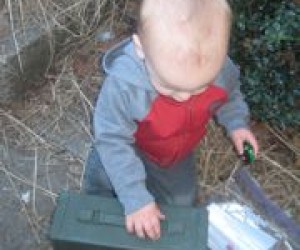 Geocaching for NJ Kids and Families
With the spring weather warming up, we are all searching for outdoor activities that the whole family can enjoy. Who doesn't love to find hidden treasure? I was excited to bring my son along and go on our first geocaching adventure together as research for this post! Check out some information about geocaching in New Jersey and join the NJ kids and families that are already out there treasure hunting!
Whether you've heard the term or not, Geocaching is a growing trend for all age groups. It all started in 2000 with an accidental upgrade to GPS technology and led to "a real-world, outdoor treasure hunting game using GPS-enabled devices." It's an outdoor adventure! Plus, there are cache locations SO MANY PLACES – worldwide!
My Geocaching Experience
Upon searching on Geocaching.com, I found that there was a cache very close to my house at a local park. I downloaded an open source (free) geocaching application to my Android smartphone and my husband, son and I began our adventure. The website gives coordinates, which you can plug into any handheld GPS device, but I simply used the compass that the app on my phone provides to determine the location of the cache. The cache turned out to be an ammunition box, which I found amusing. It was placed by kids at a local school. Inside we found little toys, a "trackable", a set of instructions on geocaching and a logbook with a pen. Once I opened the box, my 19 month old son lunged at the treasures inside. He chose a little car and we left a bottle of bubbles for someone to enjoy! I snapped some photos, wrote our names in the logbook and closed the box back up for the next geocacher to find. Once we got home, I logged our experience into Geocaching.com and uploaded a picture to go with it. It was a fun family adventure!
How to start
Begin by registering here on Geocaching.com for a free or premium membership. Then, simply search in your area for caches, plug in the coordinates given, and try to find the "geocache" or container at the secret location. Each cache usually has a logbook for you to sign inside and some sort of "treasure." Once you're home, sign back on to Geocaching.com and share your whole experience with the online caching community.
The Rules
The rules are simple – if you take something from the geocache, leave something equal or greater value in its place. Also, items like food or anything scented shouldn't be placed in a container – so animals don't get there before you do! The other, more obvious, things you shouldn't put in a geocache are explosives, ammunition, knives, drugs or alcohol.
What you will need
Grab the following things before you go out on your first geocaching adventure:
GPS device
Bring something to "trade" (something you will leave in the cache, possibly in exchange for something else)
Pen (for filling in log books, etc.)
Flashlight
Proper outdoor gear for where you will be searching (spf, walking shoes, hat, jackets, etc.)
Backpack (makes carrying all these things much easier)
Don't have a handheld GPS device? You can use some mobile phones, please refer to this list. Plus, smartphone applications are now available for iPhone, Android and Windows 7 phones here (the official app is $9.99). You can find free open-source applications for Android smartphones in the Android Market. Websites like this offer handheld GPS rentals. Morris County Library offers a Geomate Jr device, which comes loaded with hundreds of thousands of geocache locations, for a 14-day loan, specifically for geocaching. (There's even a cache 331 feet from the library itself!) They also provide books about geocaching to get you started.
Challenges
Geocaching challenges can be found all over the world. Premium members create them and can be accepted by anyone. There are three types of challenges. Photo challenges involve taking a picture of yourself doing something. Discover challenges have you discover something new. Action challenges require you to perform a task at a location. Some examples of current challenges include taking a picture of yourself at Carlo's Bakery (famous for the show Cake Boss) in Hoboken. Another requires you to take the coordinates to the tri-state monument, at the intersection of the states of NY, NJ and PA and take a picture of you, your hand, and foot being in three states at once.
Trackables
Trackables are game pieces for the serious geocacher. People leave them inside geocaches. They contain a code that you can use online and track where these game pieces travel to. There are many different types of Trackables. Travel Bugs attach to an item and geocachers move them around from location to location. Geocoins are personalized calling cards made for different geocachers. Check out this Travel Bug FAQ for more information.
Ideas
This is a fun and unique activity to do with your kids. There are many ways you can integrate geocaching into your outdoor adventures. Plan an afternoon of hiking and search your local surroundings for hidden geocaches. Make a road trip more interesting by mapping out points to stop along the way and look for containers! Plan a day at the park! Geocaches can be found in all NJ State Parks. For example, a search of Liberty State Park, in Jersey City, yielded 19 results. All caches in state parks have to be registered with the NJ Division of Parks and Forestry and are usually nature related and educational. Go on a bike tour. Mixing bicycling with geocaching is becoming a more popular combination. Check the area you want to bike (a trail or park) and you may find some geocaches. Some areas have geocaching activities listed online. Cape May, for example, has multiple geocache sites listed here. Some of the activities include a bike or hike, "Leaming's Run," at the zoo and more. The most important thing to remember is to be creative and have fun!