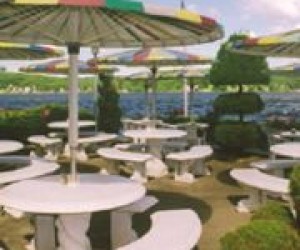 A Breath of Fresh Air: 5 Restaurants with Outside Dining in NJ
Eating outside in the summer months is peaceful, warm, great for people-watching, and an event that really makes summer feel like, well, summer! These last few weeks of 'lazy days' are a great time for the whole family to enjoy some outdoor dining, whether it be low-key like pizza or fancy-shmancy lobster-on-the-terrace. Check out these venues, and let us know your faves!
Luciano Lamberti's (Margate)
No New Jersey restaurant list would be complete without an Italian restaurant or some eats at the Jersey Shore. At Luciano Lamberti's you can have both! Located on the bay in Margate, this restaurant offers lunch and dinner out on their deck where you can enjoy the marina and bay views, the sunset and the consistently delicious food. Make a reservation or go early as the wait times can be lengthy. If you do go for lunch, make sure to bring the kids to see Lucy the Elephant on Atlantic Avenue. 609-487-6001.

Nomad Pizza Company (Hopewell)
Nomad Pizza Company in Hopewell is quite unique. As their namesake implies, they "take it to the street" with their pizza truck, visiting local towns (check out the truck schedule online). They use local and organic sources for their food and take sustainability seriously with their biodegradable plastic ware, which is composted in their garden! Their pizza is a big hit with the locals and the lines can be long (no reservations) so get there early, especially if you want to dine outside on their beautiful large patio. Remember to hit the ATM on the way as it's old school here – cash only. 609-466-6623.

Windlass Restaurant & Marina (Lake Hopatcong)
For families planning a scenic drive through the northwest portions of our fair state, the Windlass Restaurant and Marina in Lake Hopacong offers a perfect location for weary travelers. Kick into relaxation mode with a breathtaking view of the lake (and boats!) while you dine outside on their deck. 973-663-3190.

Cafe Picasso (Somerville)
For those who love Italian food combined with people watching, dining outside at Cafe Picasso will prove to be a top notch experience. Right on Main Street in Somerville, this popular restaurant serves great food and enormous portions. Kids (and carb addicts) will love their bread basket filled with a variety of goodies, including garlic knots. This is a BYOB and gets rather crowded so if you are dining with kids make sure to allow ample time for seating, as well as service. 908-429-8850.

Elysian Cafe (Hoboken)
Local foodies agree that the Elysian Cafe in Hoboken is the place to go for a great meal! Their outside dining area on the sidewalk adds to cafe appeal. They also have free dinner for kids on Tuesday nights (sweet!) when an adult orders an entree. A perfect place to grab a nice table outside for some drinks and a family meal the next time you're in Hoboken. 201-798-5898.
Originally published 2013