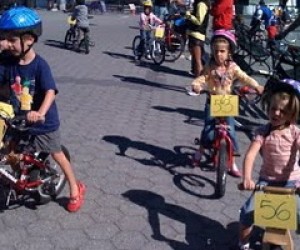 Weekend Events in NJ August 21-22: Kids Bike Races and more!
Our top pick for this summery weekend is Essex County's very first kids-only bike race! For a more relaxing family afternoon, enjoy Jazz and Bluegrass festivals either in the park or along the canal. Kids can pan for gold or make pebble pets at local environmental centers this weekend. Or perhaps a family outing to see the New Jersey Jackals play is in order: this Sunday they are hosting a family fun day.


Hilltop Grasshopper Bike Race for Kids (North Caldwell)
Break out the two-wheelers and helmets! Kids can get some real biking done at Essex County's first kids only bike race. Courses vary by age and include everything from smooth roads to winding trails. Everyone gets an award for participating. Saturday at 9am. Registration begins at 7:30am and closes 15 minutes before each race. $10 per competitor.

Pebble Pets at Essex County Environmental Center (Roseland)
Combine nature and crafts at this fun event: kids can create their very own special pet rock (no walking or poop-scooping required!). Saturday at 10:30am. $6 per child, $8 per adult. Preregistration required by calling 973-228-8776.

Pan for Gold at Stephens State Park (Hackettstown)
Strike it rich in Stephens State Park! Kids can pan for gold just like the pioneers in the 1800s. Wear clothes and shoes to get wet. Recommended ages 6 to 12. Saturday 1pm and 2:30pm. FREE but preregistration required by calling (908)852-3790

Wharton Canal Day (Wharton)
Celebrate the Morris Canal with this old time county fair and take a free paddle on the canal. There will be crafts, food, educational events, music and plenty of free family fun. Saturday from 10am to 5pm. FREE.

Jazz House Kids Summer Jazz Festival (Montclair)
Jazz is even more fun when it is performed by talented kids! Enjoy an afternoon in Nishuane Park listening to musicians of all ages perform. Saturday from 1pm to 5pm. FREE.

New Jersey Jackals: Family Fun-Day Sunday (Little Falls)
Take me out to the ballgame... the New Jersey Jackals host a Family Fun Day on Sunday in a home game against Sussex. Sunday at 2:05pm. Tickets are $5-$11.

Bluegrass Music and Ice Cream at the Blackwells Mills Canal House (Franklin Township)
Wharton isn't the only place where you can enjoy a relaxing afternoon at the canal. At Franklin Township you can also enjoy Bluegrass music, and ice cream... what more could you ask for on a beautiful afternoon. Sunday, 2pm to 4pm.