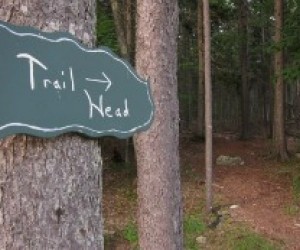 Nature for NYC Kids: 20 Places Where Families Can Connect With Nature
Even though we're raising our families in the urban jungle, there are a multitude of ways to keep New York City kids connected to nature.

We've already written about many great outdoor activities you can do in the five boroughs, like bird-watching, hiking and gardening, and many items on our list of 100 Things to Do in NYC with Kids Before They Grow Up involve communing with Mother Nature.

Now we've rounded up our top 20 places in (or near) New York City where your family can marvel at, learn about and connect with nature. So before you plan your next trip to the country, check out our list. You may not need to rent a car after all.
The Bronx

1. Wave Hill
West 249th Street and Independence Avenue
718-549-3200
$8 for adults, $4 for students, $2 for children ages 6-12, free for kids under 6. Free to all 9am-noon on Saturday, all day Tuesday and every day November-April.
We've written about Wave Hill many times. That's because you'll swear you've left the city when you visit this peaceful Bronx oasis with scenic Hudson River views. The manicured gardens are a great place to observe nature year-round. If you go on a weekend, stop by the Kerlin Learning Center, where art educators and naturalists lead nature-themed art workshops for families. Projects change each week and are usually seasonal.
2. Pelham Bay Park
718-430-1890
FREE
Another one of our favorite destinations, Pelham Bay Park is NYC's largest park. Ride the 6 train to the last stop to enjoy its attractions, including a 13-mile saltwater shoreline that includes Orchard Beach. The Nature Center is currently being refurbished, but should reopen any day. Inside, you'll find exhibits, workshops and activities that help children understand the marine life that surrounds our city.
OUR LATEST VIDEOS
3. Ruth Rea Howell Family Garden
New York Botanical Garden, 2900 Southern Boulevard
718-817-8700
The All-Garden Pass is $20 for adults, $8 for children ages 2 to 12, free for kids under 2.
About a month ago we wrote about all of the summer fun going on at the NYBG, and much of it takes place in this family garden. Kids learn about the natural world as they dig, weed, compost and plant. Once they're done getting dirty, stop by the Wednesday Farmer's Market to take home some fresh produce.

4. Van Cortlandt Park Nature Center
246th Street and Broadway
718-548-0912
FREE
New York is a popular stop on the migratory path of many beautiful birds, and the ridges and valleys of this Bronx park offer prime viewing. The Nature Center is the meeting place for a periodic Birding Walk, led by the NYC Audubon. Bring your own binoculars.
Brooklyn

5. Brooklyn Botanic Garden
1000 Washington Avenue
718-623-7200
$10 for adults, $5 for students, free for children under 12. Free to all Saturday 10am-noon and all day Tuesday.
Justifiably famous for its splendid display of springtime cherry blossoms, the BBG has a wealth of educational programs for all ages, all year round. The Native New Yorkers exhibit is a garden-wide trail, open through November 13, which highlights plants and trees that are indigenous to the northeast.
6. Prospect Park Audubon Center
Inside the Lincoln Road-Ocean Avenue entrance
718-287-3400
FREE
Every weekend, kids can create crafts using all-natural and recycled materials from 2-3pm. On Sundays from 3-4pm, families can explore lesser-known parts of the park on a guided nature tour. Binoculars are provided.
Queens

7. Queens Botanical Garden
43-50 Main Street
718-886-3800
April 1-October 31: $4 for adults, $2 for students, free for kids under 3. Free to all Sunday 4-6pm, Wednesday 3-6pm and every day November 1-March 31.
Cultivate your kid's green thumb at the HSBC Children's Garden. Children ages 5-12 can learn the basics of planting and gardening. In the upcoming fall program, kids will learn how to put a garden to sleep, plant garlic bulbs, harvest tomatoes, peppers and spinach, and how to identify subtle seasonal changes.
8. Queens County Farm Museum
73-50 Little Neck Parkway
718-347-3276
FREE except for select seasonal events.
Agrarian life can be yours in Queens at this functioning 47-acre farm. The site includes a greenhouse, livestock, planting fields, an orchard and an herb garden. Admission is free except for special seasonal events, like the Amazing Maize Maze and the Queens County Fair.
9. Alley Pond Environmental Center
228-06 Northern Boulevard
718-229-4000
FREE to visit but certain activities cost extra.
Families can stroll the nature trails that traverse ponds, salt marshes, forests and meadows. There are also many reasonably priced programs, just for families or children.
10. Jamaica Bay Wildlife Refuge
1 Cross Bay Boulevard
718-318-4340
Free to visit but certain activities cost extra.
Often cited as one of the best places to bird-watch in NYC, this amazing Broad Channel nature spot has played host to more than 330 species of birds over the past 25 years. The refuge's 9,155 acres contain diverse habitats, including salt marsh and upland woods. There are many ranger-led programs for kids and families, including nature study, boating and fishing.

Manhattan
11. Nature Observatory at Belvedere Castle
Central Park, mid-park at 79th Street
212-772-0210
FREE
Belvedere Castle is home to the National Weather Service's Central Park location, so this is the place for aspiring meteorologists. Families can also borrow field packs that contain binoculars, reference material, maps and notepaper, to better explore the park's flora, fauna and feathered friends.
12. Dana Discovery Center
Central Park, enter at 110th Street between Lenox and Fifth Avenues
212-860-1370
FREE
The Harlem Meer is a thriving aquatic ecosystem that supports a wide variety of fish, waterfowl, turtles, plants and microorganisms. Some of the creatures that call the Meer home include largemouth bass, pumpkinseed sunfish, bluegill sunfish, carp and chain pickerel. Leave your photo ID and your child can borrow a fishing pole and take a brief catch-and-release fishing tutorial before casting lines solo.
13. West Side Community Garden
123 West 89th Street
212-316-5490
Membership is $15 per person.
This pocket-sized gem offers families lots of opportunities to get their hands dirty by volunteering. (Note: a serious commitment is needed.) Planting opportunities are numerous throughout the year, and there are periodic live performances that are usually family-friendly.
Staten Island
14. Greenbelt Conservancy Nature Center
700 Rockland Avenue
718-351-3450
FREE
Young naturalists can enjoy a plethora of innovative public programs that aim to educate visitors about the area's natural surroundings. Hiking trails for all ages and fitness levels are a great way to explore the verdant grounds.

15. Snug Harbor Cultural Center and Botanical Garden
1000 Richmond Terrace
718-448-2500
Admission fees vary. The Chinese Scholar's Garden is $5 for adults, $4 for students and free for children under 6.
We absolutely love this borough spot, which is home to the Staten Island Children's Museum and other cultural attractions. Shaded by 19th-century Norwegian maples and Austrian pines, the grounds are spectacular. The traditional Chinese Scholar's Garden is its crown jewel, featuring series of pavilions and covered walkways. It's the place to meditate on the beauty of nature. Plus there is interesting programming, including a popular poetry walk.

Although these nature spots are our favorites, there are additional Nature Centers in New York City.
Westchester
16. Stone Barns Center for Food and Agriculture
630 Bedford Road, Pocantico Hills
914-366-6200
Admission fees vary. Check the calendar.
The mission of this 80-acre farm is to educate visitors about where their food comes from and how to steward the land. There are a variety of educational programs that change with the seasons. Kids can try planting seeds, collecting eggs and harvesting vegetables. Get the scoop on other great Westchester farms.
17. Teatown Lake Reservation
1600 Spring Valley Road, Ossining
914-762-2912
Free admission but certain activities cost extra.
This 875-acre preserve is home to a lake and 15 miles of hiking trails. Teatown's Nature Center houses educational exhibits and a live animal collection, including amphibians, reptiles, birds of prey and mammals, most native to the Hudson Hills.
18. Greenburgh Nature Center
99 Dromore Road, Scarsdale
914-723-3470
$7 for adults, $6 for students, $5 for children ages 2-12, free for kids under 2.
There's a ton of nature programming here, including summer camp, birthday parties, pancake breakfasts and maple sugaring parties, just a short Metro North ride from the city.
Long Island
19. Sweetbriar Nature Center
62 Eckernkamp Drive, Smithtown
631-979-6344
Free admission but certain activities cost extra.
Hundreds of species of animals and plants reside on this 54-acre site. The nonprofit center encourages visitors to learn about native wildlife and ecosystems found on Long Island. There's a vast amount of educational programming and a seasonal live Butterfly and Moth Vivarium.
20. Theodore Roosevelt Sanctuary & Audubon Center
134 Cove Road, Oyster Bay
516-922-3200
Free admission but certain activities cost extra.
Interactive programs encourage children to protect the environment. The Sanctuary is home to 17 non-releasable birds of prey, including hawks, owls, falcons and a vulture, as well as several species of reptiles and amphibians. Read about other nature centers on Long Island.
Find other ways to connect with nature in New York City.