Artificial Intelligence with Scratch Online Camp
Young Gates - Kids Online Personalized Classes

Online Robotics Camp
Young Gates - Kids Online Personalized Classes

Spark Math: Free Trial Class
Virtual
Sign up for our free newsletters.
KidsHousecalls: the NYC Pediatrician Who Comes to You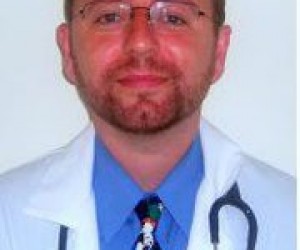 4/20/11
- By
Lia
As the mother of a baby and a toddler, I dread taking the kids to the pediatrician's office. When one is under the weather or has a checkup scheduled, it's a pain to drag the other one along. Plus, I worry about all of the germs they'll be exposed to.

And when either of them gets sick during the night, I always wish the pediatrician could come on over, just like the doc did on Little House on the Prairie. It's so difficult to diagnose what's wrong over the phone.

That's why I was very intrigued when I found out about Dr. Edward Kulich, a New York City pediatrician who only does house calls. So when I noticed my 10-month old was showing signs of pink eye, I gave him a call.
Dr. Kulich accommodates all appointment requests on the same day; I called him in the morning and he was able to come over at 5pm.
A board certified pediatrician, he wheeled a black duffel bag into our apartment with everything you'd expect to see in a doctor's office: a stethoscope, otoscope (ear scope), baby scale, antibiotics and other common medicines, as well as tests for rapid strep, rapid flu, rapid RSV, urinalysis, hearing and vision. He's also able to draw blood for more complicated tests, which he then takes to the lab himself, check oxygen levels, administer breathing treatments, antibiotic injections, fix a dislocated elbow, stitch a wound, take an X-ray, an EKG, and even perform ultrasounds. (Happily, my son didn't need most of those things!)
Our time together didn't feel rushed—a refreshing change from my usual medical visits. My son often shrieks when we go to the doctor, but he was noticeably calmer with Dr. Kulich, probably because he was more comfortable being in his own home. Not only did my son turn out to have pink eye, he also had an ear infection and a skin infection! Dr. Kulich carefully explained each issue to me (and again over the phone to my worried husband when he called for clarification later that evening). The doctor even called the next day to check on my son's progress.
Dr. Kulich explained that he enjoys giving such individualized attention to his patients. In fact, that's why he left his hectic Florida practice (where he regularly saw 40 to 60 patients per day!) to start KidsHousecalls in 2009. Now, he sees no more than eight kids daily and is able to develop relationships with all of his regulars. Easy to talk to, he says that he routinely spends 45 minutes to one hour at checkups and sick visits; sleep consultations take a little longer.
He's also amazingly accessible. He picked up himself when I initially phoned because he answers all of his own calls and schedules his own appointments. He also said that he promptly responds to families' texts and emails on his iPhone. Since parents can talk to him directly, he says he's able to determine if a problem can wait until he drops by, or if a child needs immediate attention. If he sends one of his regular patients to the hospital, he'll even meet the family in the ER to help coordinate care.

Dr. Kulich told me that some of his patients joke that he's like Batman. It really is a fitting nickname, since he says he often gets calls in the middle of the night, hops in his car and comes to the rescue as fast as he can. Bonus: He makes balloon animals, too.

I'm not planning on ditching my children's regular doctor, but I would definitely use Dr. Kulich again in a pinch...especially at night!
How much does he cost? Dr. Kulich's $300 flat fee includes travel time and any necessary tests and antibiotics. If parents use him on a regular basis, he offers significant discounts. Vaccinations are extra.

Does he accept insurance? For now, he's out of network on all insurance plans. However, most of his patients are reimbursed 50 to 80 percent by their insurance companies, and any leftover out-of-pocket expenses are often tax deductible. It's best, of course, to check with your insurance company directly to find out about its out-of-network benefits, if any.

Where will he go? Dr. Kulich travels to all five boroughs and even has patients in New Jersey, Long Island, Westchester and Fairfield County, CT.

To make an appointment, just call his cell: 917-617-2194. You can also visit his website at kidshousecalls.com.