Father's Day Weekend Things To Do in NYC: Plus, Juneteenth, Mermaid Parade, and More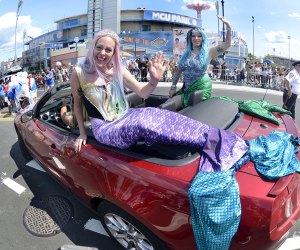 Looking for the best things to do in New York City this weekend? Here are some family-friendly events and activities to add to your list for this weekend.
Juneteenth and Father's Day provide plenty of celebratory opportunities this weekend, with Juneteenth fun at Central Park's Seneca Village, the Brooklyn Museum, and just about everywhere else. Father's Day festivities are at the fore at Wave Hill, and kids can also golf with dad for FREE at Tangram's Father's Day Par-Tee, or splurge on a brunch cruise around Manhattan. We've also rounded up 25 other ways to celebrate Father's Day in NYC here.
Don't miss the Big Summer Get Down in Brooklyn Bridge Park or the Mermaid Parade on Coney Island, which is back in full force with all its wacky splendor! Plus: Adventures NYC brings an action-packed day to Central Park on Saturday.
Bookmark our list of the summer's FREE outdoor movies to make sure you're always up to date on what to see and when. And, naturally, our Family Activity Calendar is packed to the brim. If the weather holds this weekend, check out our Guide to the Best Beaches, Lakes, Sprinklers, and Water Parks near NYC.
More Things To Do in New York City This Week With Kids
Be sure to click through to each listing for all the details, including recommended ages and time. Check with each venue for COVID guidelines before heading out to any event.