Best Summer Theater and Shows for NYC Kids (Free Options Too!)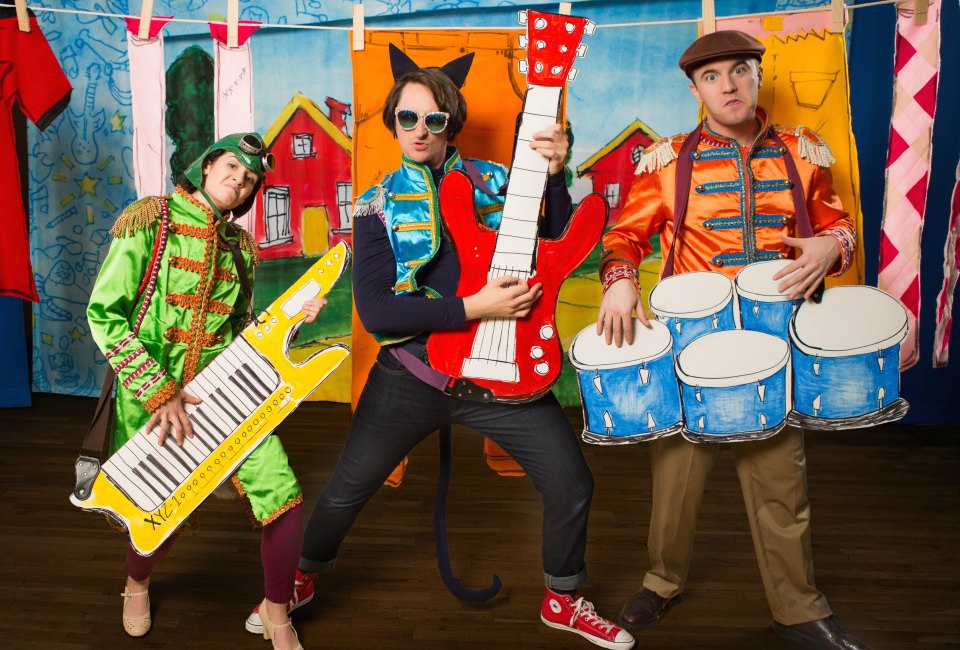 7/3/17
- By
Raven Snook
New York City's family theater scene is hotter than a heat wave. Some people might think the dog days of summer are a cultural wasteland and that all the cool openings won't start again until fall, but that's not the case when it comes to the stage.
There are shows for all ages, interests, and budgets throughout the season, including a FREE page-to-stage adaptation of the Pete the Cat picture books, family-friendly outdoor Shakespeare, the launch of new kid-friendly matinees for a long-running Harry Potter parody, and a rare revival of the musical Really Rosie based on Maurice Sendak stories. Best of all, many of our picks cost less than $25 per ticket, and four are 100 percent FREE! Plus, we found discount codes for the pricier ones.
Click through to our listings for all the details, including schedule, location, and price.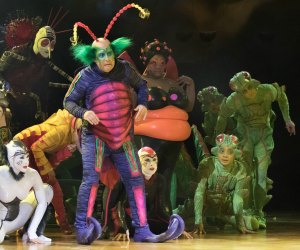 Cirque du Soleil's show-stealing insect clowns in Ovo. Photo by Rob Davis, courtesy of Ovo.
Ovo — Fort Greene, Brooklyn
Wednesday, July 5–Sunday, July 9
Ages 3 and older
We raved about this Cirque du Soleil spectacle when it first played NYC back in 2010, so we're excited to see it again this summer. As with all of the troupe's shows, the top-notch circus acts are mind-boggling, but what really made this particular production stand out is its trio of insect clowns (an uptight beetle, a goofy fly, and an adorable ladybug) and its bug's-eye view aesthetic. My one concern is the size of the venue: Ovo was originally performed in an intimate tent on Randall's Island, but this time around it's at Barclays Center. But if anyone can fill that cavernous space with visual fireworks, it's Cirque. Tip: save money on tickets via Goldstar.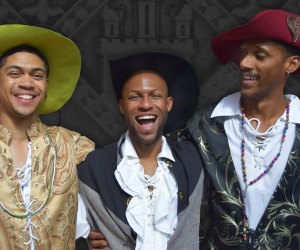 Introduce kids to the iconic Three Musketeers tale reimagined by Classical Theatre of Harlem. Photo by Robert Feffer.
The Three Musketeers — Harlem
Friday, July 7–Sunday, July 30
Ages 8 and older
The award-winning Classical Theatre of Harlem returns to Marcus Garvey Park with a FREE summer show, but this year the troupe's eschewing Shakespeare in favor of swashbuckling with a new stage adaptation of Alexandre Dumas' iconic tale. D'Artagnan and his trio of stylish pals fight to protect the ones they love from the evil Cardinal Richelieu. Action lovers should enjoy the high-spirited story, which is packed with double crossings, kidnappings, battles, and romance, all boiled down to a kid-friendly 90-or-so minutes. And unlike the Public Theater's Shakespeare in the Park, you don't have to wait for hours to snag seats—just show up a few minutes before curtain. FREE
Puffs — Midtown West
Saturday, July 8–open run
Ages 8 and older
Attention all muggles: This long-running Harry Potter-inspired romp about the aspiring wizards who toil in the bigwig's shadow is transferring to a larger theater come July 8. Although it's an original story about the also-rans at the Hufflepuff House, it's filled with inside jokes for Potterheads that reference both the books and the movies. While the show is normally a bit risqué for the series' youngest fans, Puffs is instituting special kid-friendly matinees on weekends that are unofficially rated PG, with toned-down language and less sexual innuendo. Even so, this fast-paced, in-your-face comedy is still best enjoyed by tweens and up. Tip: save money on tickets via BroadwayBox.com.
RELATED: 50 Things to Do with Kids in Midtown Manhattan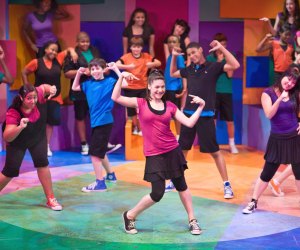 Everything About a Day (Almost) addresses real-life kid stresses. Photo courtesy of TADA! Youth Theater.
Everything About a Day (Almost) — Chelsea
Saturday, July 8–Thursday, August 3
Ages 3 and older
An original revue-style musical covering everything that happens during one very eventful day, this show features songs about relatable kid concerns such as making friends, the stress of homework, the glory of after-school snacks, and the horror of class picture day. TADA! productions only run an hour (great for short attention spans!) and star talented local tykes ages 8 to 18 who are part of the company's Resident Youth Ensemble, so they're perfect for kids who get a kick out of seeing their peers onstage. If your child is little, be sure to ask for a front-row bench seat. Tip: Tickets are significantly cheaper if you order by July 7.
Endangered! The Musical — Midtown West
Monday, July 10–Thursday, August 31
Ages 2 and older
A musical for young animal lovers with an urgent environmental moral. Endangered! is set at a zoo that's about to be hit by a very Sandy-like superstorm. With the help of a kid reporter, the exotic creatures—including a giant panda, a whooping crane, a golden lion tamarin, and a spotted skunk—band together to survive. With important messages about the need for animal conservation and the perils of climate change, this tuner was originally commissioned by the Friends of the National Zoo-Smithsonian, and they know a thing or two about endangered species.
A Midsummer Night's Dream — Central Park
Tuesday, July 11–Sunday, August 13
Ages 8 and older
If you're looking to introduce your kids to the magic of Shakespeare on stage, his comedies are the way to go. And none is more bewitching than A Midsummer Night's Dream. The romantic comedy about unrequited lovers lost in an enchanted forest is a favorite to mount outdoors in summer, and the Public Theater's Shakespeare in the Park production promises a starry cast (Tony winners Phylicia Rashad and Annaleigh Ashford as Titania and Helena!), high-end design, and FREE tickets. Of course the downside is you can't just show up and walk in. To snag same-day seats, theater lovers either wait in line for hours in Central Park or at the Public, or enter the online lottery. With kids, the latter is probably the best way to try to get in unless you're willing to make a hefty donation to guarantee seats. Midsummer is the first Shakespeare play my daughter saw at age 7, and this year at 11 she played Beatrice in Much Ado About Nothing at school! This show is definitely the Bard gateway drug. FREE
RELATED: 100 Free Things to Do with Kids This Summer in NYC
Il N'est Pas Encore Minuit — Lincoln Square
Wednesday, July 19–Saturday, July 22
Ages 7 and older
French circus company Compagnie XY played the New Victory a few years back and I can attest to the members' acrobatic prowess. But unlike similar troupes who seem to defy gravity, Compagnie XY embraces the inevitability of coming back down to earth in its meticulous and mesmerizing routines. Marvel at how their bodies bend, tumble, and build upon one another in incredibly graceful ways. The show is billed as a meditation on "the ways in which humanity deals with instability and imbalance," but kids will probably be far too busy exclaiming, "How did they do that?!" to look for a deeper meaning—and that's fine.
That Chemistry Show — Midtown West
Saturday, July 22–Sunday, October 1
Ages 8 and older
Performing in rep with long-running favorite That Physics Show, this 80-minute science celebration is led by veteran educator and demonstrator Borislaw Bilash. Expect a slew of chemistry tricks like a candle that moves water, a paper cup that won't burn, and weaponized sugar. Sure, you can see these experiments on YouTube, but they're so much more impressive in the flesh—and a lot more fun than sitting through summer school. Tip: save money on tickets via Goldstar.
New York Musical Festival — Midtown West
Since its inaugural 2004 edition, the annual NYMF has showcased more than 400 tuners. A few have even made it to Broadway, including Next to Normal, which snagged a Pulitzer Prize. But while the focus is on grown-up fare, the fest always features a few family-friendly musicals. Catch these four before they move on to bigger and better things (and higher ticket prices). All shows are $29.75 per person.
Numbers Nerds — Wednesday, July 19–Sunday, July 23: Ages 10 and older
An all-girl high school math team tries to win a competition while navigating typical teenage drama in this tween-aimed tuner.
Peace, Love, and Cupcakes — Thursday, July 27–Sunday, July 30; Ages 5 and older
A reworking of a show previously seen at Vital Children's Theatre, this musical is based on the popular chapter book by mother-daughter team Sheryl and Carrie Berk about a middle school outcast who starts a cupcake club in order to make friends. But can the baking buddies survive all the adolescent angst?
Happily: The Musical — Thursday, August 3–4; Ages 8 and older
A coming-of-age tale about a group of seniors at a preparatory school for fairy-tale youth who start to realize that "happily ever after" may not be all it's cracked up to be.
Backbeard: The Musical — Monday, July 31–Sunday, August 6; Ages 3 and older
The hairiest pirate who ever lived gets an unexpected makeover in this musical with the message of loving yourself the way you are.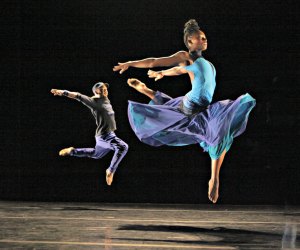 Victory Dance's Evidence Why You Follow with Arcell Cabuag and Coral Dolphin by Ayodele Casel. Photo by Ronald K. Brown.
Victory Dance — Midtown West
Thursdays, July 13, 20, 27, and August 3
Ages 8 and older
On four consecutive Thursdays, the New Victory Theater presents a pair of dance programs aimed at young audiences. There are two different lineups, each of which showcases four diverse companies working in a variety of styles, including ballet, tap, hip-hop, and traditional cultural forms. Program A runs July 13 and 20, and features the all-female Buglisi Dance Theatre, excerpts from a solo work by Bill Shannon, Decadancetheatre's celebration of women in hip-hop, and Doug Varone's dance to Philip Glass' "The Light." Program B on July 27 and August 3 boasts a work starring New York City Ballet principal dancer Amar Ramasar, an Afro-Cucan piece by Ronald K. Brown, a solo Bharatanatyam dancer by Preeti Vasudeva, and an excerpt from "STAMPedTIME." Performances run 90 minutes and are a fabulous way to introduce school-age kids to the magic of dance on the cheap: tickets are only $10!
Pete the Cat — West Village
Wednesday, July 19–Friday, August 18
Ages 5-9
Every summer, national touring children's theater company Theatreworks USA mounts a professional Off-Broadway show for family audiences—and gives away the tickets for FREE. I've been to many of the summer productions in the past, and they're always high-quality and entertaining. This year's show is an hour-long musical inspired by the popular picture book series Pete the Cat, about how the rockin' title feline came to live with the Biddles. Although this cool cat quickly teaches most of the family how to jam, second grader Jimmy needs a bit more help. But soon the duo embark on a crazy trip and Jimmy is able to see the world through kitty-colored glasses. Tickets are given out on a first-come, first-served basis an hour prior to each performance (there is often a line, so plan ahead). Camps tend to take over on weekdays, so you're better off going on a Sunday or to one of the evening shows. There is no stroller storage at the theater, so don't bring one. FREE
Hip to Hip Theatre Company: Measure for Measure — Citywide
Wednesday, July 26-Friday, August 18
Ages 7 and older
There's lots of FREE outdoor Shakespeare playing around town every summer, and this comedy is another great intro to the Bard, even if it's a problematic one. Measure for Measure is an uneasy blend of humor and tragedy with death sentences, sexual blackmail, corruption, and debauchery. But this troupe tends to play up the comedy, and most of the darker moments will probably sail over kids' heads. Plus it's been streamlined to 90 minutes and is presented at no cost in various city parks, so if it's too much you can always flee. If you do decide to go, prime your groundlings by reading a plot synopsis, and enhance the experience by attending on a day when the troupe hosts a pre-show Kids & the Classics interactive workshop in which children go over some text and play theater games. Note: Measure for Measure is being presented in repertory with the much more adult Henry IV, Part I, so be sure to check the schedule carefully to see the right show. FREE
Really Rosie — Midtown West
Wednesday, August 2–Saturday, August 5
Ages 4 and older
Maurice Sendak's Nutshell Library was the (partial) inspiration for this musical, which started out as a half-hour TV special but was expanded into a longer Off-Broadway musical in 1980. With songs by Carole King(!), and a book and lyrics by Sendak himself, this tuner is a mainstay of regional theater but hasn't been seen on a professional New York City stage in decades. That's why we're so excited about Encores! Off Center's revival so kids can once again be entranced by a little Brooklyn girl with a big imagination that takes her on lots of adventures. Tip: save money on tickets via Goldstar.
But wait, there's more! On Thursdays at lunchtime from July 6 to August 10, you can catch FREE performances by many musicals in Bryant Park. The lineup includes numbers from some of our favorite Broadway shows for families, including Wicked (July 6); Kinky Boots and School of Rock (July 13); Cats (July 20); Anastasia (July 27); and Come From Away (August 10). Bonus: On select dates, there will also FREE Broadway in the Boros performances: Friday, July 21 in Socrates Sculpture Park in Long Island City, Queens; Monday, July 24 at the Williamsbridge Park Oval in the Bronx; and Friday, July 28 at Staten Island's Borough Hall Plaza.
Top photo: Pete the Cat is the FREE summer theater show on offer by Theatreworks USA. Photo by Jeremy Daniel.
Enter to Win!