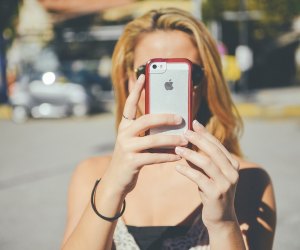 10 Free Back-To-School Apps Every Parent Needs
Sending the kids back to school is akin to setting those New Year's resolutions in January. It's a clean slate and a period (however brief) of good intentions. Make the most of this optimism with these 10 smartphone and tablet apps to help you stay organized, help lend a hand with homework, and even help add some extra learning fun.
We talked with teachers, principals and other educational experts about their favorite apps, and then we gave them a try to see how they worked. What follows is a list of our front runners, all designed to help you and your family get the school year off on the right foot. The best part? All of these apps are free.
Looking for more parenting tips, back-to-school related and otherwise? Sign up for our free newsletters to have them delivered straight to your inbox.
Apps For Getting Organized
Workflowy
If you'd like to get in on the bullet journal craze but the idea of using a pen and paper seems like a monumental step backward, try Workflowy. This simple list-making app can be used to record any type of task or reminder you need. Items can be moved with just the press and drag of a finger, while crossing something off your list is as easy a double-tap. Should your lists get too, ahem, unwieldy, there's even a search function. You can also share lists across devices and on computers, so there's no pretending someone didn't see that after-school to-do list. The free version of Workflowy comes with up to 250 items per month; upgrading to the paid version gives you unlimited list-making capabilities, password-protected collaboration, and some personalization capabilities.
OUR LATEST VIDEOS
Remember The Milk
There is an endless number of organizational apps available, and we tried quite a few of them. While most scheduling apps promised a Fortune 500 CEO-level of organization, too many left us feeling dizzy and frustrated with the sheer number of options. Remember The Milk, on the other hand, is instantly intuitive. The app's streamlined design makes setting up lists and sharing them incredibly easy, and you can keep scheduling as simple—or as detailed—as you want. Forget about having the time and patience for detailed tutorials—we were setting and planning within minutes of downloading the app. Upgrading to the Pro version of Remember The Milk even lets you sync your schedules with Microsoft Outlook.
For Helping Build Study Skills
Quizlet
Quizlet is a popular study app and one that was suggested by several of the educators we spoke with. The beauty of Quizlet is its flexibility. You can create "study sets" for any topic you want and then make flash cards to test on the topic. Quizzes can be created so they're multiple choice, true or false, or written. Questions and answers can even be read aloud and in multiple languages, making them a great solution for a child learning a new language. There is a free version, but upgrading to the paid version enables you to add photos to your study sets.
Anki App
If multimedia is crucial for your flash cards, give Anki App a try. Not only does this study app include the ability to use photos in your digital flash cards, but you can also load sounds into the app. It even features pre-made "decks" that you can download — for free! Students can create and share their own decks with the Anki community, or they can choose to keep them private. I tested a Perfect Pitch musical note-reading deck with my 10-year-old, and we could tap the cards to hear the pitch of the note. (Surprise: I don't have perfect pitch or anything resembling it.)
For Checking Homework
Photomath
This math-solving app is ideal for any parent who struggles to help a child with math. Hovering the phone's camera over a math problem will not only solve the problem for you, but it will also break down the equation and explain the steps. As you may have guessed, this app is really best for parents only because many teachers could consider it a method of cheating. One downside to Photomath: Its text-recognition technology will only work with printed equations, not hand-written.
MyScript Calculator
Speaking of hand-written math problems … MyScript lets you "draw" math problems on the screen of your device with your finger and then instantly solve it. It works with basic arithmetic, as well as roots, exponentials, trigonometry, logarithms and other subjects you may be fuzzy on. You can share your calculations and even view your past history. We're pretty sure that scene in Good Will Hunting would be a lot less impressive now.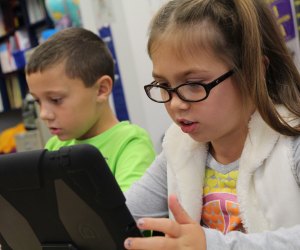 These apps will help you check your child's homework without getting a headache. Image credit: Pixabay
Easybib
This works-cited app is another one that's almost too easy. Just scan the bar code on any book and it will instantly produce the correct format needed for a bibliography. Whether you want APA, MLA or British Journal of Haematology, Easybib is an easy shortcut for those late Sunday nights. It will also save sources for future reference if the same books are used often. Looking for a desktop version? Try Ottobib.com: You can't scan the books, but typing in the ISBN number produces the same results.
Convert Units
Whether it's for family life sciences, industrial arts or chemistry, this app will determine conversion rates for nearly any unit imaginable. The interface is extremely streamlined and easy to use, and you'll never again be left wondering just how many millibars are in a pascal.

For Fun
Bedtime Math
This app, geared toward preschool and elementary school children, was recommended to us by multiple educators. Designed to incorporate math as part of a fun, daily routine, Bedtime Math features a brief description and photos about an interesting topic each day. (Sample topics include the Olympics, the smallest horse in the world or a bacon alarm clock.) After reading the story, a related math question is offered that's broken up by age: Wee Ones, Little Kids and Big Kids. There is also a series of Bedtime Math books available.
BrainPOP & BrainPOP Jr.
These quiz apps show short little animated "movies" (around three to five minutes long) and then feature a test at the end. My kids loved watching the brightly colored educational cartoons, which examine a wide variety of subject matter that stays remarkably timely. (We were able to watch one movie that was timed to correspond with extreme weather events currently affecting parts of the county.) There are multiple free movies offered each week—BrainPOP is geared toward kids ages 9-11 while the Jr. version is for 6 to 8—but paid subscribers receive access to the entire library.
Top image credit: Pixabay