5 Nature Activities in NYC to Get Kids Outdoors This Fall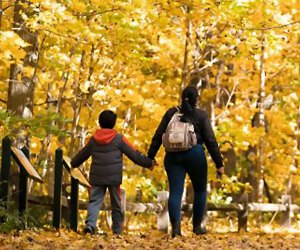 When it comes to fall activities, apple picking and corn mazes are just the beginning. Autumn is a perfect time to explore all nature has to offer in New York City. From learning about bird migrations to forest bathing, there are plenty of places—including some under-the-radar green spaces—for kids and families to fall in love with the outdoors. So, bundle up and check out these five fun nature activities before the fall foliage hits the ground.
Subscribe to our newsletters to get stories like this delivered directly to your inbox.
Grab your binoculars—fall is a great time for kids and families to go birding. New York City is situated on the Atlantic Flyway, a migratory path many eastern bird species follow during spring and fall migration. Go on a birding walk with the Urban Park Rangers or a New York City Audubon Guide or explore New York's ecologically diverse grounds on your own. Before stepping out, check out the National Audubon Society's tips on easy ways to get kids birding.
The New York Botanical Garden in the Bronx is another great place for families to experience the beauty of fall. Explore the Thain Family Forest, with its 50 acres of majestic trees as they undergo their seasonal transformation. Keep your ears open for roaming fiddlers mimicking the natural sounds of the forest as you walk along the paths, and embark on one of the other fun, family-friendly programs hosted by the NYBG to highlight this hidden gem.
RELATED: 20+ Fall Weekend Family Getaways Near NYC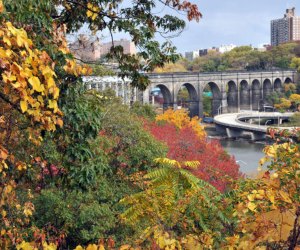 Highbridge Park is a stunning destination in the fall, as its hillside vistas are lit ablaze by brilliantly colored changing leaves. Photo courtesy of NYC Parks
Mid-October to early November is the best time to catch the glorious fall foliage show in New York City. We've rounded up a handful of hiking spots in city limits where changing leaves steal the show. If you prefer a guided visit, Urban Park Rangers lead tons of fall foliage walks and talks. Learn how to photograph nature in Highbridge Park or explore fall foliage in Forest Park or Inwood Hill Park. You can even try guided Forest Bathing in Riverside Park.
RELATED: Guide to Fall Activities in NYC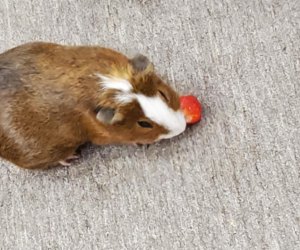 Alley Pond visitors can meet a variety of small animals who call its nature center home. Photo courtesy of the Alley Pond Environmental Center
We love Alley Pond Park and couldn't be more excited that its nature center calendar is packed with family-friendly weekend programming. Visitors can get hands-on with its small animal residents, learn how to cook seasonal foods, or enjoy outdoor programming like an evening "owl prowl."
It's no wonder Staten Island is known as the "borough of parks." With more than 10,000 acres of parkland and open space, there's no shortage of nature activities for families in the greenest borough. Kids ages 5-7 and their caregivers can go on a nature hike and learn about the Lenape tribe of Native Americans who called the borough their summertime home.