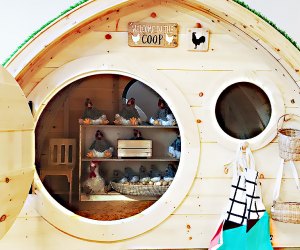 New Indoor Playground Offers Eco-Friendly Fun for Little Ones
Just in time for those cooped-up, cold winter months, a new imaginative, eco-friendly play space has arrived in NJ: Woodland Indoor Playground in Cedar Grove, a Scandinavian-inspired play space created by Montclair mom-preneurs Julija Stoliarova and Marina Miller. Woodland will offer fun for kids and families while giving back to the community via a partnership with the Community Food Bank of NJ.
The play space is open for business as of today, Wednesday, December 12.
Stoliarova and Miller saw the need for a drop-in play space in the greater Montclair area and decided to do something about it.
"Everything was a half-hour away, and you needed to get on the highway," Miller says. "We looked for a location nearby that had ample parking, so that people were comfortable and not stressed when they got here."
Woodland Indoor Playground offers just that—plenty of off-street parking to make getting in and out of the car with carriers and little kids easier.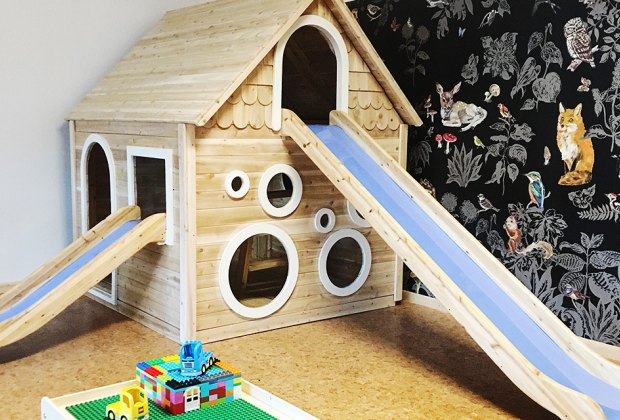 Kids will love to tackle the two climbing slides.
Inside Woodland, the 5-month-old to 5-year-old set can drop-in seven days a week for all sorts of imaginative fun. Kids can explore a variety of wooden toys and make-believe play areas, from a chicken coop and farmer's market to a train and driving area. There's a sandbox to dig into and a climbing slide to tackle.
Woodland was inspired by simple Scandinavian play spaces, and you won't find any noisy or visually distracting toys. It focuses on independent, open-ended, creative play, which studies have shown helps in social and emotional development and problem-solving.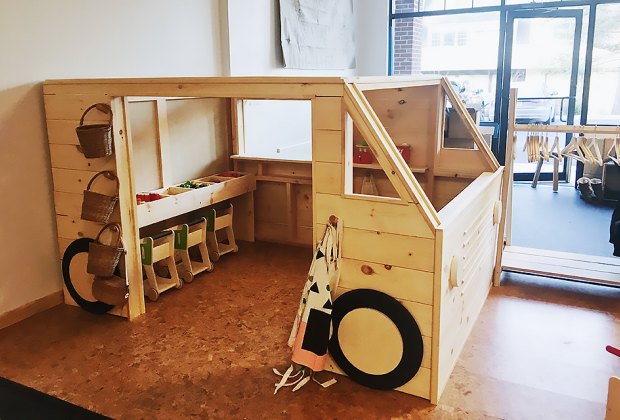 Grab a cart and do some shopping at the market.
The eco-friendly materials used throughout Woodland extend to the cork flooring: its texture helps grip feet, its softness eases stumbles, and its antimicrobial properties keep germs at bay. Nontoxic cleaning products are also used, to support a safe and healthy environment.
Stoliarova's and Miller's concern for children goes beyond the little ones who walk through their doors. They have partnered with the Community Food Bank of NJ to develop a program to give back to the community. A portion of every play pass sold is donated to provide a meal to a New Jersey child in need. Woodland also plans on running seasonal fundraising and charity events.
Even the café shows concern for its guests, serving vegan, gluten-free, and nut-free snacks. In addition to Lavazza coffee and Balthazar baked goods, there's a selection of healthy treats from local businesses, including Joyist in Upper Montclair and Piece of Love Pastries in Montclair. Parents and caregivers who need to stay connected will appreciate free Wi-Fi.
Daily play passes are currently available with no sign-up required. In addition, Woodland offers memberships that include a variety of perks, such as toy and cafe discounts, storytimes, and music and art events. The space is available to book for weekend birthday parties with a selection of fun themes, from unicorns, rainbows, and sprinkles to trains, trucks, and things that go.
A visit to Woodland is a win for all: Your kids have fun and you can relax a bit, all while helping a child in need.
Photos courtesy of Woodland Indoor Playground.