Best Baseball Schools in New Jersey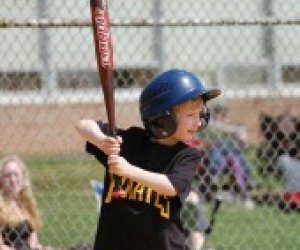 When we near the Fall Classic, it means baseball season will be over for the year, and parents and kids look for ways to keep their head in the game. Luckily, New Jersey kids have more than a few options when it comes to playing baseball and softball during the cold winter months. We've put together a list of great New Jersey baseball schools that offer indoor lessons, leagues and clinics all year long. For even more fun indoor activities be sure to check out our Indoor Play and Activity Guide.
CK's Baseball4U(Marlboro, NJ)
CK's Baseball4U is the only full-time baseball training facility in central New Jersey. Programs are offered for children pre-school age through college. CK's goals are to instill confidence, enhance social and leadership skills and maximize athletic capabilities for all student-athletes that pass through their doors. CK's offers group classes, private instruction, team training, travel teams, summer camps and birthday parties. Their state of the art facility features a major league size infield, retractable batting cages, a 35 yard sprinting track and a weight room. For more information, visit their website or call 732-817-6117.
Gamers Baseball Academy (Kenilworth, NJ)
Gamers Baseball Academy is the premier multi-sport training facility in Union County. Their top-notch staff includes college coaches, former professional athletes and college players. Their brand new 10,000 square foot facility includes 7 hitting tunnels, a pitching tunnel as well as conditioning and defense areas. GBA offers private and small group lessons, group classes, weekend clinics, team training, batting cage rentals and birthday parties. For more information call 908-967-6211.
Professional Baseball Instruction (Upper Saddle River, NJ)
Professional Baseball Instruction offers group and private training in all aspects of baseball under the tutelage of New Jersey's finest coaches in their state-of-the-art 30,000 square foot indoor facility. PBI can train your child from pre-school to the pros. Their "Squirts" program is designed to teach the basics of the game to 3-5 year olds. Year round training programs are conducted in age appropriate groupings from ages 7 thru high school. PBI's Eagles travel teams range from 8U to 14U and play in both league and tournament action. In addition to training, PBI also offers birthday party options. For more information call 201-760-8720.
Zoned Sports Academy (Bridgewater, NJ)
Zoned Sports Academy was founded on the belief that it will provide premium instruction and assistance to all student athletes to better their skills and opportunities. Zoned provides both baseball and softball instruction. A variety of training programs are offered to players 5 and older. Programs include 6 week overall training classes as well as specialty classes on hitting, pitching, fielding and catching. Group and individual training is available. Zoned also offers full and half day camps during many days when school is closed. For more information call 732-537-1770 or email zonedinc.com.
The Sports Center (Wall, NJ)
The Sports Center is a family owned and operated training facility that offers both baseball and softball training. Their staff of experienced players, coaches and trainers offers programs that will improve pitching and catching, fielding and batting. They also offer programs that focus on improving quickness and agility. Their 12,000 square foot facility is open year round and offers a 40 yard indoor track, strength training area, batting cages with Iron Mike pitching machines and pitching bays. For more information, visit their website or call 732-921-9530.
Frozen Ropes (Pinebrook, NJ)
Instruction at Frozen Ropes combines both physical and mental training. The staff's goal is to gather the best instructional information and present it to players with consistency and passion. Classes offered include a "rookie" class for 5 and 6 year olds, which introduces hitting, fielding and throwing. 7 to 12 year olds can take hitting or pitching specific classes, or enroll in their "After-School Academy" which covers all the fundamental baseball skills needed to play the game. For a complete list of their classes and schedule, visit their website or call 973-396-2610.
Branchburg Sports Complex (Branchburg, NJ)
The Branchburg Sports Complex offers a variety of programs for young baseball and softball enthusiasts. Children as young as 3 can learn the fundamentals of the game in the "Sandlot Sluggers" and "Sandlot Sluggettes" programs. BSC also offers a variety of hitting, pitching and fielding clinics for children ages 7 to 11. Batting cage rentals are also available at their 78,000 square foot facility. In addition, BSC offers "schools-out" and summer camp programs. For more information call 908-203-1600.
Originally published 2014