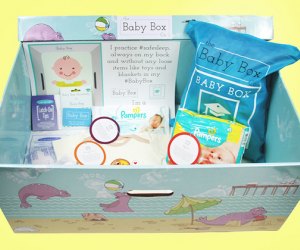 Baby Sleep Boxes Offered to Every NJ Parent for Free in 2017
Expecting a baby in 2017? If you're in New Jersey, you'll have the opportunity to receive a FREE Baby Box that can serve as mini crib for the newborn months and comes stocked with infant supplies, such as diaper and wipe samples.
The boxes, created by Baby Box Co., are modeled after the same ones provided by the Finnish government for decades to new moms and aimed at tackling SIDs, or SUID, Sudden Unexpected Infant Death, aka, every parent's worst nightmare. The sturdy cardboard box is considered a safe sleeping environment and has earned the seal of approval from CPSC, Health Canada, and EN for safe infant sleeping spaces. It can also be kept close by, which makes things easier on parents but also further encourages healthy habits, from breastfeeding to bonding. Finland has one of the lowest infant mortality rates in the world, and the boxes, along with the prenatal counseling that comes with them, are credited with its successful rating.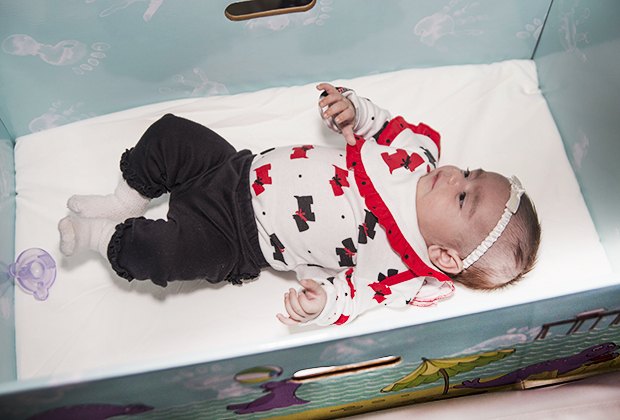 Babies can sleep in the box until they outgrow them or can pull up independently.
A grant from the Centers for Disease Control and Prevention (CDC), Baby Box Co.'s partners, private donors, and corporations helped bring the boxes to New Jersey for FREE this year.
"Every year we review instances in which infants die suddenly and unexpectedly," said Kathryn McCans, MD, FAAP, an emergency department physician at Cooper University Health Care and chair of the New Jersey Child Fatality Near Fatality Review Board, in a statement. "In a significant proportion of these deaths, an unsafe sleep circumstance is a contributing factor. Baby Box University will help families make safe and healthy choices for their children by educating them about simple changes that will decrease the risk that a death will occur due to an unsafe sleep environment or SIDS."
To request a box, new parents must register at babyboxuniversity.com, and complete a short video and quiz on safe baby sleep habits, prenatal care, and other infant care information. Parents can then choose to have the box delivered directly to their home, or to pick it up at a distribution point, including at Cooper University Healthcare and Southern New Jersey Perinatal Cooperative.
The FREE Baby Box includes newborn essentials such as Pampers diapers and baby wipes, Vroom activity cards from the Bezos Family Foundation, Lansinoh breast pads and nipple cream, a onesie, and other items donated by organizations. A mattress and sheet are also provided. Babies can sleep in the box until they are pulling themselves up independently, which may be as long as 5 to 8 months old, according to the company. Afterward, the box can be used to store baby items.
More than 5,000 requested the boxes within 24 hours of the program's launch last week, according to Jennifer Clary, the company cofounder and CEO. The group expects to supply 105,000 babies with the boxes this year, based on projected births for the state, but it can increase that number if needed.
Baby Box has run similar programs in San Francisco, through the University Health System in San Antonio, Minneapolis and St. Paul, Minnesota, and Berkshire, Massachusetts, but New Jersey is the first statewide effort.
The Baby Box is also available for sale, filled with various newborn supplies of your choosing. A competitor box company, Finnbin, also offers online sales of these Finnish style baby sleeping boxes.
Top photo: The box that will be provided to NJ families FREE of charge. All photos courtesy of Baby Box.