22 Hottest New NJ Destinations for Kids That Opened in 2018
As we prepare to count down to the new year, we're looking back at all the wonderful new kid attractions we gained in New Jersey over the last 12 months. We added more than a handful of new indoor play spaces, two playgrounds updated with modernized equipment and cool features, and a museum dedicated to NJ's Revolutionary War history.
If you didn't get enough shopping during the holiday season, swing by for storytime at Indigo, a gigantic new bookstore at Short Hills Mall. Menlo Park Mall's Disney Junior Play Zone and PopFit Kids at Paramus Park Mall also keep mini shoppers in mind with FREE indoor play.
Looking for a sweet treat? You can't go wrong with ice cream at Brooklyn-import Ample Hills, or a custom confection from Sugarsuckle, known for their amazing kids' birthday cakes.
Soar to new heights in 2019 at iFly, which opened its first NJ location this year. Other chains including Dave & Busters and Sky Zone expanded their presence in the Garden State this year with new locations. And what's old is new again, as favorites such as Asbury Lanes, Imagine That!!!, and the Sandy Hook Lighthouse reopened in 2018 after being closed for extensive renovations.
Whether you want to hit the (sensory) trail or jump for joy, you're in the right place. Read on for the coolest, brightest, and best new offerings for NJ kids.
Indoor Places To Play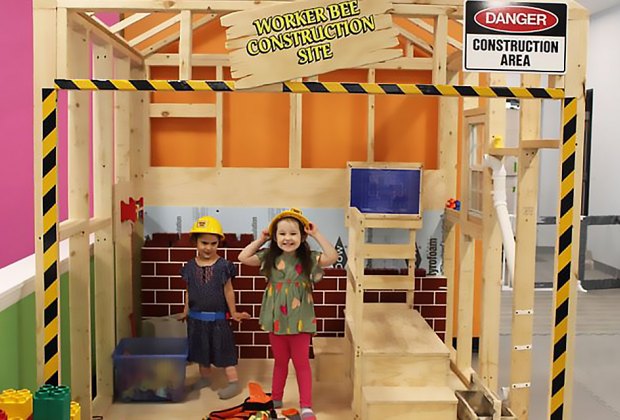 Kids can delve into imaginative play at Busy Bee in Millburn. Photo courtesy of Busy Bee
The Busy Bee – Millburn
Cute, clean, and colorful, The Busy Bee buzzed into town in early Spring. The open play space includes a large climbing structure, three slides, a grocery store, construction area, bus-shaped playhouse, diner, beauty salon, and more. It's packed with fun, but the space is still small enough to keep an eye on your little ones at all times. Admission includes all-day play so you can leave for lunch or a nap, and return in the afternoon to play some more. A robust special events calendar include slime-making, painting, and music and movement parties.
Discovery Center at Snapology of Monmouth County – Tinton Falls
Getting kids interested in math and science used to be a chore, but play-based programs like Snapology are reinventing the building blocks of STEAM (science, technology, engineering, art, and math) education. Discovery Center, which launched November 2017, offers both drop-off and drop-in options. Kids can pop in to play with a long list of thinking toys including KEVA planks, Magna-Tiles, Strawbees, a derby racetrack, a virtual reality station, Imagination Playground blocks, a magnetic wall, and an air graffiti wall. There are also classes, camps, birthday parties, and parents' night out events.
Escapology — Garwood
If you have a junior Sherlock Holmes on your hands, we've found the perfect solution. Aimed at older kids, this kid-friendly escape room debuted last December to challenge groups of up to eight to track down a killer on the Budapest Express or scour a lab for an antidote necessary to save the entire human race. Young sleuths have to race against the clock and rally together to escape the room in less than 60 minutes.
RELATED: New Snapology Play Space Offers STEM Fun for Central NJ Kids

Get hands-on learning and STEM fun at Genius Gems. Photo courtesy of Genius Gems
Genius Gems – Millburn
Genius Gems feels more like a hands-on museum / learning center than your typical play space. Open since May, the bright and beautiful, 5,000-square-foot-space feels sophisticated but not stuffy—a nice alternative to the louder, more hectic play gyms and bounce houses that are awesome for kids, but sometimes not so much fun for parents. In addition to thousands of magnetic tiles, kids will also be drawn to the interactive light wall, soft foam building blocks, and wooden train sets. Grab a bite to eat at the snack bar and relax in the lounge where you can still keep an eye on all the action.
Tumbles – Princeton
Tumbles kicked-off last December with a super-fun grand-opening, and is a great place to work out the winter wiggles. Part indoor playground, part gymnastics gym, this inviting facility appeals to a wide range of ages, from 4 months up to 10 years. Open play includes access to the three-story Tumble Zone, rock climbing wall, balance beam and high bars. An age-appropriate assortment of classes instructs kids in movement, sports and gymnastics. Check the online calendar to find the best session for you and your little wiggle worm.
The Village Play Cafe – Chatham
It takes a village, right? That's how you'll feel at this new indoor play space for kids ages 1–5 that just oozes creativity and attention to detail. Just opened in July, The Village is composed of a vet clinic, playhouse, fire station, post office and grocery store, little ones can tap into their imaginations and become whomever they want to be for the moment. And don't forget about the java. The coffee bar lining the play space serves up gourmet coffee, espresso and tea drinks, healthy snacks and baked goods.
Woodland – Cedar Grove
Just in time for those cooped-up, cold winter months, a new imaginative, eco-friendly play space arrived in NJ this month. Woodland Indoor Playground in Cedar Grove is a Scandinavian-inspired play space where the 5-month-old to 5-year-old set can drop-in daily for all sorts of imaginative fun. Kids can explore a variety of wooden toys and make-believe play areas, from a chicken coop and farmer's market to a train and driving area. There's a sandbox to dig into and a climbing slide to tackle. A portion of every play pass sold is donated to provide a meal to a New Jersey child in need via the Community Food Bank of NJ.
New Museum
Discover History Center — Morristown
Located at Washington's Headquarters Museum in Morristown National Historical Park, it was no coincidence that the Discover History Center opened President's Day weekend. Kids can get hands-on with interactive exhibits featuring touch screens, motion-activated overhead speakers, push-button maps, and mini-doors that open to reveal historical tidbits about Gen. George Washington and the hard winter of 1779-80 endured by his troops in Morristown. Galleries with many never-before-seen artifacts bring Revolutionary War history to life, allowing kids to try a Continental uniform for size, lift a musket to feel its weight, and crawl onto a wooden bunk in a recreated log hut.
RELATED: The Best Museums for Kids in Northern New Jersey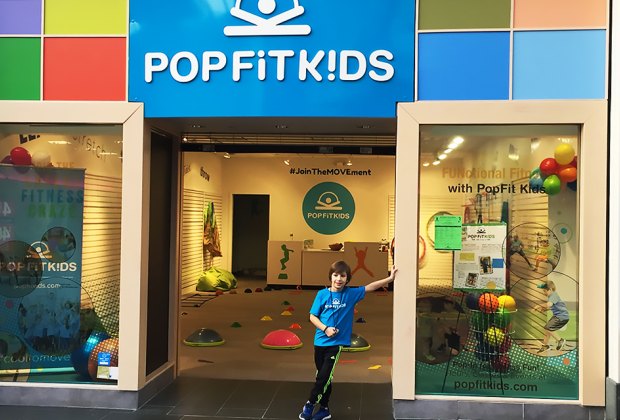 The drop-off open gym sessions at PopFit Kids are a great way for kids to gain independence. Photo courtesy of PopFit Kids
Shop & Play
Disney Junior Play Zone – Edison
Calling all Mouseketeers! Menlo Park Mall is now home to the first and only Disney Junior Play Zone in the Northeast. Located on the upper level near Nordstrom, the indoor play space features all your kids' favorite Disney Junior characters—Mickey Mouse and Friends, Puppy Dog Pals, Muppet Babies, and more—in interactive displays, climbable play sets, and a variety of games and activities.
Indigo Bookstore – Short Hills
Indigo, Canada's largest bookseller, opened its first U.S. location in the Short Hills Mall right in time for the holiday shopping season. Billed as a "cultural department store," the 30,0000-square-foot bookstore features a huge children's section, complete with plenty of space to play and explore, as well as a calendar packed with storytimes and special events.
PopFit Kids – Paramus
Shopping with kids can be a chore, but this drop-off gym, which made its debut at Paramus Park Mall earlier this year, might just help you enjoy a trip to the mall once again. During 50-55-minute open-gym sessions, kids ages 3.6 to 13 can be dropped off to jump hurdles, swing on ropes, bounce balls, and more, while you get shopping done or grab an adults-only meal at one of the local restaurants.
RELATED: 30+ Indoor Play Spaces for Kids in Northern New Jersey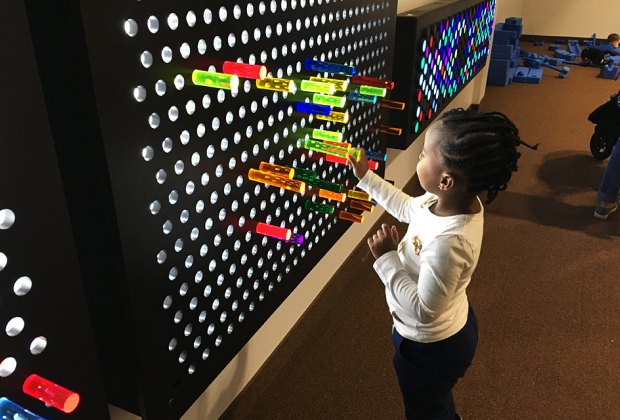 Imagine That!! has a larger-than-life Lite Brite. Photo by Margaret Hargrove
Back & Better Than Ever
Asbury Lanes – Asbury Park
With a nod to the center's past and an eye to the town's future, this bowling alley-turned-music venue, which first opened in 1962, was rebuilt with state-of-the-art bowling technology and an expanded performance space. Reopen since May, the new Asbury Lanes features six lanes and will offer bowling lessons for children and adults, while the performance space will host concerts and other performances for all ages.
Imagine That!! – Florham Park
Following a five-month gut renovation, the popular children's museum we know and love was transformed into a beautiful and bright 16,000-square-foot indoor play space this January. The updated and inviting fun spot boasts brand-new play structures like an electronic sand table and an interactive, LED light board, plus new-and-improved versions of original attractions like the grocery store, dance studio, play maze, and more.
Sandy Hook Lighthouse – Sandy Hook
After nine months of renovations, the Sandy Hook Lighthouse reopened to the public in June. As the oldest operating lighthouse in the United States, this 254-year-old-beacon was long overdue for a refresh. In addition to several coats of crisp white paint, the lighthouse's interior was also refurbished. Open year round, lighthouse tours are first come, first served, from 1–3:30 p.m. November 1–April 30 and 1–4:30 p.m. between May 1 and October 31. Kids must be at least 48" tall to climb the 95-step spiral tower, where you're rewarded with a breathtaking view of the New York City skyline.
Chain Reaction
Dave & Busters – Wayne
New Jersey's first Dave & Busters opened in Woodbridge late 2017, and the gamer's paradise quickly expanded to a second location at Willowbrook Mall in February. Situated in the spot formerly occupied by Sears, the Wayne Dave & Buster's features 46,000 square feet of entertainment, including hundreds of arcade games, an ample sports bar with dozens of enormous flat-screen HDTVs, and an extensive menu of wings, quesadillas, and a decadent brownie sundae tower large enough for a family to split.
iFly – Paramus
Skydiving without jumping from a plane? That's right. Kids ages 3 and up can fly like their favorite superheroes at iFLY, the first New Jersey outpost of the the thrilling skydiving center which opened in April. iFLY Paramus offers kids and grown-ups alike a chance to experience the sensation of skydiving—no plane or parachute required—inside a vertical tunnel powered by mega fans that generate winds up to 120 mph.
Rockin' Jump – Wayne
Trampoline parks are all the rage these days, and the first NJ location of this growing international chain opened near Willowbrook Male late last year. Wall-to-wall trampolines, a vertical climbing wall, and foam cube pit will keep kids busy. Bouncing dodgeball and slam-dunk hoops add to the fun. Birthday parties, free wi-fi and a cafe are also available.
Sky Zone – Springfield
Sky Zone Springfield is the ninth and newest addition in the New Jersey Sky Zone family. At this 35,000-square-foot facility, which bounced into town in April, there's no shortage of ways for kids of all ages (and adults) can burn off some serious energy. Jump with buddies on the enormous grid of Freestyle Jump trampolines, dunk and play hoops on the SkySlam tramps, or challenge a friend gladiator style in a SkyJoust. Don't worry—there's a foam pit below.
RELATED: Free Indoor Play Spots for NJ Kids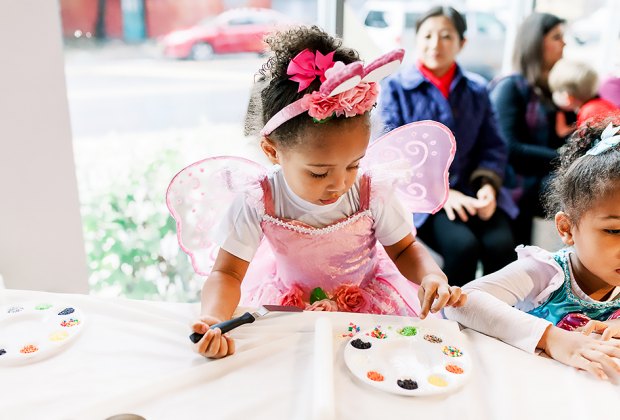 Decorate your own cookies, cupcakes, or mini cakes at Sugarsuckle. Photo courtesy of Sugarsuckle
Sweet Spots
Ample Hills – Jersey City
I scream, you scream, we all scream for ice cream. Especially when it's a scoop from the beloved Brooklyn creamery that launched its first NJ store in Jersey City late 2017. Famous for irresistible combinations like Snap Mallow Pop (marshmallow ice cream with toasted Rice Krispie clusters ), PB Takes the Cup (vanilla ice cream with chocolate flakes and homemade peanut butter cups), and The Munchies (pretzel infused ice cream with clusters of potato chips, pretzels, Ritz crackers, and mini M&Ms), it's an ice cream lovers paradise. Golden Door—a nod to Jersey City's nickname—is full of local flavor with cannoli filling and streusel crumble — yum!
Sugarsuckle – Hoboken
Move over Carlo, there's a new cake boss in town. Jennifer Choi's stunning, 700-square-foot Hoboken studio provides the perfect backdrop for her gorgeous birthday cakes, cookies and confections. Sugarsuckle, which celebrated its grand opening in June, isn't your typical retail bakery—you can't just walk in and grab a half-dozen cupcakes or a scone to-go. Custom cakes and desserts must be ordered in advance, but the studio often hosts pop-up shops where you can buy and sample treats, as well as baking workshops for both kids and adults. If you believe decorating your own birthday cake is half the fun, kids' birthday party packages include full use of the light-filled studio where partygoers can frost their own cupcakes, cookies, or mini cakes.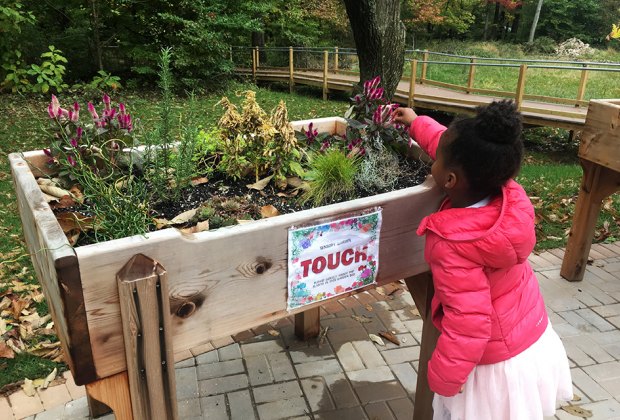 Wander along the Watchung Reservation Sensory Trail. Photo by Margaret Hargrove
Outdoor Places To Play
Verona Park & Grover Cleveland Park – Verona and Caldwell
We can't wait for warmer temperatures to head back outside to play, and these two renovated playgrounds are at the top our list. Verona's modernized playground debuted brand-new equipment and enhanced safety features this summer, including a fence enclosure, rubberized floor surface, and a water mister that provides a cool spray on super-hot days.
Renovated Grover Cleveland Park in Caldwell is equally inviting, with three new play structures for kids of varying sizes; a standing zip-line; bongos to bang; a variety of swings, including a disc swing and two tandem swings; a swaying step bridge; and metal-and-rope climbing structures amid the lush landscape.
Watchung Reservation Sensory Trail – Mountainside
The first of its kind in Union County, and according to park officials, the most extensive sensory trail in the U.S., the Watchung Reservation Sensory Trail blazed a sensory-friendly trail to NJ in August, catering to kids of all abilities. The wheelchair-friendly 0.3-mile loop through Union County's largest park includes a talking kiosk, outdoor classroom vignettes, a sensory play zone, and box gardens that beckon little explorers to see, smell, touch (and taste, if you dare!).