New Kids' Gym in Paramus Lets NJ Parents Drop and Shop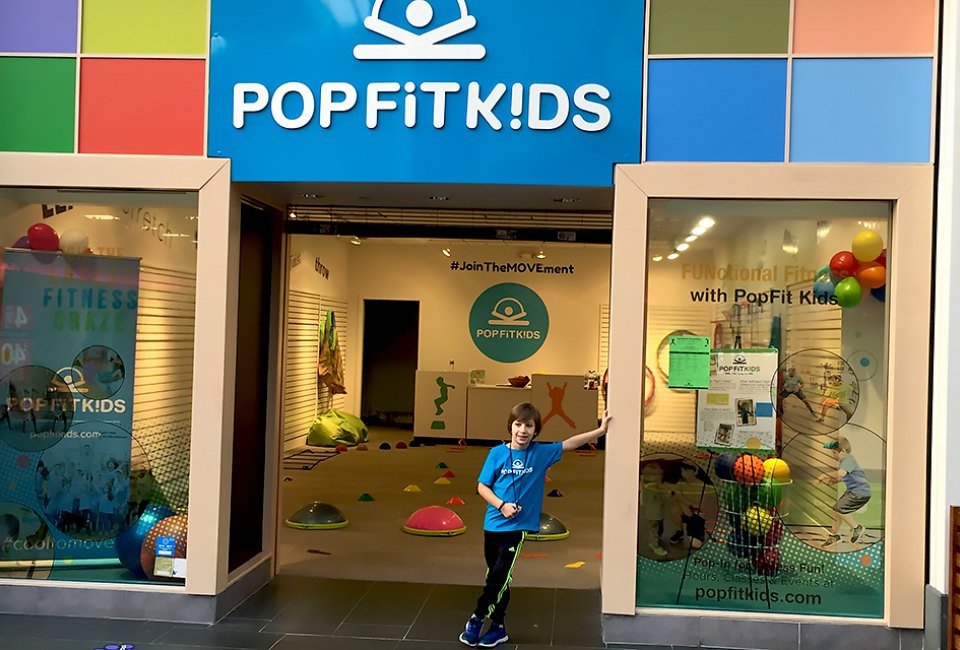 2/15/18
- By
Elaine Paoloni Quilici
Shopping with kids can be a chore. When they're not running around the sales floor or playing hide-and-seek in the clothing racks, they're complaining or asking you to buy them something. Instead of dropping $20 on snacks and small toys to keep them happy, why not put that "treat" money toward something both of you can enjoy—a drop-off gym class at the mall. PopFit Kids, which recently opened in the South Court at Paramus Park Mall, offers this and more—including drop-in and weekly classes that offer kids plenty of active, indoor fun. It just might help both kids and parents enjoy a trip to the mall once again.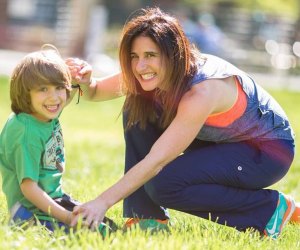 PopFit Kids co-founder Mara Wedeck and her son
PopFit Kids, which already has locations in New York City and Charleston, S.C., was co-founded by Mara Wedeck, a health and wellness advocate and mom.
"Like many moms, I am always looking for the most efficient way to balance between the time dedicated to my son and to my own personal activities," Wedeck says. "So when the opportunity to bring PopFit to Paramus Park presented itself, it felt like a win-win situation where we could provide a fun, active, and safe experience for the kids while mom and dad could cross a few things off their to-do lists at the mall."
During 50-55-minute open-gym sessions, kids ages 3.6 to 13 can be dropped off to jump hurdles, swing on ropes, bounce balls, and more. Younger kids are welcome to join in the action but must be accompanied by an adult (check PopFit Kids' schedule to see the various classes offered and their specific age ranges.) Certified fitness coaches are on the floor to oversee play.
RELATED: Revamped Garden State Play Plaza Play Space Takes Kids Down the Shore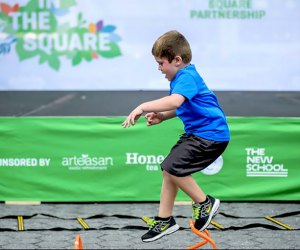 Kids can get fit and have fun with a variety of age-appropriate games and activities.
There are also organized drop-in classes where activities are geared toward a specific age range. Younger kids enjoy obstacle courses and fitness games, while older kids work on their speed, agility, and conditioning. No matter the class, activities and equipment are always focused on PopFit Kids' Fit Five curriculum: cardio, strength, flexibility, balance, and endurance.
For all drop-offs, PopFit Kids requires kids to be over 3 years old and have had previous experience separating. For kids under 5, parents are asked to stay within the mall during the child's first class. Parents are also asked to leave a cell phone number and an additional emergency contact.
Each session costs about $20, and a 10% sibling discount is available. You can book your visit in person or in advance online.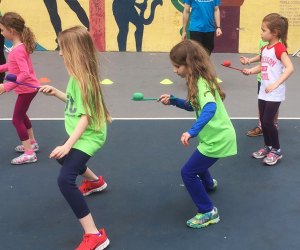 Whether it's an open-gym session or organized drop-in class, certified fitness coaches are on hand at all times.
Even if you don't have shopping to get done, need a mani/pedi, or want to grab an adults-only meal or beverage at a nearby restaurant, the drop-in classes are a great way to get the kids out of the house and moving on a dreary winter day. They're also a great way to test out the gym. If your kids are fans, you can register them for a semester-long program. Weekly classes are available for kids as young as 18 months.
The gym also offers periodic parents' nights out, where parents are encouraged to stay nearby but are not required to stay in the mall.
For more indoor fun this winter, check out our list of drop-in play spaces for $15 or less.
All photos courtesy of PopFit Kids
Places featured in this article:
Sign up for the Mommy Poppins Newsletter today!