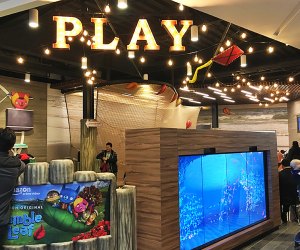 Revamped Garden State Plaza Play Space Takes Kids Down the Shore
It's hard to believe I started my Christmas shopping early this year, with a 9-month-old baby boy at home gobbling up all of our bananas and mama's free time (in the best way possible). But in a twist of fate, I found myself at the Westfield Garden State Plaza in Paramus, New Jersey, this past Saturday. After a full morning of indoor mall shopping, I wolfed down some Wetzel's Pretzel bites and wound up introducing my little guy to his first social indoor play space experience at GSP's totally revamped Westfield Family PlaySpace.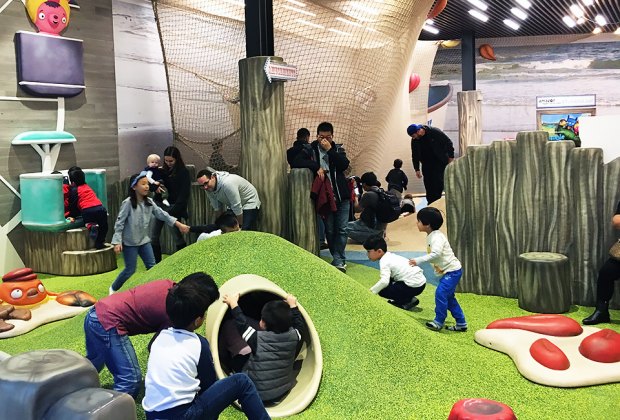 Kids of all ages will find something to explore.
While I don't quite know what the kid-friendly PlaySpace looked like before its renovation, the newly imagined world, sponsored by the Amazon series Tumble Leaf, looked like it leapt out of the dreams of the dolls that dropped in to visit. Preschoolers who've watched an episode of the stop-motion animated series could easily spot Fig, Maple, and their buddies branded in the background. Though it's situated in the Lower Level of the mall's food court, it might as well be Point Pleasant, because the whole soft-padded play pad is stamped with staples of the Jersey Shore.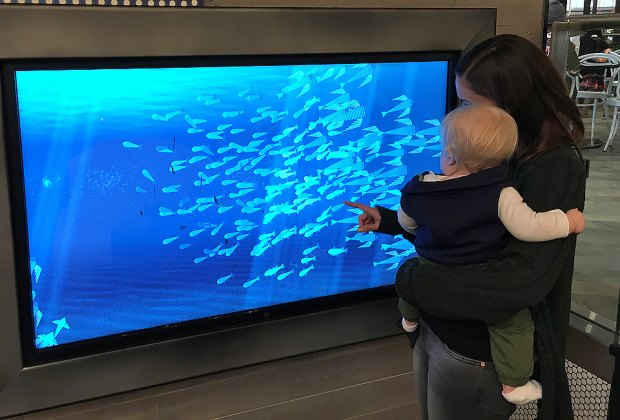 Who isn't mesmerized by a beautiful school of fish?
Before walking in, my friend held my son in front of the huge interactive fish tank so he could watch the fish and the bubbles float across the screen. The colors and the flutters of the little ocean creatures and flexible reef completely entranced him, and he immediately started to reach out to try to connect with his lifelike, finned friends. The screen had cameras above it, suggesting that there was a motion-activated feature. Had it been working (or perhaps simply turned on), my mini mister might have been able to coax the fish from one side of the screen to another with just a wave.
Time is flying so fast in my almost-1-year-old's life that I would hardly ever want to speed up time. Yet, the sweet little cubbies at the entrance made me think for just a second how cute it would be to fill the cubes with sneakers that weren't sole-less crib shoes.
RELATED: Free Indoor Play Spots for New Jersey Kids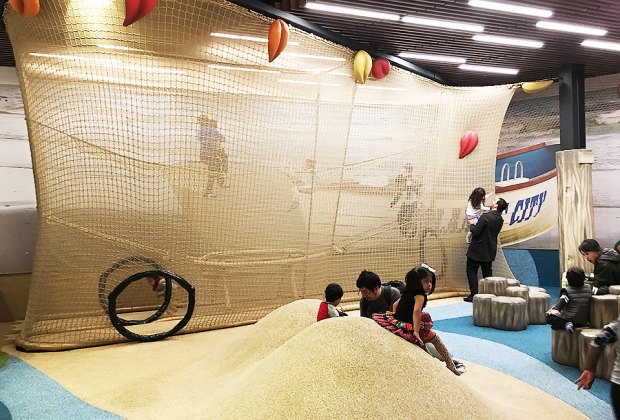 Older kids get in on the action, too, with climbing nets and a rope bridge.
Once inside, we ventured from section to section taking peeks at all the playthings available to peruse. Directly in front of us were foam sand mounds that little climbers could crawl all over and chase their friends on. Behind that was a completely netted and fairly opaque activity set primed for older kid play. Featuring a rope bridge, climbing walls, and tunnels to traverse quickly between the more advanced course and the simpler scenes outside, this area is a great place for bigger kids to step up and show off while their younger sibs look on in amazement.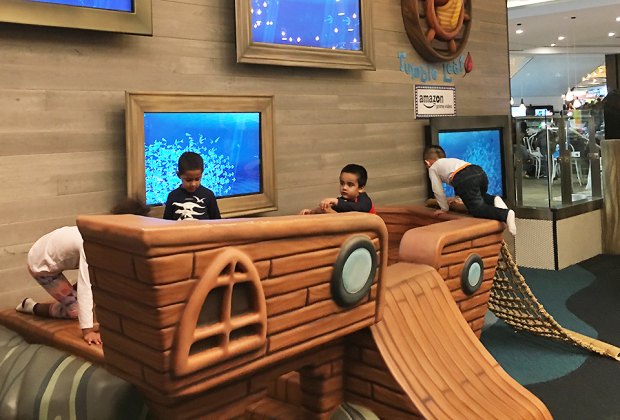 Climb aboard and explore the ship!
To the right was a small foam wooden ship for little buccaneers to bounce around in. Though it wasn't as skill-focused and sophisticated as its netted counterpart (having much lower-to-the-ground entry points), the ship still stayed the course in providing toddlers with a fun pirate adventure. Above and beside the boat were additional screens flurrying with fish and a message encouraging "learning through play."
To the left was the most exciting part of the PlaySpace (in my opinion): essentially, the boardwalk and amusement park portion of the shore. A gigantic, graphic Ferris wheel, with 3-D pastel-colored pods for kids to hide out in and play on the touch screens occupies the furthest wall. While the rest of the 'grass' covered arena spotlights coastal motifs like crabs, jellyfish and pier pilings made out of boo-boo-free foam and traipse-through tunnels - easily maneuverable for young children and infants who have mastered the art of crawling (with a parent supervising in the wings).
RELATED: Indoor Play Spaces for Kids in Northern New Jersey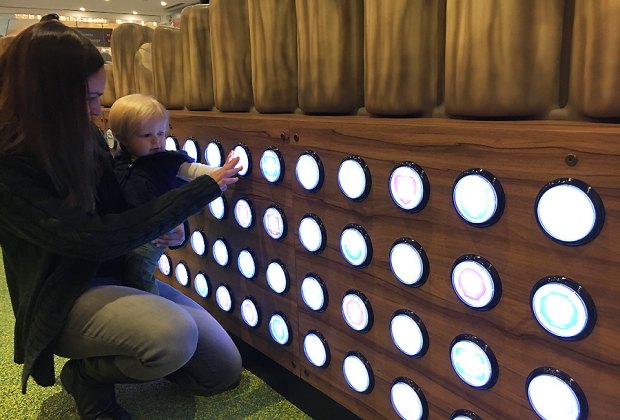 Kids and light-up buttons go hand-in-hand.
The wall separating the play place from onlookers was dotted with plastic buttons that would glow when pushed. My son wouldn't stop giggling every time he hit one of the buttons and it was illuminated. Interestingly enough, the featured images inside the plastic were insignia of the shore points every Jersey girl has grown up with. From Lavallette to Spring Lake, the buttons served as an archive and memoir of all the beach passes from years past.
Parents can pal around with their children inside, watch from the sidelines (there are plenty of foam benches to sit on), or supervise from the outside. And stroller parking can be found on the perimeter of the indoor play space.
The grand reopening comes at the perfect time to offer over-shopped moms and dads a place to retire for a few and let their tiny ones tire themselves out for the car ride home. It's the perfect free fun activity for a family with little kids. Hours coincide with regular mall hours.
Definitely a thumbs-up testimonial from this new mama!
All photos by the author.
Garden State Plaza Mall
One Garden State Plaza Blvd
Paramus, NJ 07652