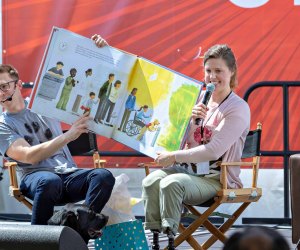 Weekend Fun for LA Kids: Book Fair, Earth Day, and Cowboys
Look, I can vamp for three paragraphs about all the amazing stuff going on this weekend, but as far as I'm concerned, it's all Book Fair, all the time. The Los Angeles Times Festival of Books has favorite authors showing up for meet and greets, readings on the free stages, ticketed panels if you can spare two bucks, books books books, and then some more books. It's one of the few times when my kid says, "Mommy may I buy that?" and I say "Why not get two?!"
The Book Fair is mostly in the daytime hours, so if you want to attend a movie or see a show, your nighttime is totes clear. And I suppose there are a few other happenings that are worthy of your attention, such as the rootin', tootin-est Cowboy fest this side of the Mississippi, egg hunts at Kidspace, Pershing Square, and the Point Fermin Lighthouse, a Whale of a day, and a tribute to first responder heroes, a tribute to the Great Spirit and Torrance's sister city, a Jamboree, multiple egg-stravaganzas, an arty open house, and celebrations of spring time and mother Earth.
Oh, and it's also like a day before your taxes are due so, if you haven't done them: yikes, and er, get on it? Maybe you can find a book on taxes at the Book Fair (if you're looking for something to do).
Book it to the rest of this post to check out our book-marked events....