Dinosaurs Invade a Shopping Mall in Redondo Beach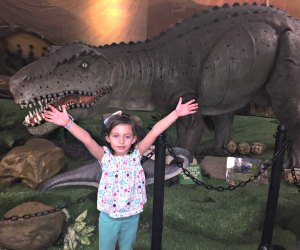 Part museum, part play space, Wonder of Dinosaurs at the South Bay Galleria is a tantalizing collection of animatronic dinosaurs of all varieties, in the setting of a mini amusement-park-toy-shop combo that offers a full day of family friendly exploration (and shopping). Spanning two floors of retail storefront, this dino destination has such wow-worthy draws as Triceratops bouncies (some reserved for the many birthday parties being held on the premises) and a movable dinosaur with reigns for riding like a horse. This natural history museum of play gyms, Wonder of Dinosaurs is a welcome addition to the many kid-friendly places in Redondo Beach.
Boasting the largest display of dinosaurs on the West Coast, the South Bay's newest prehistoric hangout combines more than 100 static and robotic creatures with trains, carousels, and several types of ride-on-o-saurs. This family's kindergartner literally had to stop in awe and just take in the moment somewhere in between the fifth bounce house and the interactive panning for fossils display. And that's before she even got to the maze and the mini-golf.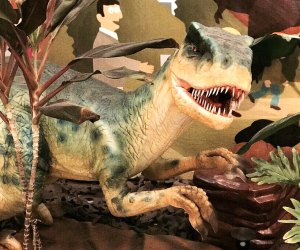 Photo courtesy of Wonder of Dinosaurs
Parents of toddlers on up will appreciate the fact that the bouncies are separated by weight and age for safety reasons, and there's plenty to interest every little one from toddlers to school-age kids. While all the rides are a blast, the lower floor is more of the museum portion, offering some solid educational facts on our prehistoric pals. A giant sculpture of a Velociraptor, that memorable dino nicknamed "Swift Robber" for a retractable claw and a lightning speed that may have hit 25 miles per hour, reminded us that the dinosaurs truly were wonders, just like the name says. The tagline of the business, "Prepare to be amazed," isn't just hype.
While our middle schooler seemed to take more delight in informing us just how little she knew about the Paleolithic era, our whole family really did get a lot out of it. After taking in a display of the Parasaurolophus—the guy with the long-crested bone used to make sounds to communicate with his tribe—I saw a younger kid look around the darkened room filled with sounds of dino replicas and get a little scared. So beware: Jurassic jitters could be a factor for younger children in the museum area.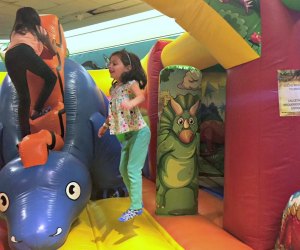 Admission to the Wonder of Dinosaurs costs costs $16-$18 for kids and $8-$10 for adults, with discounted hours Monday through Thursday from 10am-12pm and 6pm-8pm. A party room is available to accompany various birthday party packages. Socks are required throughout the facility.
On our way out at the end of our visit, a heated discussion erupted between siblings about various extinction theories, causing our younger child to ask to be read the entire list of dinosaurs names. It may not be the Natural History Museum, but the Wonder of Dinosaurs certainly did make our day.
Photos by author unless otherwise noted