Language Immersion and Bilingual Options in LA's Public Schools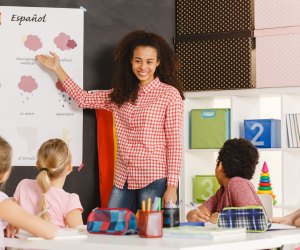 There are a few things kids can do better than adults: cartwheels and crawling under beds, for example. And then there's learning languages. Kids have a huge capacity for learning languages that will never be as powerful and flexible later on as it is in the early years, and an increasing number of parents are taking advantage of that window by sending their kids to bilingual and dual immersion schools (and preschools). Southern Californian families are lucky to have an unusually wide variety of public school options to support raising bilingual kids. At a time when gifted programs, arts programs, and extracurricular classes have been cut from public school budgets at an alarming rate, parents can still seek out an extra enriching curriculum by choosing language immersion.
Bilingual education has gone through some major changes in recent decades; if the concept provokes negative responses from Grandma and Grandpa, that's probably because the term "bilingual education" was once used in California to refer to programs for students who couldn't speak English—in essence, programs for children who were at a learning disadvantage. Ironically, public schools were spending money on elementary education to get everyone to speak English, and then on secondary education to try (not very successfully) to teach kids a second language. Sometime in the 1980s the disconnect began to be addressed, and today we have a successful educational model referred to as "dual immersion" or "two-way immersion."
The dual immersion system is a bilingual program that brings together native speakers of two different languages—English and another target language—making a strength out of what was once considered a weakness. Kindergarten classes are generally structured with 50% native English speakers and 50% native speakers of the target language. The two groups of students are able to support each other this way, and classroom instruction and discussions can be successfully carried out in either language. While admission for English speakers can be quite competitive, children who function as native speakers in another language are often actively recruited.
Different schools handle the balance of instruction differently; some begin in the first years with 90% of instruction time conducted in the non-English language, while others start out at 50/50. All programs aim to dedicate 50% of instructional time to English by fifth grade. The schools listed below are the most well-established in the LA area, and the instructional model is listed for each school. More programs are being introduced at LAUSD schools all the time, usually as developing single tracks within an otherwise English-only school, so if you don't see a perfect fit below, there may still be a program that meets your needs in another LAUSD school.
It should be noted that all of the schools below look for a commitment from families to stick with the program through 5th grade. This is not only in the students' best interest to see the full benefit, but also necessary for these programs' survival, since spaces that become vacant halfway through a program can rarely be filled. A related benefit is that immersion schools tend to have a high level of parent involvement and strong, committed communities—a win no matter how you look at it.
Spanish
• Edison Language Academy
Santa Monica - SMMUSD
90/10
A pioneer in dual immersion education, Edison has been a wholly dual immersion campus since 1986. Students can continue the program through 12th grade by staying on the Spanish language track through John Adams Middle School and Santa Monica High School. Students who stick with the program through the end of high school graduate with a special State of California Seal of Biliteracy with their diplomas. Admission preference is given first to neighborhood kids, then to siblings of students or children of staff, and then to the rest of Santa Monica, with the balance of native speakers given priority. If language balance cannot be achieved with Santa Monica kids, applicants from outside the district are considered.
• Grand View Boulevard
West LA - LAUSD
90/10
Grand View has been offering a Spanish immersion track in its elementary school, alongside its English-only program, since 1990. Mark Twain Middle School also opened a 40/60 immersion track for students wanting to continue the program through 8th grade. LAUSD families from outside the neighborhood can apply for permits to attend, as space is available.
• Patrick Henry K-5 School
Long Beach - LBUSD
90/10
The immersion program at Patrick Henry is one of three distinct academic programs at the school and functions as a school within a school. Founded in 1989, the Spanish program is well-established, with 90% of instruction time in Spanish starting in kindergarten and 50% in Spanish by 5th grade. Nearby Helen Keller Dual Immersion Middle School extends the language program for students in grades 6-8.
• Daniel Webster Elementary School
Long Beach - LBUSD
50/50
Webster has been offering its dual immersion Spanish track within the elementary school since 1995.
• Ramona Elementary School
Hawthorne - HSD
90/10
Ramona opened its two-way Spanish immersion program in 1997 and has enjoyed success and popularity in the Hawthorne community. The program continues to 6th grade at Hawthorne Middle School.
• Meyler Street Elementary School
Torrance - LAUSD
70/30
This LAUSD school in Torrance has been a dual language school for several years, serving native speakers of both English and Spanish in grades K-5.
• Montara Avenue Elementary
South Gate - LAUSD
50/50
Montara's dual language program began in 2003 and is open to students in grades ETK-6. Students are encouraged to apply in ETK or kindergarten, and are accepted on a first-come, first-served basis.
Spanish & Japanese
• El Marino Language School
Culver City - CCUSD
90/10
El Marino is a neighborhood school that redefined itself as an immersion school in 1994, after having closed for low enrollment a few years earlier. As a Spanish and Japanese dual immersion school, it is in high demand and brings many families to Culver City. The school has no neighborhood preferences; all Culver City residents are equally eligible, with priority given to siblings of current students and to those with existing language skills according to specific program requirements.
Spanish & Mandarin
• Broadway Elementary School
Venice - LAUSD
50/50
Broadway's immersion program is fairly new, with its first Mandarin kindergarten class having started in 2010 and Spanish in 2013. Students are accepted from the neighborhood, from other LAUSD neighborhoods, and from other school districts, with preference given in that order.
German & Spanish
• Goethe International Charter School
Marina del Rey - LAUSD
50/50
GICS is a charter school founded in 2010 on the premises of the International Baccalaureate (IB) Programme, along with a focus on German language immersion. It shares a campus with Marina del Rey Middle School. GICS offers both a 50/50 dual language German immersion program for TK-5 students, and a German language acquisition program for students in grades 3-5. Starting in third grade, students also participate in 100 minutes per week of instruction in Spanish. Our article on navigating charter schools further explains the admission process.
Korean
• Cahuenga School
Los Angeles - LAUSD
50/50
The Korean dual language track has been in place at Cahuenga since 1992 and runs through 5th grade. The school's location in Koreatown helps to attract enough native speakers to keep the program successful.
German, Italian, French, Korean, Spanish, Armenian, Japanese
• Foreign Language Academies of Glendale (FLAG)
Glendale - GUSD
90/10 & 50/50
Foreign Language Academies of Glendale (FLAG) is available at nine of the district's elementary schools, offering seven different language options. Students have the opportunity to continue their language learning through middle school. For elementary, Spanish is available at Edison Elementary, Korean is offered at Keppel and Montevista, Armenian at Jefferson and R. D. White, Japanese at Verdugo Woodlands and Dunsmore, Spanish at John Muir, and German, Italian, Spanish, and French at Franklin Magnet. Instruction in Spanish, Italian, German, and French start with 90% of instruction in the secondary language of choice and 10% in English, then progress to a 50/50 split. Armenian, Korean, and Japanese are taught 50/50 throughout. The first Spanish program began in 2003, and Glendale continues to add new tracks and languages.
Originally published May 14, 2013
Top photo via Bigstock