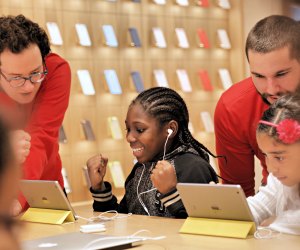 10 Free Classes Kids Can Take at Stores and Businesses around LA
"I never run out of enriching activities for my kid," said no one EVER! Well, there are lots of classes in LA, some of which could send your bank account into cardiac arrest, but we have 10 classes your kid can do for FREE at local stores in your community. Okay, we say free; stores offer classes for free because, well, they think you just might consider a stroll down the aisles before you leave, and they're hoping a few items make their way into your basket. Stores are counting on your kid to scream, "I gotta have that!" before you leave. If you can manage to get the kids into the "free" activity and out again before the cash register rings, though, these free events are for you. (Oh, and you are a super parent!)
#1 Apple Stores - Various Locations
Apple. Need we say more? It's the Apple Store! It almost doesn't even need a class, because there's just so much to look at and touch without ever leaving the the first row of iPads. Okay, breathe. Walk past the new iWatches and head for the classes; these rotate each month so check your local store's schedule. Some classes include Coding Lab: Sphero Robot Obstacle Challenge, Art Lab: Make Your Own Emoji, or Make Your Own Theme Song. Have teenagers who think they have perfected the selfie? Send them to Photo Walk: Capturing Light and Shadow, where the experts can help them learn to take Instagram-ready shots that even their peers will envy.
#2 Microsoft Stores - Various Locations
Prefer the PC or the Android? Want to be the next Bill Gates? Microsoft has you covered! Sign the kiddos up for workshops that include Code a Talking Robot with ohBot, Minecraft Hour of Code, and even a Dear Evan Hansen Workshop for teens 13 and up. Mom or Dad might learn a few things, too. Check the website, as classes change each month.
#3 Michaels - Various Locations
Michaels is like Costco: you just can't get out of there without spending more than you planned! As you walk in the door, you could be temporarily hypnotized by the smell of cinnamon pine cones and the lure of seeing all the new scrapbook embellishments... but head over to the kids' classes where your DIY-ers can make a birdhouse, create a holiday wreath, or even mix St. Patty's Day slime. The free classes are fewer than those with a nominal fee; but, hey, for a $2 splurge, the kids can make gnomes out of popsicle sticks and craft paper.
#4 Joann Fabrics - Various Locations
Similar to Michaels, Joann is a place with lots of crafts to be made. Be sure to read the fine print, though: some workshops are "hands-on," meaning you take a finished product home, and others are just a "demo" with no take-home projects. For really little ones, you'll definitely want to do the hands-on. Older kids can appreciate a demo class, and the raw materials are naturally available for sale afterwards if you want to make your own. Hands-on workshops are every second Saturday, 11am-2pm. Felt finger puppets, anyone?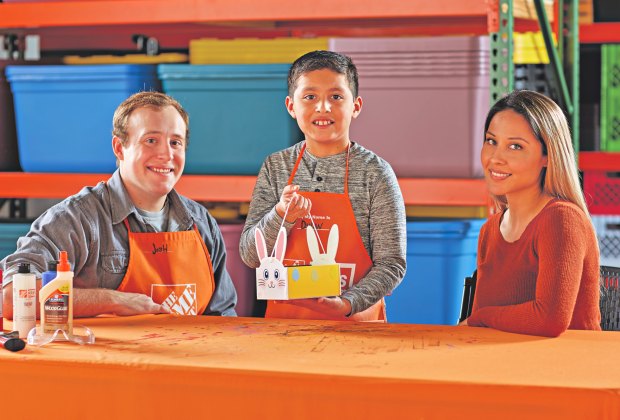 Photo courtesy of Home Depot
#5 Home Depot - Various Locations
Kids are naturals at all things DIY. At Home Depot Kids Workshops, your kids can not only build and take home their craft, but also get a certificate of achievement and a workshop apron. Those aprons are cool! Even though you might be tempted to take the adult class on pest control or how to put up a ceiling fan while your kid is building a bird house, parents must accompany kids during the workshop. Safety first!
#6 Lakeshore Learning Store - Various Locations
Crafts, crafts, and more crafts! Seriously, what do you do with all the crafts and artwork the kids bring home? You go to Lakeshore and get an Art Bin or Art Portfolio Saver. While you're there, stay for the Saturday crafts, 11am-3pm (age 3 and up). You can never have enough caterpillar bookmarks, cupcake cards, and paper plate clocks.
Many malls have Kids' Clubs, but Baldwin Hills Crenshaw does it right with its amazing art workshops. Come by the second Saturday of every month from 2pm-4pm for crafts and music. Children (ages 3-13) must be with an adult.
#8 Barnes and Noble - Various Locations
Did you read "Barnes and Noble" and think... wait, there are no brick and mortar stores left? Yes, there are still a few remaining! There's nothing better than an afternoon reading through storybooks, staying for the storytime, and learning about Lego Architecture. Check the schedule as stores even have "meet the author" events where your family can get your favorite book signed.
Los Feliz's much loved community art studio offers a variety of classes, and not all carry a price tag. The Sunday family art (10am-noon) tradition has been delighting families for years. Art projects change each week, and workshops focus on global culture and different media each week—painting, textile art, printmaking, clay, collage. Classes are open to all ages. If Barnsdall is a trek for you, though, check out the local recreation center in your area, as many also have fun, free family events.
#10 Pottery Barn
Speaking of barns, there's one more barn to add to the list: Pottery Barn. Weekly storytime is on Tuesdays at 11am at most locations, and kids who join the book club get a special gift after the fifth time they attend. Special holiday themed events crop up periodically as well, often involving crafts.
Wait, this is a "top 10" list of FREE stuff... so why add #11 that's not free? Because if you have an American Girl girl, you can never make enough trips here! Girls from toddlers to teens squeal with the thought of entering this doll Mecca. So, after your free Apple Store coding class, head over to the American Girl Store for the $10 Cookie Decorating with Blaire Wilson or a WellieWishers Friendship Tea Party. The store itself can take hours to go through, so if you have enough will power to look and not buy, this can be a great (and relatively cheap) place to spend an afternoon.
NOTE: Each location has an event schedule on the individual website. Each craft or class has different age requirements and most require children to be accompanied by a parent or guardian at all times. Be sure to read the fine print, as many stores have "free" classes as well as classes for a nominal fee.