Sunny Day Scoot: Driving Tours of Griffith Park & Parties in Scooter Cars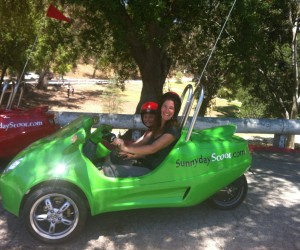 I'm feeling pretty smug today. Not only did I take my kid on an outing in his hometown that thrilled him within an inch of his life; I also found an activity that was utterly and completely new to our LA team's native Angeleno, Jackie Stansbury. You may have noticed a recurring theme in Jackie's posts: unlike most LA parents I know, her childhood memories are actually all right here in the Southland. When she talks about a grunion run, she compares it to the one she did 40 years ago. In short, there's nothing new under the LA sun for her. That is, until today, when she and I were invited to do some scootering under the sun in funny little vehicles that feel like a cross between a bumper car and Colonel Klink's motorcycle. We took our kids on LA's newest road adventure: Sunny Day Scoots.
SunnyDayScoots are tiny, open-air cars that drive like motorcycles. They look like toy cars, but they do require a driver's license. That means that a Sunny Day Scoot outing requires an adult for every child—which doesn't feel so much like a hardship as it does grown-ups having all the fun. The passenger seat is also a whole lot of fun, though, in these mini-convertibles. Imagine getting to ride Disneyland's Autopia for a solid hour, without even waiting in line. Now imagine that the track you ride is mostly city streets in LA.
Our outing was an adventure ride, which can be booked any day of the week, at a variety of times. Sunny Day Scoot also runs longer tours that cover classic LA destinations, like famous movie locations, the Hollywood sign, Griffith Observatory, and Walt Disney's favorite hangouts. These are generally scheduled early in the morning, when the scoots have less traffic to deal with. Adventure rides, which can be done at almost any time of day or even evening, spend less time on city streets and more time in Griffith Park, on public streets that tend to be a little quieter.
Although these cars look like toys, they are real vehicles and require an adult age 21+ with a driver's license to drive them. The passenger can be a child but must be at least 7 years old. Our ride traveled at more than 40 miles per hour at several points, which feels pretty daredevilish when you're the smallest thing on the road. Part of the fun, though, is how startled and entertained other drivers and pedestrians are as you go by; much honking and waving goes on. It's like one long parade, with you as the star.
Our tour of the park was a real treat and included a stop to ride on the old carousel, which we found out is the fastest in town. It was one big speed junky dream date. We saw things in LA's largest park we'd never previously noticed, before returning to our little depot in Glendale.
Sunny Day Scoot's owners are clearly having the ride of their lives and enjoying sharing it with everyone who will let them. They both escort every ride, covering front and back and offering protection at (literally) every turn. A maximum of four cars can go out together, which is a total of eight people. Birthday parties are also an option; Sunny Day Scoot can book a spot in Griffith Park for the main party and then take guests on rides a few at a time by turn.
Rides start at $65 per person and can be booked online or by phone. Gift certificates are also available.
Phone: 818-68-Scoot (72668)
Email: info@sunnydayscoot.com