Neon Retro Arcade Brings Old School Video Games to Northridge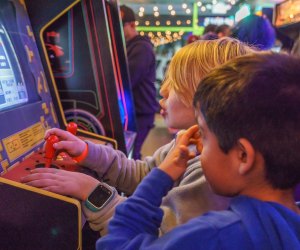 When I heard Pasadena's popular Neon Retro Arcade was opening a second location in Northridge, I was psyched. I figured it would be a big hit with CSUN students as well as grown-ups of a certain age (ahem) who fondly remember joysticks and token play. What I wasn't sure about was whether little kids who are used to playing console games on living room wide-screen TVs would be as interested in their parents' pixelated playthings.
This fun, nostalgic arcade is sure to bring back memories for parents, and movie scenes for younger folk; it's stuffed with classic games ranging from Spy Hunter to Frogger and even Ms. Pac-Man. With about 50 games on the floor, most people's familiar favorites are easy to find. The appetite for all things '80s seems to be strong even among those who had yet to be born in the decade (particularly if they're Stranger Things fans), making Neon a great spot for parents and kids to play side by side. On the weekend I went, almost every machine was occupied—largely by college students, but younger kids were playing as well. For students (and budget-crunched families), the price for some afternoon fun is right: one hour of play is $10, while all-day play is $25 (for truly devoted players).
RELATED: Glow-in-the-Dark Mini Golf: A Glowing Twist on a Classic Game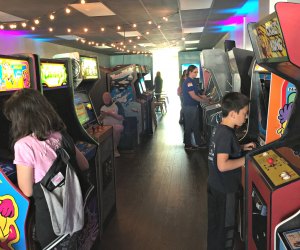 Ms. Pac-Man and Donkey Kong appeal to a new generation.
The Neon Retro Arcade recreates an '80s and '90s vibe by piping in vintage tunes (I heard Duran Duran and Corey Hart, though the music wasn't loud enough to distract me from game play) and the tight squeeze between machines (which means more machines but less breathing room). Candy is available at the front, where you're also given a sticker with your exit time to wear on your arm.
What gets an upgrade in the 21st century is that the grumpiness familiar to the arcade scene back in the day is missing—it's pretty hard to be snarly when you're playing games that seem ridiculously quaint by today's standards. While unlimited play seems like a recipe for bad behavior, the mood at the arcade was friendly across the board: wait for a game, and whoever is playing hops off when it finishes (and just in case anyone forgets, that rule is clearly stated at the front of the arcade). The staff is friendly, too.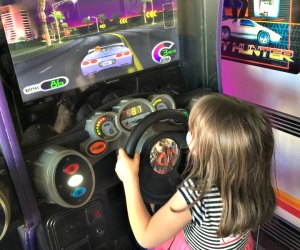 Hitting the road safely at the Neon Retro Arcade
There's plenty of parking behind the arcade, and this strip of Reseda Boulevard is packed with restaurant options (Dog Haus Biergarten Northridge is next door) for families who want to make an afternoon of their outing.
But what do kids think of this old-fashioned nonsense? I was surprised to find that even an archaic game still has enough bells and whistles to impress the kindergarten set—though they may have a hard time reaching some of the controls. This isn't a problem, though; this kid-friendly establishment has boosters and chairs so that even little ones can play. A lot of the games might be too challenging for kids under six, though, so keep that caveat in mind.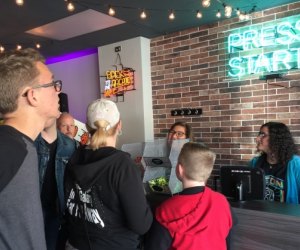 Though my kids initially were drawn to the back of the arcade, where Wii games and more modern devices are set up, they were slowly lured to the driving games at the front of the arcade before finally hopping on some more traditional push-button games. "I want to come back here," my younger kid said as we headed for the exit. "And I want to play video games when we get home, too." Unlike legwarmers and Miami Vice jackets, it seems these '80s relics will never go out of style.
Photos by Li Starr unless noted otherwise.