SPONSORED
Long Island Downtown Deals Travel Pass Offers Discounts on Family-Friendly Attractions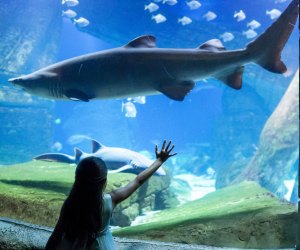 There's a new way to save on some of the best Long Island has to offer families, from historic museums and seasonal boat rentals to hand-pressed burgers and craft doughnuts.
Discover Long Island has created the Long Island Downtown Deals Travel Pass to bring special money-saving offers to LI natives and visitors alike. The easy-to-use mobile pass serves up exclusive discounts and promotions across participating downtown areas while helping to support local businesses as they recover from the COVID-19 crisis. Meanwhile, Discover Long Island's YouTube channel and new podcast offer the lowdown on the Island's most-loved activities, events, and deal-packed downtowns, from Great Neck to Greenport.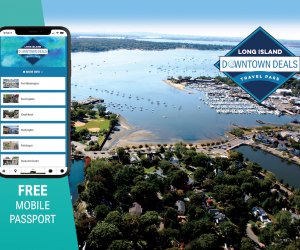 The free and easy-to-use mobile pass lets you access exclusive promotions right from your phone.
With the Downtown Deals Travel Pass, you'll find discounts on a number of popular restaurants, bars, and breweries—with plenty of kid-friendly favorites included, like Farmingdale's Chiddy's Cheesesteaks and Huntington's Crave Cafe and Bakery. You'll also get savings on participating hotels, museums, historic sites, boutiques, bakeries, boat rentals, and more. Save on your next in-studio painting class at Pinot's Palette in Bay Shore, snag a buy one get one bowling deal at Maple Lanes in Rockville Center, save on admission to the Long Island Aquarium in Riverhead, make the most of discounted mid-week stays at the Palms Hotel in Fire Island, and find more ways to save on activities across Long Island that your whole crew can enjoy.
Once you sign up for the pass, you'll be able to save all of the available deals right to your phone. From there, you can browse by town or even check the map for nearby discounts when you're on the move.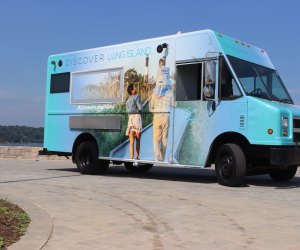 The Discover Long Island team is all about exploring the Island in their ice cream truck turned mobile visitor center, LiLi.
If you're looking for more travel inspiration, join the Discover Long Island team on YouTube as they take a road trip aboard their ice cream truck turned mobile visitor center, LiLi. The Long Island TV series brings viewers on an adventure showcasing popular family destinations, hidden gems, and insight from the most in-the-know locals. Subscribe to Discover Long Island's YouTube channel to make sure you catch new episodes released every other Friday.
For even more insider info, tune in weekly to the more grown-up Long Island Tea Podcast, where Discover Long Island's CEO Kristen Reynolds and COO Sharon Wyman, "spill the tea" on what makes the Island the best place to live, work, and visit, while chatting with locals on current topics and sipping a new regional wine each episode—plus serving up exclusive discounts for local wineries. Subscribe anywhere that podcasts are available, including Apple Podcasts, Spotify, Amazon Music, Google Podcasts, and YouTube.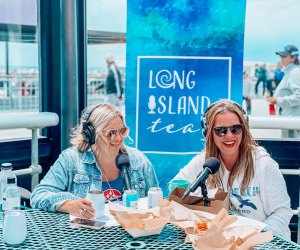 Discover Long Island's CEO Kristen Reynolds and COO Sharon Wyman "spill the tea" on each episode of their podcast.