Haunted Halloween Walks On Long Island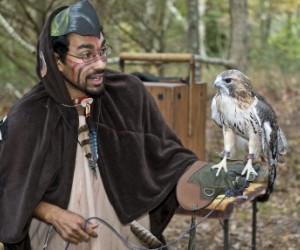 This is the perfect time of year for an evening prowl. The air is cool and crisp, autumn leaves crunch underfoot, the sun sets early, and the moon shines brighter than any other month. Long Island offers a variety of seasonal woodland walks for families to enjoy. Some of our favorite nature centers and botanical gardens offer both spooky and not-so-spooky options. Read on for more details and also check out our Halloween Guide.
Rise Of The Jack O' Lanterns
Old Westbury Gardens
71 Old Westbury Road, Old Westbury
516-333-0048
Various October evenings
Be amazed and inspired as 5,000 hand carved jack-o'-lanterns light up one of Long Island's most treasured Gold Coast mansions. While an evening stroll through the woods is somewhat spooky, there is nothing haunted about this walk, which is suitable for all ages. This unique experience features the work of dozens of local artists. Limited tickets are available per day and must be purchased in advance.
Spooky Fest
Center for Science Teaching & Learning
1 Tanglewood Road, Rockville Centre
516-764-0045
Various October evenings
Spooky Fest features a Halloween walk for younger kids, and a scary walk through the haunted woods for the grownups. The admission price includes the walks, the mystic den, the maze of madness, a kids' craft area, live animal exhibits and a new Halloween theater attraction.
Enchanted Forest Trail
Quogue Wildlife Refuge
3 Old Country Road, Quogue
631-653-4771
October 16, 23, 30 (various times)
This walk is suitable for children ages 2-7 years, when accompanied by an adult. Children are welcome to come dressed in costumes. Meander through the refuge trails with a guide and meet whimsical characters along the way. The parking lot at the refuge is filled with kids' games and activities to enjoy before the hike.
Not-So-Spooky Walk
Clark Botanic Garden
193 I.U. Willets Road, Albertson
516-484-2208
October 30, 12-4pm
For the younger crowd, Clark Botanic Garden offers this not so spooky walk. Take the kids on a leisurely stroll through the beautiful gardens and enjoy all that the season has to offer.
Halloween Spooktacular
Sweetbriar Nature Center
62 Eckernkamp Drive, Smithtown
631-979-6344
October 21-22
Join all of the ghoulies, ghosties, and other Halloween creepies for an evening of fun and excitement. Enjoy Eerie Animal Presentations, the Ghostly Garden, Creepy Crafts, Scary Stories, a Night Walk, and snacks & refreshments. Special outdoor trails have been created for different age groups. The Enchanted Woodland Trail is for ages 4 to 8 and The Trail to an Eerie Tale and adjoining attractions are for ages 8 and up.
Originally published on 10/5/12. Updated September 27, 2016
Main Photo: Enchanted Forest at the Quogue Wildlife Refuge.