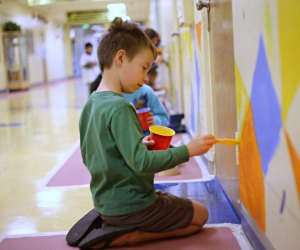 Fun for LA Kids this Martin Luther King, Jr. Day Weekend
Dr. Martin Luther King, Jr. once said, "Life's most persistent and urgent question is 'What are you doing for others?'" This weekend, families can join together to answer that question, by participating in the MLK Day of Service. A day spent giving back is just one way to honor Dr. King's memory. There are parades, celebrations, and concerts throughout the weekend to bring our families and communities together in honor of his legacy.
Little ones can learn from Dr. King's example as well, with a number of events this weekend particularly geared toward young children. Kids can listen to inspiring stories , participate in service projects, and share their dreams for the future.

Inspiration can be found on other fronts with founding fathers and kung fu figure skaters, blood moons and behind the scenes, bulldogs and boars, ephemeral art and fast moving motocross, high flying acrobats and dancing on, what do call em? feet, all serving as examples of what one can achieve. Now is a good time to ask our children: how do you try to make a difference? And where do you find your inspiration?
Keep reading for some of our most inspired picks for this weekend.
ALL WEEKEND
Martin Luther King Celebration - Pasadena
The activities at Kidspace this weekend explore ways we can serve and include others to make our communities stronger.

All Star Comedy Festival - El Segundo
The Old Town Music Hall presents a collection of silent and sound short comedies from Hollywood's Golden Age.

Circus Vargas: The Greatest of Ease - Burbank
Circus Vargas' 50th anniversary extravaganza is an homage to the golden era of circus in America.

Behind the Scenes - Perris
This weekend guests can go "Behind the Scenes" at the Orange Empire Railway Museum and see where volunteers operate, maintain, and restore the West's largest collection of vintage rail cars.

Kiddee Matinees - Hollywood
The New Beverly offers matinee screenings of Hans Christian Andersen, a delightful musical bio pic starring the inimitable Danny Kaye.
Happily Ever After Disney Classics - Hollywood
The El Capitan starts a series of throwback classics with a visit under the sea with The Little Mermaid—which is based on a tale by, who, Hans Christian Andersen! (Classic throwback to the event above this one)
Valley Kids Consignment - Northridge
Families sell their lightly used items at discounted prices at this community event.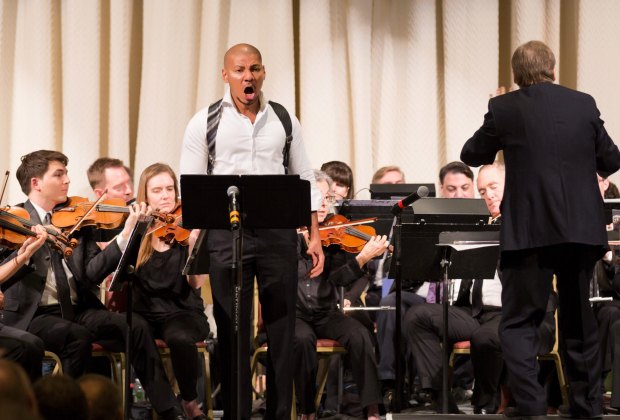 Enjoy the Santa Monica Symphony's Martin Luther King Concert. Photo courtesy of Santa Monica Symphony
SATURDAY, JANUARY 19

MLK Peace and Unity Parade Celebration - Long Beach
The annual parade is followed by a celebration at Martin Luther King, Jr. Park.
Annual City of Culver City Dr. Martin Luther King, Jr. Celebration - Culver City
Culver City's annual celebration is a fun day with music, speakers, a panel discussion, and dramatic performances.
Santa Monica Symphony - Santa Monica
The Santa Monica Symphony's January concert is a celebration of the life and work of Dr. Martin Luther King, Jr. and features works by Mozart and Mendelssohn.

Ben Franklin's Electric Birthday Party - Carson
That clever whippersnapper Ben Franklin is turning 313, and the International Printing Museum is celebrating by throwing him a party. Expected guests include George Washington, Thomas Jefferson, and other folks your kids might have learned about from the Hamilton soundtrack.

Nothin' But Sand Beach Cleanup - Torrance
Erm, Torrance? I think you might have left a thing or two on the beach...

The Natural History Museum (Exposition Park) is full of kid-friendly activities this weekend. Critter Club learns about animal architects; Junior Scientist explores the world of reptiles and amphibians, and everyone is invited to the "Sleepover at the Museum" Book Reading.
Martin Luther King, Jr. Annual Day of Service - Baldwin Hills/Crenshaw
Families can celebrate the Martin Luther King, Jr. holiday by doing for others, with restoration and beautification projects for all ages at Kenneth Hahn Park.
Santa Anita Bulldog Derby - Arcadia
Go, Bulldog, Go! Santa Anita Park hosts its first ever Bulldog Derby, in which British and French bulldogs compete to see who is the fastest bulldog in all of California.
Blaire Wilson Girl of the Year Painting Event - Fairfax
Parents and daughters can take part in a colorful art class at the American Girl Place Café, inspired by Girl of the Year, Blaire Wilson.
Saturday Morning Stories and More - West LA
The Sunshine Storyteller, Ina Buckner-Barnette, leads a fun-filled storytime in honor of Dr. Martin Luther King, Jr.. Later in the day Henry Lien holds a launch party for the latest installment in his series Peasprout Chen: Battle of Champions.

Arcadia Lunar New Year Festival​ - Arcadia
City of Arcadia's official Arcadia Lunar New Year Festival is an immersive wonderland of beautiful Chinese culture, with crafts, performances, a fashion show, lion dance, dance, cooking demonstrations, and more.

Women's March Los Angeles - Downtown
Women (and folks who love them) rally in DTLA to make their voices heard.

TSFY: Toyota Symphonies for Youth - Downtown
The LA Phil translates the magic of Minimalist music for its youngest audiences.
Monster Energy AMA Supercross - Anaheim
Indoor motocross comes racing into Angel Stadium.
SUNDAY, JANUARY 20
Happy Birthday Marion - Santa Monica
That Marion Davies knew how to throw a party! The Annenberg Community Beach House continues the tradition in honor of her birthday.
A Chance to Dance - Sawtelle
It's a New Year, New You! at this month's during free ballet classes at Los Angeles Ballet.
Lunar Eclipse Hike - Beverly Hills
I see a blood mooning a rising...

Public Viewing of the Total Lunar Eclipse - Griffith Park
... from the Griffith Observatory as well.
Sand Mandala Creation - Pasadena
Like sands in the hour glass, so are the mandalas of our lives....
Martin Luther King Day of Service - Costa Mesa
The Segerstrom offers kids opportunities to help other kids, by a decorating a Birthday Box for kids in the foster system, writing a celebratory note, and filling it with fun surprises.

Zimmer Sunday Family Programs - Mid-Wilshire
Kids can share their dreams for a better world in remembrance of the legacy Dr. Martin Luther King, Jr.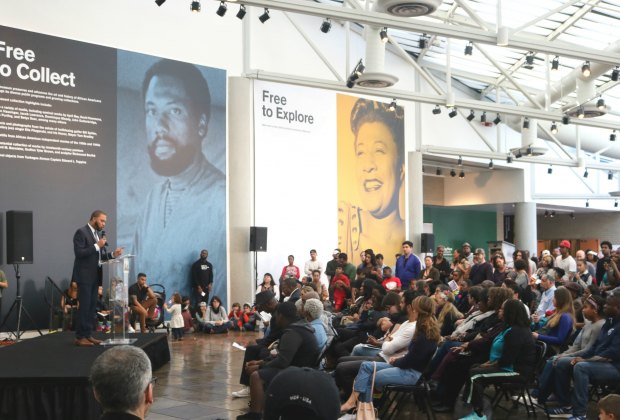 Listen to Martin Luther King, Jr.'s speeches at the California African American Museum, which is easily accessible from the Metro Expo Line. Photo courtesy of California African American Museum
MONDAY, JANUARY 21, MARTIN LUTHER KING, JR. DAY

Kingdom Day Parade - Los Angeles
One of the nation's largest events celebrating the life of Martin Luther King, Jr., the Kingdom Day Parade, generally attracts more than a million people.

Martin Luther King, Jr. Birthday Celebration - Santa Monica
Santa Monica College SGI Auditorium is home to one of SoCal's largest celebrations of Dr. King's birthday.

Annual Dr. Martin Luther King, Jr. Day Celebration - Inglewood
Inglewood's celebration starts with a commemorative program at the Tabernacle, continues with a symbolic civil rights march, and ends with a family festival at the Forum.

Target Free Holiday Monday at LACMA - Mid-Wilshire
LACMA is free for the MLK Day holiday.
Big Sunday's 7th Annual MLK Day Clothing Collection & Community Breakfast - Hollywood
Through Monday morning, Big Sunday is collecting clothes to distribute to Angelenos in need. On MLK Day volunteers help to sort the donations. And eat breakfast.

MLK 2019 Day of Service - Long Beach
Volunteers meet for breakfast at Scherer Park in Bixby Knolls, then break off into groups to participate in one of 17 projects.

Martin Luther King Jr. Day Celebration - Exposition Park
The California African American Museum celebrates the legacy of Martin Luther King, Jr.
SoCalMoms Community Play Day - Sherman Oaks
SoCalMoms annual MLKDay playdate offers free family fun. And princesses!


As always, there are more activities listed on our daily events calendar, and if you don't already receive this post as a weekly email, you should totally subscribe. Whatever you choose to do this weekend, we hope you have truly inspirational time!