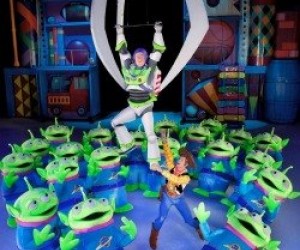 Disney on Ice: Toy Story 3 - Review
If there's one thing Disney knows how to produce, it's euphoria; put euphoria on ice, and you've got the ideal set-up for holiday entertainment. Disney on Ice: Toy Story 3, here we come!
This is our fourth year seeing the Disney on Ice show, and each year I am impressed by the creativity and innovation that go into turning a finite number of figure skating moves into a new and breathtaking production. At the risk of saying something I will contradict next year, this time the Disney on Ice folks have really outdone themselves. As lovely as it is watching a line-up of Disney princesses engage in pairs skating routines with their respective princes, two dozen green army men parachuting onto the ice to support their jumping, spinning sergeant makes a more lasting impression.
Spiraling soldiers are not the only noteworthy things about the Toy Story 3 ice show. Equally impressive is the fact that the creative team manages to tell the entire story of the film in two hours of musical figure skating routines. Another treat is how wonderfully boy-friendly this production is. Girls aren't exactly tough to draw in when it comes to twirly moves in flashy outfits, so why play it on the nose with Cinderella and Prince Charming? The first pairs routine in this show involves a manly spaceman and a Tom Hanks-ish cowboy tossing out synchronized sit-spins while singing a song about friendship - how refreshing!
My son's favorite part was the spaceman doing a triple axel while wearing a jetpack and avoiding packs of marauding aliens. Parents need not fear, though, that this show will leave their girly-girls cold; Barbie's inevitable pairing with Ken results in an impeccable pairs routine full of fabulous lifts - not to mention a chorus-line full of ladies in leg-warmers. .
Southland families can catch the show this month downtown at Staples Center, at Honda Center in Anaheim, or down in Long Beach just after New Year. Be warned, it's hard to resist grinning all the way through Disney on Ice: Toy Story 3; but then why would anyone try?