Star Spangled California Dreamin' at the GRAMMY Museum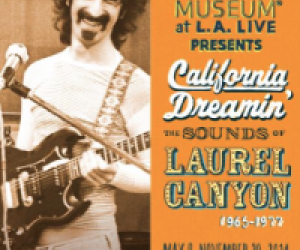 If you've already been to the GRAMMY Museum, you may think you've seen it. The great thing about this museum, though, (aside from a lot of awesome music) is the fact that most of the exhibits are constantly rotating, so it's a new experience each time you visit. Last year the museum celebrated all things Ringo, for example. This year, there are multiple new and temporary displays that are worth checking out, some offering up a little patriotism and others plenty of nostalgia.
The museum marks the 200th anniversary of The Star Spangled Banner with Oh, Say Can You Sing? The Star Spangled Banner in Popular Music, which opened September 12, 2014 and closes just a month later on October 12. Small but thoughtful, the exhibit covers the history of our national anthem's creation, including some gratifying footage of Jimi Hendrix' radical re-interpretation.
Several other new exhibits premiered in 2014 and can be viewed now before they close by 2015. Not to be missed (and it closes November 30) is California Dreamin': The Sounds of Laurel Canyon 1965-1977, which showcases a time, place, and sound unique to the city of Los Angeles. For natives, this is a moving trip down memory lane; for transplants, the exhibit offers a look back at what brought many people here in the first place. The photographs and memorabilia of Joni Mitchell, The Doors, Frank Zappa, Crosby, Stills and Nash and The Mamas and the Papas are spectacular. A corresponding full-length documentary which is both informative and entertaining (included with admission) plays on a loop in the Clive Davis Theatre, and a recording booth invites guests to contribute their own thoughts and memories.
Other temporary exhibits include Blue Note Records (Jazz), Stevie Ray Vaughn (Rock 'n Roll), Pepe Aguilar (Regional Mexican), and Donna Summer (Disco). And while the grown-ups get to enjoy revisiting the music of their youth, the kids can rap and check out the top 40 themed displays. Multiple interactive activities allow kids to play, record, and learn about the history of popular music, including one that takes guests on a sound tour of musical recordings from the earliest Victrolas to modern iPods, all on a track of the visitor's choosing. In all, there are more opportunities to sit in a sound booth and learn from music pros than the average family can squeeze into one visit.
Educational programs for school groups are also available. This is a great time of year, of course, for proposing field trip ideas at your children's school, and the museum is new enough still that many teachers do not yet have it on their radar.
My advice? Cross the generation gap. Listen to something your kids like and maybe they will listen to something you like. Better yet, perhaps you can both find something new to appreciate.
The GRAMMY Museum at LA Live
800 West Olympic Blvd.
Los Angeles, CA 90015
213.763.2112
Mon-Fri 11:30am – 7pm
Sat & Sun 10am – 7pm
Adults $12.95, Kids (6-17) $10.95; Admission $8 after 6pm
While parking at LA Live can be pricey, we drove around and found something safe nearby for $5.