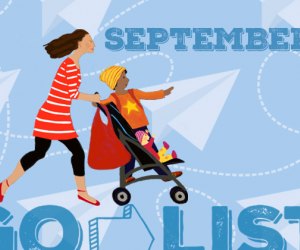 September GoList: Best Things To Do with LA and OC Kids This Month
September is bitter-sweet. The relief of having back all those hours in the day is tinged with the loss of long, balmy summer evenings without homework or lunches to prepare. And who among us is ready to hear the word "Halloween"? No, better to look to the September weekends as an opportunity to pretend that summer is still with us. Luckily the weather and the SoCal fun generally cooperate! Read on for the best of September in LA, Ventura, and OC. We'll keep adding to our calendar daily and sending our weekly newsletter in time for each weekend, but here's your chance to plan ahead for these September favorites.
LA County Fair - Pomona
August 30 - September 22, 2019
All's fair in Pomona this month, where chickens hatch, pigs race, and Twinkies are deep fried. Live music, carnival rides, and ride-on elephants are only the tip of the entertainment iceberg.
Fiesta Hermosa - Hermosa Beach
August 30 - September 2, 2019
The South Bay beach community tops and tails every summer with this weekend-long street festival, toasting the season with three days of entertainment, food, rides, games, cuddly critters, and sea breezes.
Broad Fest - Santa Monica - FREE!
September 1, 2019
The Broad's free community festival returns, inviting the neighbors over to check out the facility and the highlights of the season. Music, food, hula hooping, and tango lessons are part of what make this a great family day out.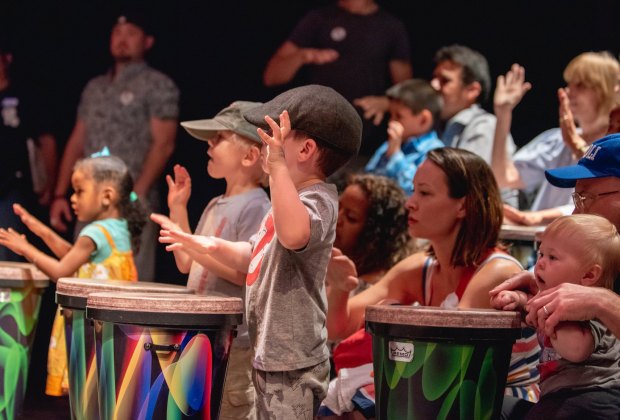 Drumming at the Broad Fest. Photo courtesy of The Broad Stage
Tall Ships Festival - Dana Point
September 6-8, 2019
The tall ships pay their annual visit to Orange County, and family activities are scheduled on and around them all weekend, including a sunset pirate parade on Friday, and mermaid swim encounters (yes, real mermaids) all weekend.
Mexican Independence Day - Downtown - FREE!
September 14-15, 2019
In case you missed the memo, Mexican Independence Day is not Cinco de Mayo. If you want to experience a real, traditional celebration of Mexico's separation from Spain, check out the festivities on Olvera Street all weekend.

Coast Open Streets Event - Santa Monica - FREE!
September 15, 2019
The beach city sets aside a Sunday as a no car day. Two miles of main roads are lined with all-day entertainment, food, and games along the route. Highlights include a pop-up roller rink, a skate park, interactive installations and a puppet parade.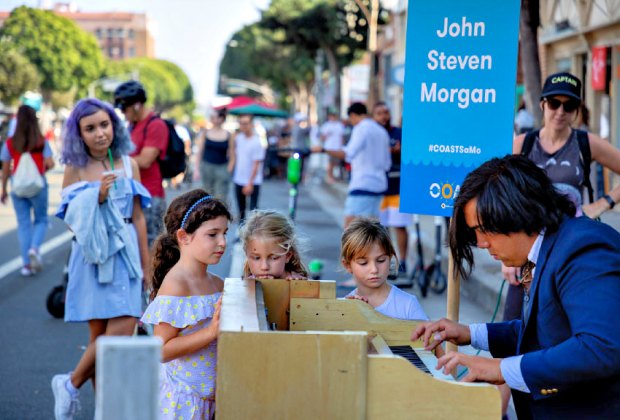 Composer and pianist John Steven Morgan plays on a piano he wheels into the streets as part of Santa Monica's COAST Festival. Photo courtesy of the City of Santa Monica
Rubber Ducky Races - Pasadena
September 21-22, 2019
Kidspace's famous annual rubber ducky event brightens up the post-Labor Day doldrums with some marvelous, bobbing silliness in the museum's waterways.
Coastal Clean-up Day - Throughout Southern California - FREE!
September 21, 2019
Billed as the biggest volunteer day on the planet, Coastal Clean-up Day is a great way to start kids off on a life of caring for and about the environment. Pick the nearest or dearest of 50 local volunteer sites and help it to look like it should.
RELATED: 35 Ways To Keep Summer Going after School Begins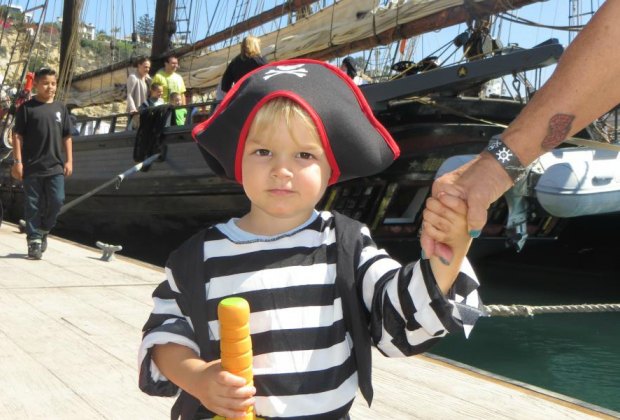 Ahoy matey! Photo from the Tall Ships Festival courtesy of the Ocean Institute
Irvine Railroad Pumpkin Patch - Irvine
September 14 - October 31, 2019
Irvine Park Railroad is always first out of the gate with the Halloween celebrations, complete with pumpkin patch train ride, harvest carnival, the works.
Dino Fest Exposition Park
September 21-22, 2019
Dinosaurs once again rule as they take over the Natural History Museum for this annual two-day fest celebrating dinosaurs, their prehistoric past, and the science that brings their world back to life.
Smithsonian Magazine Free Museum Day - Everywhere - FREE!
September 21, 2019
Museums all over the country open their doors for free on the same day each year, sponsored by Smithsonian Magazine.
Sing-A-Long Sound of Music - Hollywood
September 21, 2019
This annual event at the Bowl is definitely one of our favorite things; book tickets in advance to be sure of singing high on the hill with the lonely goat herd.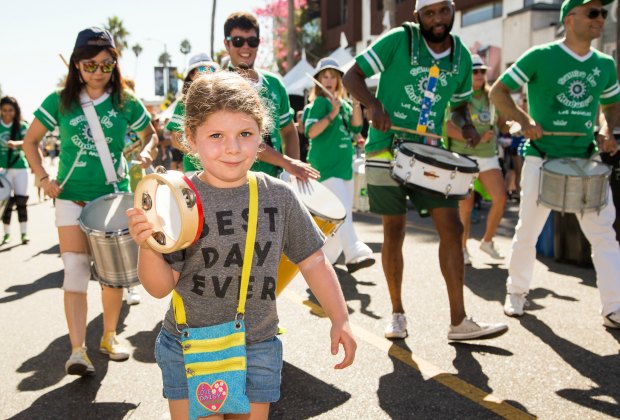 The Abbot Kinney Festival has a Kidsquad tent full of activities for kids like tie dying t-shirts and musical performances. Photo by VenicePaparazzi.com
Abbot Kinney Festival - Venice - FREE!
September 29, 2019
The annual Venice street festival gets better every year, with more kids' activities, family entertainment, great food, and festive music than anyone could take in on a single day.