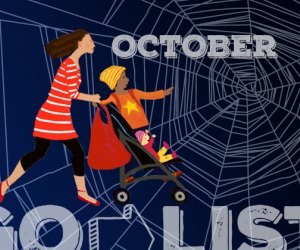 October GoList: The Best Things To Do with Westchester Kids
October is loaded with Halloween and fall fun, and there's no shortage of either in Westchester and the Hudson Valley! We've mentioned the best places to go apple and pumpkin picking, and we've rounded up fantastic fall festivals to check out, but there's even more fun to be had. Historic Hudson Valley shines this month with Halloween events including the Great Jack O'Lantern Blaze and other seasonal attractions happening all month long. Many of these are super-hot tickets, so book yours soon to avoid missing out.
There's also the popular Eastchester Columbus Day Carnival and Parade, family performances like Moon Mouse, and festivals that don't fall under the "autumn" category, like the Chappaqua Children's Book Festival.
With so many tremendous events this time of year, we barely scratch the surface here, so be sure to check our Event Calendar for many more options. You can find many more Halloween highlights in our Ultimate Halloween Guide for Westchester Kids. And don't miss our roundup of best fall events for toddlers and preschoolers, many of which take place this month. Now grab your calendar and read on for the best events happening this month in Westchester and the Hudson Valley!

The wildly popular Great Jack O'Lantern Blaze returns for 46 evenings, including Halloween night! Photo courtesy of Visit Sleepy Hollow
The Great Jack O'Lantern Blaze – Croton-on-Hudson
Various dates through November 2019
At this wildly popular event, families can marvel at more than 7,000 hand-carved, illuminated jack-o'-lanterns displayed all over the 18th-century grounds of Van Cortlandt Manor. This event positively sells out (quickly!), so be sure to grab your tickets pronto.
Brick or Treat! – Yonkers
Various dates through Sunday, October 27, 2019
Legoland's annual Halloween attraction introduces new elements this year: Help the master builder create a 6-foot Dracula; "Brick-Or-Treat" throughout the facility to collect pieces for your spooky build; and create your own ghost-hunting adventure using an augmented-reality app.
Chappaqua Children's Book Festival – Chappaqua
Saturday, October 5, 2019
Bibliophiles can enjoy a day of kids' activities, food, music and—of course—books! Meet popular children's authors, enjoy readings, and more.
Peekskill Rotary Annual Horse Show and Country Fair – Peekskill
Saturday, October 5-Sunday, October 6 2019
The annual horse show and fair, hosted by the Peekskill Rotary, features both English and Western riding contests and instruction throughout the day. Other family attractions include pony and hayrides, arts and crafts, a country fair, food tents, bouncy and slide rides, a "Kountry Kitchen" offering home-baked goods, a bike rodeo, and more. Admission is free.
Applefest – Warwick
Sunday, October 6, 2019
With multiple orchards and wineries, Warwick is the land of apples during the fall, celebrated with a massive festival on the first Sunday in October. The village is crammed from end to end with hundreds of craft and food vendors, a fully stocked farmer's market, and multiple stages with live music. A full-tilt carnival is also a part of the wow factor.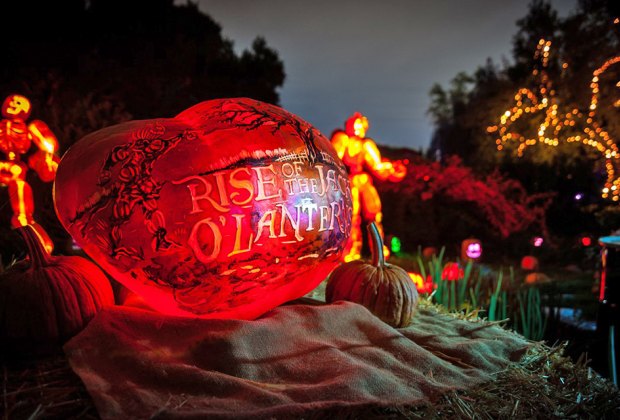 The family-friendly Night of 1,000 Jack O'Lanterns features jack o'lanterns carved by professional artists using REAL pumpkins. Photo by Mike Pollock
Night of 1,000 Jack O'Lanterns
– Yorktown Heights
Multiple dates between Thursday, October 10 and Sunday, October 20, 2019
Similar in concept to the Great Jack-O'-Lantern Blaze, Night of 1,000 Jack O'Lanterns is smaller in scope but uses real pumpkins (whereas the Blaze largely doesn't), includes artistically painted pumpkins, and includes the opportunity to watch pumpkin-carving demonstrations. Another thing both attractions have in common? They both sell out!
Eastchester Columbus Day Carnival and Parade – Eastchester
Friday, October 11 – Monday, October 14, 2019
Whack a mole, cheer on the paraders on Sunday, rock out to live music, be dazzled by the fireworks display, vote for your favorite meatballs, and chow down like it's one of the last big carnivals of the year—which it is.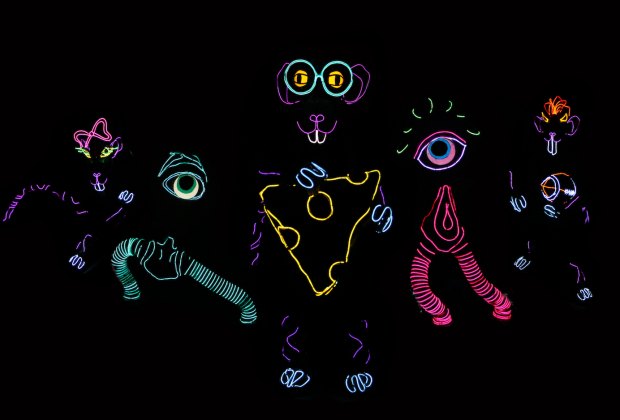 See Moon Mouse at Emelin Theater on Saturday, October 12. Photo courtesy of the theater
Moon Mouse – Mamaroneck
Saturday, October 12, 2019
Join Marvin, the mouse, on the space adventure of a lifetime in this glow-in-the-dark, cosmic adventure about celebrating differences. Presented by Lightwire Theatre (The Ugly Duckling and DINO Light).
Warwick Children's Book Festival – Warwick
Saturday, October 12, 2019
The street closes off for this large-scale event, featuring some 60 authors and illustrators of children's and young-adult books, as well as a concert by The Uncle Brothers, reading to a therapy dog, sign-language storytime, and more. While books will be available for purchase (and for autographs), the event is otherwise free.
Pumpkin Picking Autumn Celebration – Katonah
Saturday, October 12 – Monday, October 14, 2019
Muscoot Farm celebrates Columbus Day weekend with seasonal fun including pumpkin picking and hayrides.
Krasnoyarsk National Dance Company of Siberia – Valhalla
Saturday, October 19, 2019
Westchester Community College hosts this cultural performance of Russian folk dancing, replete with glorious costumes.
New York State Sheep & Wool Festival – Rhinebeck
Saturday, October 19 - Sunday, October 20, 2019
Though largely tailored to adult audiences, kids can enjoy the Two by Two Petting Zoo, a leaping-llama contest, sheep selfies, llamas, a canine Frisbee demonstration, a Mad Science show, dog-herding demos, a spinning-wheel contest, author visits, and more.
Nyack Halloween Parade – Nyack
Saturday, October 26, 2019
We think of the Greenwich Village Halloween parade as the most spectacular, but did you know that the next largest Halloween parade takes place in Nyack? Join the 20,000 or so spectators at this mammoth event in Rockland County. FREE
Halloween – Throughout Westchester and the Hudson Valley
Through Thursday, October 31, 2019
The handful of Halloween-related events included in this list is just a taste of the spooky fun that's happening in our area this month. For a more complete look, check out our go-to guide to top Halloween events, where you can find an array of large-scale attractions, parades, FREE parties, and other fun. We've also previewed a new Halloween attraction, listed cemeteries that put the spook in Halloween, and identified some trick-or-treating hot spots. We even have ideas for what to do with all of that leftover candy (besides eat it yourself), and for intrepid families, we've got a bonanza of Halloween highlights in NYC. NOTE: we are busy updating these lists with the very latest information for 2019, so be sure to check back if you find one that's in progress. Happy Halloween!