SPONSORED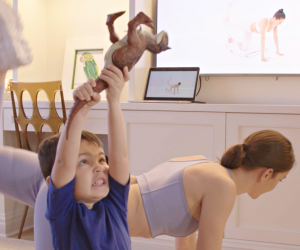 How Obé's At-Home Fitness App Actually Helped Me Start Working Out
After welcoming my second baby, I wouldn't say I was feeling my best... A tough pregnancy had left me seriously out of shape, lifting my newborn and toddler was taking a major toll on my back, and let's just say the baby weight wasn't exactly "falling off." At 4-months-old, my little one was diagnosed with a milk protein allergy, which forced me to clean up my diet (no dairy or soy — yikes!), and it finally started to show on the scale. But when the ban was lifted 6 months later, cheese plates and pints of ice cream seemed like the obvious way to celebrate. It was right around then that I heard from obé, an at-home workout app and fitness program, and I figured it had to be a sign, right? I've never been much of a gym-goer, but their apartment-friendly signature 28-minute workouts required no equipment and looked manageable. I put down the mint chocolate chip and the heating pad and created an account.
Read on to find out how the obé fitness app actually got me working out, and why it seems like it was made for busy parents everywhere. Mommy Poppins readers can also snag their first month for just $1 with the code below.
Live exercise classes help keep you accountable — and make you forget you're alone in your living room!
obé offers 14 live fitness classes a day, taught from a futuristic white box in the company's sleek studio in Dumbo, Brooklyn. From Monday to Friday, their roughly 30-minute workout classes stream from 6:00am to 2:00pm EST, and on weekends there are options from 8:00am to 3:30pm EST. You can take a look at the entire week's schedule on the website or app, and the "Add to Cal" tool makes it easy to set a schedule for yourself while upping the chances you'll stick to it. obé's instructors are super engaging — shouting out and "chatting with" members who are virtually participating in the class — and because they're truly teaching in real time, the workouts have an organic quality that's hard to find in a pre-recorded video. I felt "seen," which motivated me to keep up with the routines and push that much harder. And that's no small feat for me!
On-demand classes mean you can work out around your already-way-too-busy schedule.
While I loved the uniqueness of the live classes, admittedly, the on-demand fitness classes were a bit easier for me to squeeze in somewhere between school drop offs, naps, work, and bedtime routines. obé's On-Demand Library houses every previously recorded live workout (more than 2,500!), so you can catch a class you may have missed in the morning after the kids go to sleep, or you can dig deeper into the archives to find something else that's a fit. The website and iPhone app enable you to filter by type of workout, instructor, or equipment needed. You can also choose from a number of Express classes, which are only about 10 minutes long, and recommended for beginners like me — or for anyone who wants to add on a warm up or cool down, or is just short on time. You can also tune into on-demand Talks, which cover everything from self love, to holistic nutrition, to clean beauty.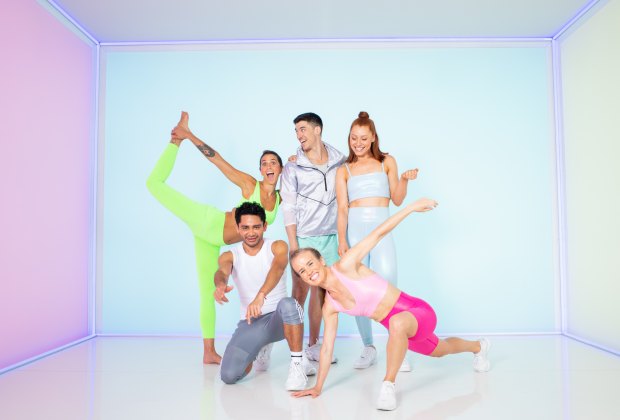 With so many workout options, you can just stick with what you like or take a chance on something new.
obé breaks their fitness program into three pillars — Sweat, Define, and Flow — and members are encouraged to alternate between at least 3 Define and 2 Sweat classes each week. Sweat encompasses cardio-based classes, like Dance, HITT, and Circuit, with low-impact options as well. Define classes are all about strength training, and include Sculpt, Pilates, Strength, and Power. Meanwhile, Flow classes focus on yoga and stretching. Because new exercise classes are added every single day, the options within each category are seemingly endless, which means you'll have plenty to pick from even if you just stick to your favorite types of workouts. Of course, since your membership allows you a countless number of classes each month, you can also take a chance on something you've never tried before. I jumped right into the dance classes — mostly because I thought they'd feel the least like "working out" (uh, they definitely felt like "working out") — but then tried out a Sculpt workout and totally loved it. Would I have signed up for it at a gym? Not a chance.
Speaking of options, new and expecting moms can rejoice over prenatal and postnatal classes!
obé's pre- and postnatal classes are led by PROnatal certified instructors and are completely safe to do as long as your doctor has given you the green light to workout. Impressively, you'll still find roughly the same variety you get with the standard classes, but the workouts are specifically catered to new or expecting moms. You'll also find relevant body part specific classes, including Pelvic Floor, Upper Body, Lower Body, and Core; postnatal workouts designed to be done with your little one; and even a few Express options that utilize your stroller as a prop. Personally, I took a chance on a postnatal core class, which made me realize that after two pregnancies, I'm not actually sure I have a core anymore... But all the more reason to keep at it, right?
There's no shortage of support from fellow parents and the rest of the obé community to keep you going.
Turns out obé has a big and dedicated following! I requested an invite to the obé team private Facebook group and was blown away by the outpouring of posts from fans across the country. Members share everything from their favorite workouts to healthy recipes to #sweatyselfies, and enthusiastically encourage each other to make it to 6:00am classes or to meet personal fitness goals. As a beginner myself, I was inspired by a number of posts from members who credited obé for helping them get in shape, and I was especially impressed with the photos of kids happily distracted by piles of toys while moms squeezed in their daily workout. Much like how the live obé classes made me feel seen, the online community creates a level of camaraderie you won't find with most online workout videos. And it's certainly been enough to keep me going!
Right now, Mommy Poppins readers can use the code MP1 when signing up for obé to get your first month for just $1. From there, you can choose between a monthly subscription at $27/month or an annual subscription at $199/year (just keep in mind that both will auto-renew). And hey, if I can do it, I'm pretty confident you can too!