Online Robotics Camp
Young Gates - Kids Online Personalized Classes

Artificial Intelligence with Scratch Online Camp
Young Gates - Kids Online Personalized Classes
Thompson Park's Annual Creative Arts and Music Festival
Thompson Park
Sign up for our free newsletters.
Keep Your Kids Healthy Without Leaving Your Home with KidsHousecalls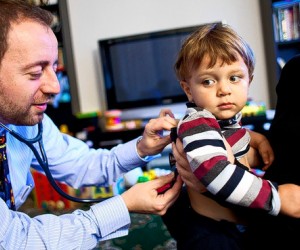 11/11/14
- By
Linda DiProperzio
'Tis the season for many things—including the spread of cold and flu germs. With school back in session and the colder weather upon us, it's no surprise kids get sick more often. With the holidays coming up, I'm keeping my fingers crossed that everyone's kids stay healthy, but both of my sons have already battled the common cold, as well as a crummy case of the croup.
And while traveling to the pediatrician's office is part of being a parent, there are times when I wish there was another option. I not only dread the drive in bad weather, but I also worry about exposing my kids to a waiting room filled with even sicker children. Last year, I took my older son to the pediatrician with a simple cough (with my younger, healthier son in tow), and a week later they both came down with a whole new nasty virus. So when I found out about our sponsor KidsHousecalls, which sends a board certified pediatrician to your home to treat your child, I was all ears.
KidsHousecalls has been available in NYC since 2009 (see our NY writer Lia's rave review), and its founder, Dr. Edward Kulich, is now expanding the service to New Jersey. Dr. Kulich is a Board Certified Pediatrician practicing concierge medicine for patients ranging in age from newborn to 21 years old.
When a child gets sick, KidsHousecalls provides state-of-the-art, mobile urgent care in the comfort of your own home, available 24/7 (no more bundling up your little one in the middle of the night for a trip to the ER). There's no dealing with a receptionist and hoping the office can fit you in; simply call Dr. Kulich directly for a same-day appointment. He brings everything needed for a full exam with him to your home, including a stock of common medicines that can be dispensed free of charge.
Many patients are so impressed and comfortable with Dr. Kulich that they use him as a primary care physician, which means never waiting in a germy office for hours on end to see the doctor. Along with regular checkups, he can also provide vaccinations, flu shots, vision and hearing tests, etc. Basically, anything a pediatrician can do in a traditional office, Dr. Kulich can perform in the comfort of your home. And parents have peace of mind knowing their child will be seeing the same doctor at each and every visit, whether that visit is before or after 5pm.
Of course, personal attention comes at a price. KidsHousecalls doesn't accept health insurance, and local visits start at $300. This fee includes travel time and any necessary tests and antibiotics. If parents use him on a regular basis, he offers significant discounts.
If interested in KidsHousecalls, give Dr. Kulich a call at 917-617-2194. Hopefully, though, you won't need to use that number when you were trying to sleep.
This post was sponsored by KidsHousecalls, but the opinions are those solely of the author.