Orlando's Wyndham Bonnet Creek Offers Disney-Adjacent Suites and Resort Amenities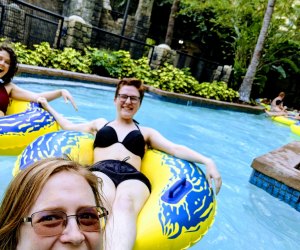 3/23/19
- By
Anna Fader
Finding the perfect place to stay for your Orlando family vacation can be hard. You want a location with good proximity to the amusement parks, but don't forget there's lots more to do in Orlando than just theme parks, so a resort that is fun on its own can save you a bundle and also be a whole lot more fun. Family-sized suites, kitchens, and laundry options bring the comforts of home that take the stress out of a family trip, too.
Wyndham Bonnet Creek offers luxurious condo-style one-, two-, three-, and four-bedroom family suites adjacent to Walt Disney World and close to other Orlando attractions. With a full schedule of resort activities, five pool complexes, including a lazy river and water slides, it's no wonder it ranks No. 4 on Condé Nast Traveler's 2018 Readers' Choice Awards list of Top Resorts in Orlando.
Rooms
I was immediately impressed with our two-bedroom, two-bathroom suite at Wyndham Bonnet Creek. At over 1200-square-feet, it was one of the largest suites I've stayed in. The space included a full-sized dining table, living room, and a kitchen truly set up for cooking meals, plus two bedrooms and two full bathrooms. The beds were luxuriously comfortable. The second bedroom offered two double beds. With the foldout couch, the room could accommodate up to eight people. A four-bedroom suite can sleep up to 14, perfect for multigenerational travel. Cooking, laundry, and lots of privacy made Wyndham Bonnet Creek a relaxing and convenient spot for a family trip to Orlando, at a fraction of the cost of a Disney resort property.

RELATED: Family-Friendly Resorts and Hotels Guide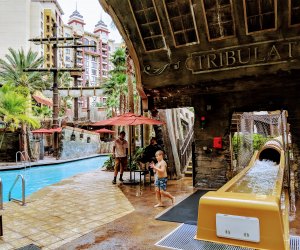 I may have let out a little whelp on this fun pirate ship water slide.
Pools and Water Park
Another feature I liked about Wyndham Bonnet Creek was the way it was laid out with multiple pool areas and other activity zones all along a pretty path around a lake. Each pool offered unique features, so we enjoyed pool hopping around the resort. There are two lazy rivers (my favorite), two splash pads for little kids, and two water slides, one in a cool pirate ship structure. With so many pools and hot tubs, it was easy for us to find a quiet spot, or join in the action, depending on our moods. Towel service was included, so there was no need to worry about drying and washing all our beach towels. Full-service private cabanas are also available to rent if that's how you roll.
Resort Activities
Also situated around the lake is a playground, mini golf course, ping-pong, shuffleboard, and sand volleyball. Other games can be borrowed or rented from the activities center. The resort also has a full schedule of free activities, from yoga and fitness to game tournaments, scavenger hunts, and movies on the lawn. Kid crafts, ice cream parties, and some other activities are available for a small fee.
Wyndham Bonnet Creek has fitness rooms, arcades, and other standard amenities. There's even a spa if you need to rub out those tired theme park muscles. If you like running, the jogging path around the lake is a great way to start the day. I certainly enjoyed watching people run every morning from my balcony. Kids will love feeding the ducks, koi, and turtles from the boardwalk, too.
Restaurants
There are multiple onsite restaurant options at Wyndham Bonnet Creek. There's a poolside restaurant and bar, a pizzeria, and a full-service restaurant in the main tower. A small market and Starbucks offer convenience for on-the-go fuel if you don't want to leave the resort. Of course, it all comes at a cost with resort-level prices at the restaurants. Take advantage of those big kitchens, and the outdoor barbecue areas if you're on a budget.
RELATED: The Grove Resort Orlando (and Water Park) Is a Worthy Disney Alternative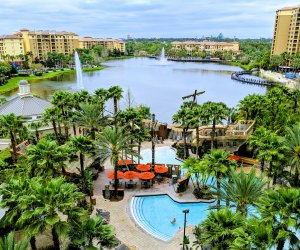 The view from our balcony showed off the lakeside amenities.
Location
You can't get much closer to Disney World than staying at Wyndham Bonnet Creek. The resort is right in the Disney World bubble, so whether the family opts to drive to the resorts or take the provided shuttle (an extra fee applies), or even a Lyft, everyone will be there in a jiff. It's also right off the highway access, so getting to Universal or any other Orlando destination is just as fast and easy.
If you're looking for a family hotel for your next Disney or Florida trip, Wyndham Bonnet Creek offers luxury, space, and kid-friendly resort amenities to make your vacation a success. It's a great respite from a day at the theme and water parks and a great way to add some more relaxing and affordable days of fun to your trip. Visit the hotel's website, www.wyndhambonnetcreek.com, for theme park package deals, too.