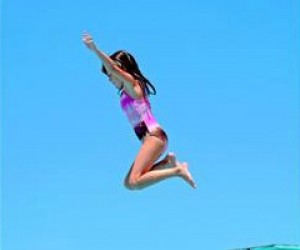 Fun & Free Things to Do with LA Kids this Weekend: Getty Garden Concerts, Hair, and Friendship is Shakespearean Magic, Aug 2 -3
Oh, August. On one hand, you mark the beginning of some of our favorite summer events: The Getty Center and its free Garden Concerts for Kids. The Actors Gang with free Shakespeare in the park made accessible for kids. (How accessible? Try this year's My Little Pony theme!)
But oh, August. August which used to mean halfway through summer. You now put us in a short countdown for Back-to-School. If you haven't yet, I suggest you check out our round-up of Academic Year Calendars, and try not to weep when you discover your district's first day of instruction. (Spoiler alert: for some it is as early as August 11!)

No matter how much time you have left, there's plenty of fun to be had. County Fairs in Ventura and the OC, festivals for Surfing and Crawfish, a legendary circus, a princess sing-a-long and Hair with an all-star cast (including Kristen "Princess Anna" Bell!). There are still lots of under-the-stars screenings and oodles of outdoor concerts. It ain't over 'til the school bell rings.
Keep reading for our it's-still-summer picks for this weekend ....
ALL WEEKEND

A Midsummer Night's Dream: Friendship is Magic - Culver City
Everypony! The free family Shakespeare production this year has a My Little Pony theme!

Orange County Fair - Costa Mesa
The OC Fair has racing pigs, a tractor pull, Peking acrobats and more. Friday Night the Fresh Beat Band plays the Pacific Amphitheatre!

Princess and Pirates Sing-a-Long Concert - Culver City
Cinderella, Snow White, Jasmine, Aurora and more are singing their hearts out at the Kirk Douglas Theatre -- and you get to sing right along with them!

Ventura County Fair - Ventura
The Ventura County Fair opens this week, with everything from carnival rides and corn dogs to motor sports and concerts. Headliners this year include Little Big Town, The Spinners, Barenaked Ladies, and Tony Orlando.

Planes: Fire and Rescue 3D (PG) with Live El Capitan Show - Hollywood
Look! In the sky! On the sky on the screen, that is, Dusty Crophopper is taking on a new adventure – joining an aerial firefighting squad!

Ringling Bros. and Barnum & Bailey Presents Legends! - Anaheim
Think you've seen it all? Think again. The circus this year features a unicorn, a Pegasus, and even a Wooly Mammoth!

International Surf Festival - Redondo Beach
Cowabunga, dudes! Hang ten over to Redondo Beach to watch some totally rad surfing!

Family Amphitheater Performances - West LA
The family entertainment at the Skirball this weekend includes Kayamanan Ng Lahi with traditional Filipino music and dance on Saturday, and Kutturan Chamoru performing music and dance from the Pacific Islands on Sunday.

Garden Concerts for Kids - West LA
Getty Center's free Garden Concerts for kids returns with Mister G, a "kid-friendly, bilingual rock star."

Long Beach Crawfish Festival - Long Beach
The Long Beach Crawfish Festival features Cajun, Zydeco, and New Orleans sounds of music, plus tons of fresh crawfish prepared Louisiana style.

Hair - Hollywood
Talk about all-star! The Hollywood Bowl's production of Hair features Kristen Bell, Sarah Hyland, Mario, Hunter Parrish, Glee's Jenna Ushkowitz & Amber Riley, and Beverly D'Angelo!

SATURDAY AUGUST 2

Big!World!Fun! - Hollywood
Sarah Reich's Tap Music Project tippity taps into the Ford Amphitheatre. Preshow activities with the Natural History Museum give kids a chance to become citizen scientists.

Latch & Link: Long Beach - Community Breastfeeding Fair - Long Beach
Families can celebrate World Breastfeeding Week at the 2nd Annual Latch & Link, a free community fair.

Home Depot Kids Workshops - Multiple Locations
School is starting soon. You're going to need someplace to store your pencils. Luckily, Home Depot's project this month is a Mini Crate Pencil Holder.

Fishing Frenzy - Thousand Oaks
Hundreds of magnetic fish have been released into the creek, and it's up to intrepid young anglers to catch them!

Silk Road Story Time - Pasadena
The traveler's tent at Pacific Asia Museum is the place to be to hear stories from the Silk Road; in August kids are treated to fairy tales from China.

Ilene Cohen and her Puppet Friends - West LA
Ilene Cohen visits Children's Book World with her puppet friends for stories to tickle your funny bone.

Public Star Party - Griffith Park
The sky is falling! The sky is falling! Or, maybe it isn't. Better look up just to be sure.

Movies in the Park - Downtown
Grand Park offers a free double-feature of sci-fi themed animation: Monsters vs Aliens and Wall-E.

Redondo Beach Summer Music Festival - Redondo Beach
Justin Hopkins performs Roots/ Soul music on Redondo Pier.

Street Food Cinema - Glendale
Street Food Cinema has The Goonies in Glendale Central Park.

Marina Del Rey Summer Concert Series: Pop Saturdays Marina Del Rey
Don't fear the reaper: Blue Oyster Cult performs in Burton W. Chace Park.

Movies on the Green Woodland Hills
Truly Scrumptious! Chitty Chitty Bang Bangs screens in Warner Center Park.

SUNDAY AUGUST 3

Free Day at the Bowers - Santa Ana
Admission is free for the Pacific Islands Family Festival.

Target Sundays at CAAM: CAAM's Annual Summer Party - Downtown
The California African American Museum celebrates summer with musical artists and performance, plus free art workshops for the whole family.

Andell Family Sundays - Art + Treasure - Mid-Wilshire
This month's free family program at LACMA looks at the common ground between artists and technology innovators.

A Faery Hunt - Crestwood Hills Park - Brentwood
Young faery hunters can help find the missing Faery light in Crestwood Hills Park.
The Hollow Trees - Topanga
The Hollow Trees play original and traditional Americana clap-along songs and stories for the whole family.
Kids Run the Bases - Dodgers Home Game - Echo Park
The Dodgers play the Cubs and kids run the bases at Dodger Stadium. Plus, kids get a free Dodger backpack.

Fairy Tales in the Park- Oxnard
Gypsies in a Trunk performs Sleeping Beauty 2: Malificent's Revenge in Harborview Park.

Marzo's Variety Show for Kids - West Hollywood
"Marzo's," is a variety show for kids, with a talented rotating lineup of professional comedians, magicians, puppeteers, musicians, and more.

Manhattan Beach Summer Concerts in the Park - Manhattan Beach
Nathan Shrake performs in Polliwog Park Amphitheater.

Jazz on the Lawn - Santa Monica
Santa Monica's popular jazz series is back at Stewart Street Park.

Playa Vista Concert in the Park - Playa Vista
Pine Mountain Logs performs songs from major artists including Earth, Wind & Fire and Led Zeppelin.

South Pasadena Summer Concerts - South Pasadena
Garfield Park features the Latin sounds of Susie Hansen Band.

2014 Music in the Park - Laguna Beach
Bluebird Park has the Beatles cover band Beatroot.

Concerts on the Green Woodland Hills
U2 tribute band Hollywood U2 plays Warner Center Park.

Sierra Madre Concerts in the Park - Sierra Madre
Gem City Jazz Cats perform Big Band music in Memorial Park Bandshell.

LevittLA Summer Concert Series - Children's Concerts in MacArthur Park Downtown
José-Luis Orozco & Friends perform children's interactive.bilingual songs in Levitt Pavilion at MacArthur Park.

Free Summer Movie Series Malibu
Malibu Country Mart offers a free screening of The Neverending Story.

And yes, there are many more activities listed on our daily events calendar. Just a crazy notion, but why not check it out! Whatever you choose to do this weekend, we hope you have marvelous time.