Bounce! Trampoline Sports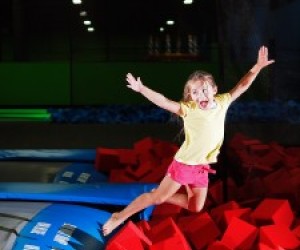 There's certainly no shortage of indoor play places in Nassau County, so a new one really needs to do something to set itself apart from the pack. Bounce! Trampoline Sports (310 Michael Road, Syosset; 516-762-1300) manages to do just that by not only wowing kids with an array of trampoline-based activities, but giving adults the chance to join in on the fun, too.
The 40,000 square-foot facility can hold up to 500 people and boasts wall-to-wall trampolines and multiple jumping areas, including slam duck basketball and dodge ball courts, foam pits, a variety of inflatables, and a one-of-a-kind trampoline bungee jump, which is so popular the owners are setting up a second one to accommodate the crowds lining up for a shot at being tossed in the air. It was jam-packed when I visited during the holiday break, but the lines for different activities stay manageable because of a time limit put on participation. So kids can play in an area for a few minutes, then move on to another area or get back on line to stay with the same activity.
There's even a separate area for younger children (ages 2-6) so parents don't have to worry about little ones getting knocked down by older kids. Even better: The place is sparkling clean! I was so impressed at how everything in the building is maintained, from the carpets to the restrooms.
Of course, all of these activities mean Bounce! is a go-to place for birthday parties. It hosts events for kids two and up, and has a variety of party rooms for any occasion. A 90-minute party starts at $325 for 10 guests, and includes pizza, bottled water or juice, and all paper goods, including invites. It's recommended that parents book at least two months in advance to make sure you get your date.
Fun for Mom & Dad, too
As for the adults, Bounce! offers fitness classes for both men and women, including trampoline aerobics and Bounce boot camp, which combines cardio and muscle toning aimed to help people tone up, lose weight, and gain endurance. Adult parties are also welcome (the facility is open until 10pm on Fridays and Saturdays) for anything from birthday celebrations to corporate and charity events. Bounce! also has its own dodge ball league.
Other amenities include a Wi-Fi lounge with flat screen TVs hooked up to various areas of the facility so mom and dad can keep an eye on their kids during open play and parties (I especially loved to see my soap on during my visit—the perfect way to pass the time while the kids played!). There's also an arcade, snack and coffee bar, as well as healthy-choice vending machines.
Open play is daily ($11 per person for inflatables for 1 hour; $15 per person for 1 hour on the trampolines; $7 per session for the bungee sport jump; $22 for 1 hour all-access pass; $32 for 2 hours). The staff is always around to explain the rules, demonstrate how to use equipment, and (most importantly) make sure everyone is using it safely. Waiver forms can be filled out in advance online so parents don't need to waste time doing it onsite.
Have you had a chance to check out Bounce!? If so, feel free to leave a comment below to let us know what you think. And don't forget to check out our Inside Activity Guide for more kid-friendly options during this super cold and snowy winter.
Photo courtesy of Bounce!