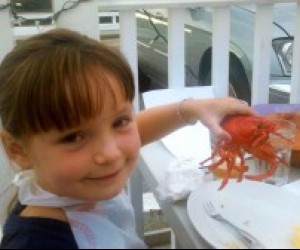 Best Seafood Shacks: Roadside Beach Restaurants in Los Angeles
It's the end of a long and lovely day at the beach, and you can't quite brush the last of the sand off your shins. You're sunburned and pooped, with a mop of sea salty hair blown dry by the wind. Everyone's famished, but let's face it: a nice restaurant just won't have you and your bedraggled lot. What to do, oh weary surf dwellers? Why not head to a roadside fish joint. Lucky for us, we have a few fab and affordable ones along our slice of the coast.These eateries won't mind your flip flops, and the menu variety is sure to please everyone in your crew.
Malibu
Malibu Seafood
25652 Pacific Coast Highway
Malibu, CA 90265
310.456.3430
One fan calls the decor, "...beach bum chic." Add the ocean view from the patio and the BYOB option (there's no alcohol on the menu), and you've got yourself a quintessential LA beach eating experience. Oh, and the food is good too. Highly recommended are the fish and fries (with fish fried to a golden brown, and not too heavy), and (yum!) the homemade clam chowder. There's even a chicken breast sandwich option for the non-fish eaters among you. Eager to just get home? Feel free to call in your order and take it to go. Or browse the offerings in the fish market and cook it up yourself. Only a few free parking spots are available, so be prepared to pay for parking.
Neptune's Net
42505 Pacific Coast Highway
Malibu, CA 90265
310.457.3095
A hop, skip and a jump (under two miles) from Leo Carrillo State Beach (where the low tide tide pools are divine), Neptune's Net awaits to satisfy your fresh and fried fish cravings. If you can stand the frequent crowds (it's a biker and surfer destination, and hang out for locals) and the porta potty (that's right: no restrooms), you'll love this little fish eatery (that also serves burgers and corn on the cob). The cheap pitchers of beer may be just the ticket after a day at the beach.

Reel Inn
18661 Pacific Coast Highway
Malibu, CA 90265
310.456.8221
As with most of the roadside eateries around town, the Reel Inn can get crowded on the weekends, and who wants to wait for a table (especially with hungry kids tugging on your pant leg)? But if you dare brave the possible crowds, the Reel Inn (the closest-to-the-westside Malibu fish joint) won't disappoint. Scan the hand-written chalkboard menu for your favorite seafood dish; the selection is large, so you're sure to find it. Beer and wine are available, too. (And speaking of chalkboards, the one out front with the daily seafood pun is a PCH landmark!)


South Bay

Captain Kidd's
209 N. Harbor Dr.
Redondo Beach, CA 90277
310.372.7703
Let's see: what's not to like? Captain Kidd's is a family-run part restaurant, part fish market, with ocean view patio seating, free parking, and fresh seafood made to order (grilled, steamed, fried: your choice) right near the Redondo Pier. The only drawback? The seagulls like it, too, so keep your plates close. Patrons rave about the clam chowder, as well as the crab and lobster.
Long Beach

Berth 55 Fish Market & Seafood Deli
555 Pico Ave.
Long Beach, CA 90802
562.435.8366
The local buzz is that this place may close in the not too distant future. But it may not. And so while it's still here, go check it out! Fish at its freshest, served water-side, with fishing boats docking nearby, and a smell of ocean in the air. Some say the clam chowder is better than what you find in San Francisco. You be the judge. Kids are more than welcome and feel right at home with fish tanks, menu variety, and plastic eating utensils the norm.

roe. Restaurant and Fish Market
5374 E. 2nd St.
Long Beach, CA 90803
562.434.2763
Roe Restaurant and Fish Market may not completely fit the category of roadside clam shacks, but we couldn't create a list without including it. This little Belmont Shore neighborhood market and eatery is a fan favorite for its family-friendly and freshest-fish-around appeal. Consistent high marks for the ceviche and the halibut sandwich, but you might also want to try the fish and chips, or fish tacos. Okay, it's all good, whether you eat it there or grab takeout. That's why it made our list.