The Adventures of Tortoise & Hare The Next Generation
The Sheen Center

The Very Hungry Caterpillar Show
DR2 Theatre

NYC Easter Brunch Cruise 2023
Event Cruises NYC
Sign up for our free newsletters.
5050 Skatepark on Staten Island: NYC's Only Indoor Skate Park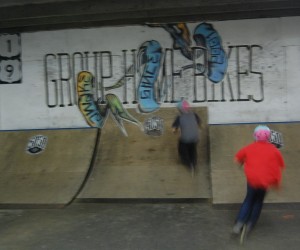 1/7/13
- By
Nataki Hewling
Last week when we shared our list of the best NYC spots for kids that opened in 2012, we mentioned Staten Island's 5050 Skatepark. As New York City's only public indoor skatepark, it truly is unique. And unlike outdoor skateparks, which cater to skateboarders, 5050 also welcomes riders on bikes, scooters and Rollerblades.

My family and I live on Staten Island and ever since 5050 Skatepark opened last summer, we'd heard rave reviews. So a few weeks ago, my eight-year-old and I decided to go check it out.
When we visited on a Sunday afternoon, we saw a group of young teens doing tricks on their scooters and bikes. Angelica Popolano, who opened 5050 with her boyfriend Ed Pollio, explained that the majority of their regulars use bikes and scooters, not skateboards.

The owners got input from local BMXers and skateboarders when transforming this old furniture warehouse into a skatepark, and the 35,000-square-foot space includes a variety of ramps and rails, and an obstacle course. My son and I watched the teens (all boys) as they hit every corner of the room, flipping, twirling and twisting.

In addition to open skate sessions, 5050 offers one-on-one lessons (BYO board, bike, etc.) although kids can also just hang out and learn from the veteran 5050 crowd. Children under 12 need to be accompanied by a parent or legal guardian, and every rider is required to sign a waiver and wear a helmet. (Gloves, elbow pads and shin guards are recommended but not mandatory).

While my eight-year-old enjoyed the atmosphere and the camaraderie (the no bullying policy is strictly enforced), 5050 Skatepark is best for teens and up (or perhaps a tween who really wants to get into the scene). Pricing varies. There are different membership packages plus individual session rates. 5050 also offers birthday party packages and special beginner sessions for newbies.

5050 Skatepark is located at 354 Front Street between Water and Prospect Streets, just around the corner from the Stapleton train station. It's about a mile walk from the Staten Island Ferry.

Read about outdoor skateparks in NYC or other places to play indoors.