Indulge at the Southington Apple Harvest Festival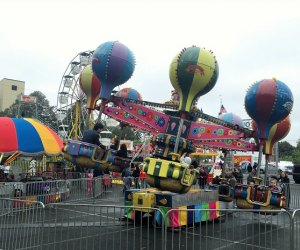 If you're looking for a small-town fair big on entertainment, mouth-watering foods, and scrumptious desserts, the Southington Apple Harvest Festival, celebrating its 49th year and mentioned in our 30 Fun Things to Do This Fall in Connecticut is sure to deliver. Nestled around the charming Southington Town Green, this family-oriented event attracts about 100,000 visitors annually. Add free admission and free parking to the fact that purchases benefit local community organizations and businesses, and you have an all-around feel good experience.
The fun begins on Friday, September 29 and continues Friday through Sunday until October 8. The multi-day festivities include live music, children's activities, carnival rides and games, shopping opportunities, apple pie and apple fritter eating contests, dance demonstrations with audience participation, artists' demonstrations, such as pottery, and weaving, fireworks, and a parade.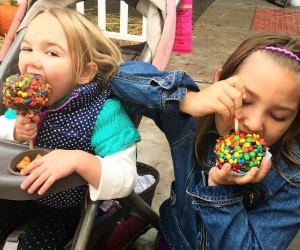 Indulge in some of the best caramel apples around. Think 1/4 inch caramel coating and choose from a variety of toppings, including M&Ms, nuts, shredded coconut, or sprinkles.
Fairs are synonymous with great cuisine, and this one doesn't disappoint. The number of food vendors is impressive, as is the variety of flavors. Whether you're craving pad Thai, French crepes, sushi, empanadas, or jerk chicken, you'll find it here. Seafood lovers will delight in the choices of lobster rolls and bisque, crab cakes, and coconut shrimp. Of course, the aroma of more traditional fair food, including curly fries, burgers, hot dogs, fried onions, and homemade chili, also lingers in the air. Sweet indulgences include ice cream, cheesecake, cupcakes, fried Oreos, pumpkin spice fritters, whoopie pie, apple cider slushies, and the absolute best caramel apples we have ever sunk our teeth into. The apple fritters (featuring chunks of apple) are famous, but the line for them wrapped around the block, so my family decided to forgo this treat. Did I mention that the caramel apples were the best we ever had?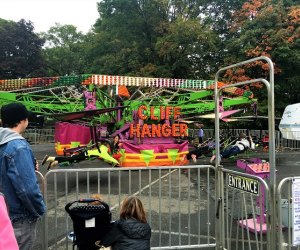 No fall fair is complete without rides that incite thrills and giggles.
In addition to sweets, children will also enjoy an entertainment area created just for them. For $5 each, activities include face painting, glitter tattoos, henna stencil tattoos, sand art, photos with costumed characters, and special hair braiding (think feathers). Carnival games and rides for all ages feature mainstay attractions like a Ferris wheel, a small rollercoaster, a balloon race, and a fun slide. Visitors can purchase individual $1 tickets (most rides require four tickets), or a book of 24 tickets for $20. (P.S. Restrooms are located in the amusement ride area).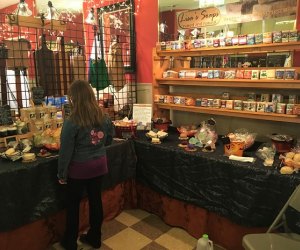 The festival also features an arts and crafts show that offers plenty to splurge on. Children's clothing, jewelry, handcrafted soaps, knitted hats and scarves, decorative wreaths, candles, and wood carvings make great gifts.
As previously mentioned, festival admission is free, and parking is also free at Southington High School, from where a shuttle brings visitors to the fair. You might be able to find parking near the town green (most lots charge $5), but be mindful of congestion/traffic and parking restrictions in the area. Because the fair is contained in a small area, it is great for little ones who might not have much walking stamina (strollers are allowed, of course). So skip the cooking, enjoy some crisp autumn air, and have the camera ready to capture a memory.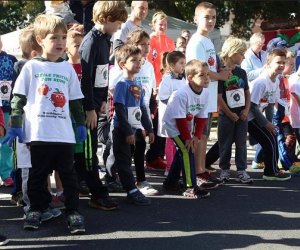 One of the favorite events is the Little Fritters Fun Run on Sunday, October 1. Open for ages 2-7. Photo courtesy of the event.
If the festival leaves you wanting more apples, you can take the family to Rogers Orchards, available for pick-your-own Fridays through Sundays, from early September until late October. Another option is Karabin Farms, where Cameo and Red Delicious await in October (pumpkins are also available). On weekends, all PYO includes a free wagon ride to the orchard.