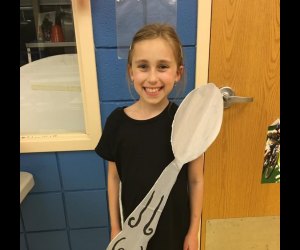 Drama and Dance at These New Haven County Camps
Do your children opt to act or dance instead of play team sports? Participating in a play or a performance of some type is a great experience and teaches kids all about teamwork and reaching personal goals. If your son or daughter loves to be on-stage or in front of the camera tap-dancing their hearts out then New Haven has a camp for them! And of course, check out our entire CT Summer Camp Guide and our Summer Camp Directory.
New Haven Ballet - New Haven
The New Haven Ballet offers summer intensives for children 8-19 years of age. Students will be exposed to classical ballet training and as well as choreography, Pilates and conditioning. An introduction to dance, rhythm and music focused on creative storytelling. Programs run during the months of July and August.

70 Audubon St, New Haven, CT (203)782-9038
Neighborhood Music School - New Haven
Whether your child is into Rock or Jazz or plays a woodwind instrument, NMS has something to offer. Students will be given the opportunity to strengthen their performance skills, learn about recording and writing songs, deepen their understanding of different jazz genre's and experience playing with other musicians. Programs are offered throughout the summer.
Neighborhood Music School, 100 Audubon Street, New Haven, CT 06510, 203-624-5189
Shubert Theater Drama Camp - New Haven
Shubert Theater camp is open to students in grades 5 to 8. Three plays will be produced in the summer of 2018. Kids will be able to participate in three different acting classes per day, enjoy field trips and be entered to win a weekly raffle prize. An after-care program is available as well.
Shubert, 247 College St, New Haven, 06510 , 860-562-5666
New Haven Academy of Performing Arts - East Haven
NHAOPA offers children ages 7-17 a summer musical theatre experience. The Academy offers 2 sessions during the months of July and August. Each three-week session offers classes in dance, acting and singing.
NHAOPA, 597 Main St, East Haven, 06512, 475- 238-8119
The Foote School Summer Theater - New Haven
From June to August, kids will be able to participate in vocal exercises, theater games, and training under experienced professionals. Kids with a desire to learn more about the technical side of theater will enjoy it too! Eligible students are from incoming six-graders to college students. Foote is one of the longest running theater programs for kids.
50 Loomis Place New Haven, 06511, 203-777-3464
Curtain Call Summer Program - Stamford
Curtain Call will be offering a Summer Creative Theater Workshop for kids ages 11-16. Students will be learning about improvisation and exploring classic performance techniques through using Shakespeare and other acting styles. Program runs from 9:30 to 4:30 and students will be grouped according to age.
1349 Newfield Avenue, Stamford, CT 06905, 203-461-6358
Studio One Dance Center - Branford
Affordable dance camps for kids on the go. Studio One will be offering a Broadway Bound camp for kids interested in learning more about the dances used in musical theater and a Tap Intensive camp for kids who want to learn more about tap-dance. Broadway Bound is for kids 13 and up and Tap Intensive is for kids 11 and up.
4 Brushy Plain Rd. Suite 111 Branford, 06405, 203-488-0550.
Pantochino Productions Summer Theater - Milford
Presented by the Milford Arts Council, this summer theater program where for five-day sessions, kids will perform in an original music written just for Pantochino's summer program.
Pantochino Productions, 40 Railroad Avenue, South, Milford 06460, 203-937-6206
Originally published: 4-15-2013
Photo credit: C. Freer