Best Coffee Shops in Chicago to Bring Your Kids When You Need Caffeine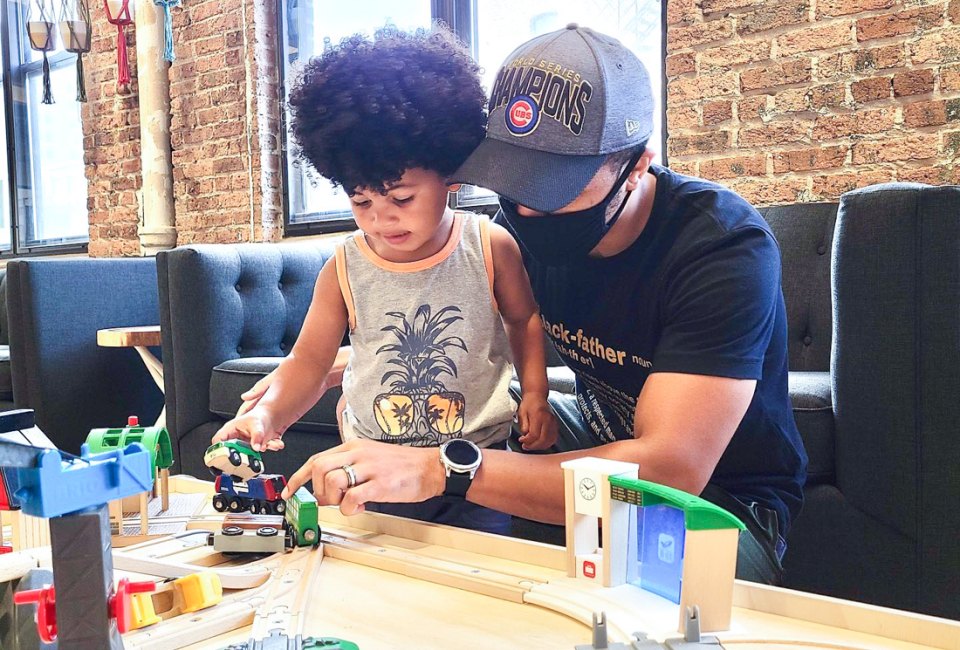 1/15/23
- By
Lauren LaRoche
Looking for the best coffee shops in Chicago that are also kid-friendly? These Chicago coffee shops have kid-friendly environments AND caffeine.
Some days you just want to treat yourself to a nice cup of coffee out of the house, or stop to rest with a beverage during a busy afternoon with family activities. Before you look to convenient chain drive-thru locations to power you through, read on.
You don't have to stop going to cool local coffee shops just because you have kids! And with the right coffee shop kid-friendly entertainment, you might even get to drink your coffee while it's still hot. The city and suburban coffee shops below are all kid-friendly and great for getting some much-needed caffeine. Some are indoor play areas with attached cafés, and others are award-winning coffee shops that happen to have kid-friendly environments.
Check out our recommendations here for indoor play spaces for kids and 50 awesome things to do indoors in Chicago with kids.
Best Coffee Shops in Chicago with Kid-Friendly Spaces
Fairgrounds Craft Coffee and Tea has amazing coffee and menu options for both kids and adults. The atmosphere is a lot of fun for all ages. The entire family can enjoy wooden swings as you sip at the coffee bar. Kids can also order their adorable kids' lunchbox meals.
Ipsento is conveniently located right off the 606 Bloomingdale Trail in Bucktown. This makes for a great first stop if you're off for a walk, bike, or scooter down the trail. With a large green space right outside, kids can let off some steam while you enjoy your brew.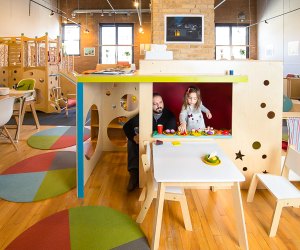 Photo courtesy of Present Place in River North
Present Place in River North is designed for children ages 0-4 and their caregivers looking to get some work time in. Parents and caregivers can enjoy free coffee, tea, and Wi-Fi while kids play with an oversized play set, toys, and more. There is also an infant crawl area for little ones.
Little Beans Café is a café, interactive play space, and event venue. With a full-service menu, you can have coffee while kiddos play in their awesome play space. You can book daily drop-in play times on their website. Online pre-registration closes at 8:00 a.m. that day, however, walk-ups are also welcome.

Photo courtesy of the Purple Monkey Playroom
Purple Monkey Playroom is an indoor place space that offers free coffee, tea, and Wi-Fi for parents to use while children play. You can buy a membership or passes for daily drop-in play. Play space includes a massive tiki hut, slide, LEGO table, climbing structure, and dress-up area.

Best Coffee Shops in Chicago to Take Kids: Suburbs
Hansa Coffee in Libertyville is a coffee-lovers dream. With their own roasted beans, beans for purchase, as well as home roasting equipment, they have it all. Their coffee space also has a cool open-door garage vibe that's relaxed, casual, and kid-friendly.
The Playroom Café is designed for kids ages 6 months to 6 years. The playground is massive with a variety of fun toys and room for imaginative play. There is also plenty of room to work and enjoy coffee, smoothies, tea, and food items from the adult and kids menu.
Hometown Coffee and Juice is well-known for their coffee on the north shore. The two coffee shops in Glencoe and Winnetka are bright, casual, and made for gathering. The owners designed Hometown to be a place for all ages to hangout, enjoy coffee, juice, tea, and cafe items.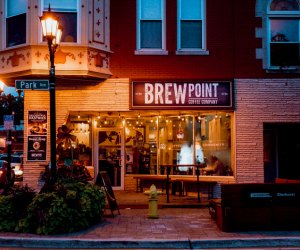 Photo courtesy of the Brewpoint Coffee in Elmhurst
Brewpoint Coffee has multiple locations in Elmhurst (Founders Cafe) and Oak Park. The atmosphere inside is cozy and kid-friendly. There are a ton of great bakery items to pair with your coffee and many are gluten, nut, or dairy-free. If you're visiting the Elmhurst Library with kids, Brewpoint also has a coffee shop located inside the library for a nice treat while you read or play with kids.