Best Family Friendly Bermuda Beach Resorts: The Fairmont Southhampton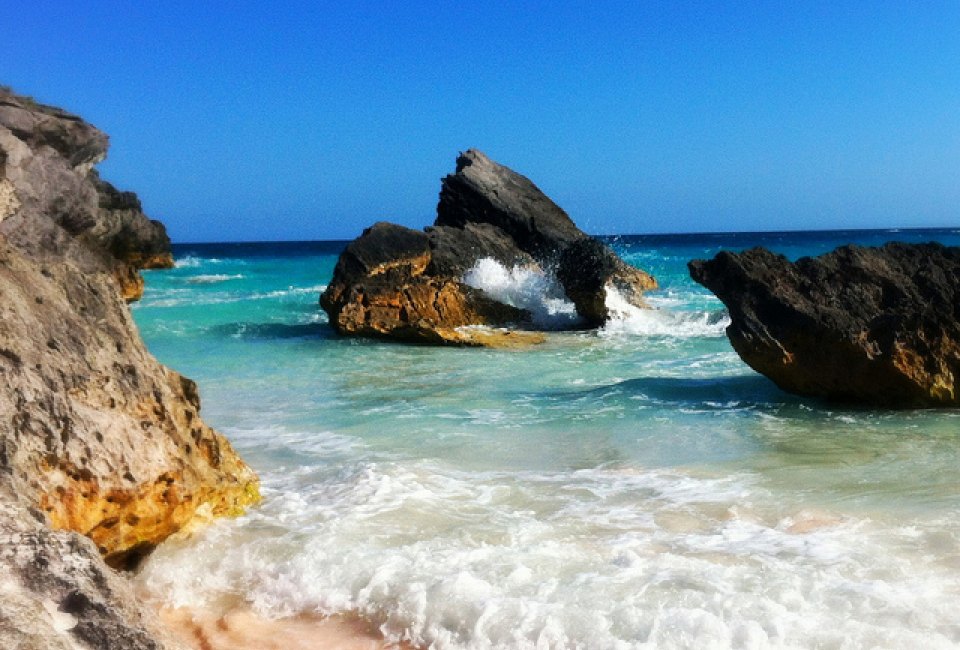 7/18/13
- By
Anna Fader
Famous for beautiful pink sand beaches, Bermuda offers family beach vacations with less travel and expense than the Caribbean. Only 2 hours from NYC, flights can cost as little as half the price of Caribbean destinations. It's an easy getaway that is often overlooked by time-strapped families. A trip to Bermuda includes stunning beaches, laid-back island hospitality and the fun of being in a foreign country, in this case a British Territory. Beach season in Bermuda is from April through October, so it's not a beachy winter destination, but it's great in the summer since temperatures top out in the mid-eighties. One drawback of Bermuda's Britishness is that they drive on the left side of the road and restrict foreigners from renting cars. You can rent mopeds, but that's not a great solution for families. So, although there is very good public transportation and taxis are available, it's much easier to stay in a resort with facilities and access to activities than to do it on your own with a cottage rental. The Fairmont Southhampton is a smart choice for family vacations because it offers access to the best Bermuda beaches as well as easy transit to other fun destinations in Bermuda. Check out my slideshow of the Fairmont and what I learned during my stay.
I was invited to stay at The Fairmont Southhampton to discover what Bermuda has to offer families on their beach vacations. The highlight of the Fairmont Southhampton is probably its beautiful private beach with water activities like snorkeling, kayaking and paddleboarding, and jet skis (at additional cost). The hotel also offers tennis courts, an 18 hole golf course and a dive centre that can arrange scuba diving expeditions. There is an outdoor pool that is somewhat on the small side for swimming laps, but great fun for kids. After 6:30 the indoor lap pool is available for use (during the day it is only for spa guests).
The kids club offers activities for children ages 5 and up from 9AM to 10:30PM (with a break from 5-6PM) for $50 per day. There is also a game room and a toddler room where tots can play with their grown-ups. Private babysitting is also available.
The Fairmont Southhampton beds, but there are also junior suites or one and two bedroom suites available for more privacy. All rooms have balconies and cribs or rollaway beds are available.
If you can never quite get away from it all, I'm happy to report the Fairmont has very good internet service in the rooms and it is free to Fairmont President's Club members—which is also free—so make sure to enroll before your stay.
My room was on the sixth floor which is Fairmont Gold, with special services and privileges. Fairmont Gold offers a higher level of service, but I think the best thing for families is the lounge which serves complimentary breakfast, afternoon tea, cocktail canapes, and dessert at various times throughout the day. With a large family the free meals and snacks might make the Gold level worth it just for that.
The Fairmont's private beach is reached by a short trolley ride. Once at the beach you can also stroll over to Horseshoe Bay, one of the most popular and gorgeous beaches in Bermuda. Horseshoe Bay Beach is particularly popular with families because it has a calm and shallow beach area naturally separated by a rock formation that is pretty much exclusively used by families. Exploring Horseshoe Bay Beach and photographing the gorgeous rock formations and pink sand was one of the highlights of my trip.
The Fairmont Southhampton is also a good launching off point if you want to explore the the rest of Bermuda. The hotel offers a complimentary ferry to downtown Hamilton for shopping and dining. If you want to travel to St George's (which I recommend) or the Dockyards you can take a taxi. There are also public buses which come right to the hotel's trolley stop and I was surprised how fast and easy it was to travel by bus.
The other two family friendly hotels in Bermuda are Elbow Beach by Mandarin Oriental at the high end and Grotto Bay Beach Resort, which offers an all inclusive package. The Grotto Bay beach isn't as nice as The Fairmont's beach and it's not as well located for exploring the island, but if you are looking to hang out and do lots of water activities, Grotto Bay might be a more economical option.
Disclosure: I was provided free travel and accommodation by the Bermuda Department of Tourism. No specific coverage was requested. All opinions are my own.

Sign up for our free
newsletters.
Mommy Poppins is a family activity website that helps people find things to do with kids.
©
2023
MommyPoppins. All Rights Reserved.
mp-prod4-v4.32.99
Click Here to Sign Up!
i