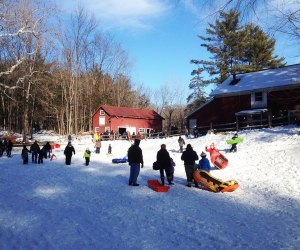 Things To Do in Westchester this Weekend: Winterfest, Bindlestiff Cirkus, Owls
The final weekend of January brings lots of fun indoor and outdoor winter activities for Westchester and Hudson Valley families. Whether you're looking to embrace winter or dodge it, there's a variety of programming to choose from.
If your family is in the "embrace winter" camp, your best bet may be the FREE Hyde Park Winterfest, offering assorted snow sports plus warming treats like marshmallow-roasting and hot cocoa. Alternatively, try the Winter Story Walk, a less sporty affair that ventures into the nature preserve but also tops off with cocoa and treats; this, too, is FREE.
Our favorite performance this week is by the Bindlestiff Family Cirkus. Crafty indoor fun (with an eco-conscious bent) can be found at the upcycling Book/Magazine Sculpture Workshop. Fans of American Girl dolls—or even stuffed animals—can gear up for Lunar New Year by crafting doll attire and learning about the holiday.
There's more where that came from, so read on for our top picks. Be sure to check out our Event Calendar for daily activities. If you haven't done so already, sign up for our newsletters to stay in the know!