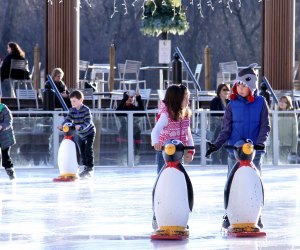 12 Fun Things to Do Over the Holiday Break with DC Kids
Don't miss out! Sign up for our FREE newsletter and stay up-to-date on the best things to do in Washington DC with kids.
.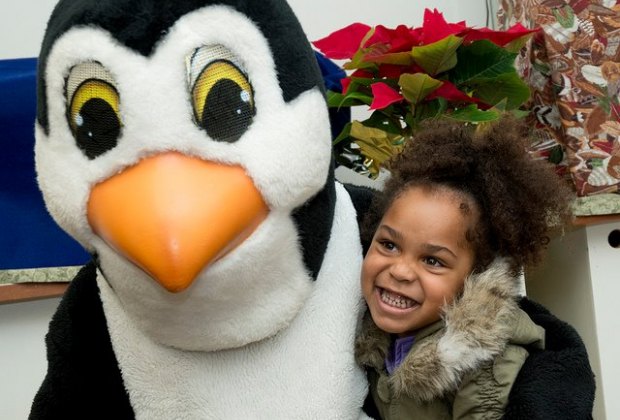 The Festival of Lights features charming seasonal characters, and a 54-foot-tall musical Christmas tree. Photo courtesy of Prince George's County on Facebook
The Festival of Lights in Upper Marlboro, MD
Located in Watkins Regional Park, the annual light festival is a drive-through event in which families can witness 2.5 million bright lights from the comfort of their vehicles. If you go on Christmas Day, admission, which is usually $10 per car, is free. Where else will you see a 54-foot LED musical tree?
Last-Minute Shopping at the Downtown DC Holiday Market
Open through December 23, 2019, the start of Christmas break, the Downtown DC Holiday Market has it all—food, fun, and entertainment. Consider it part concertgoing experience, part indulging in German gingerbreads and Peruvian-style empanadas, and part browsing the creations of more than 150 regional artists. More than a shopping adventure, this is a great family outing.
Explore Wegmans Wonderplace
Located in the National American History Museum, Wegmans Wonderplace is perfect for younger kids, who will love to explore kid-sized real life, including going to the market, tending to the chicken coop, and cooking in a mini Julia Childs' kitchen.
Experience Wild Animals and Holiday Lights at the National Zoo
Take the family to see the thousands of animals at the zoo and stay for ZooLights, the annual holiday lights spectacular that runs through January 1, 2020. Activities range from light shows to train rides and special performances. Children will be delighted by countless glowing animal lanterns and strolling through thousands of reflecting lights.
Story Time at the National Art Gallery
Spend the day enjoying story time in an artistic setting. After story time ends, children will enjoy playing and continuing to learn about inventors, athletes, presidents, and other influential people.
Go Ice Skating at Washington Harbour Ice Rink
Bundle up, head outside, and take to the ice at the outdoor ice rink at Washington Harbour, where a picturesque fountain turns into DC's largest outdoor skating rink for the winter.
RELATED: Free Holiday and Christmas Events for DC Families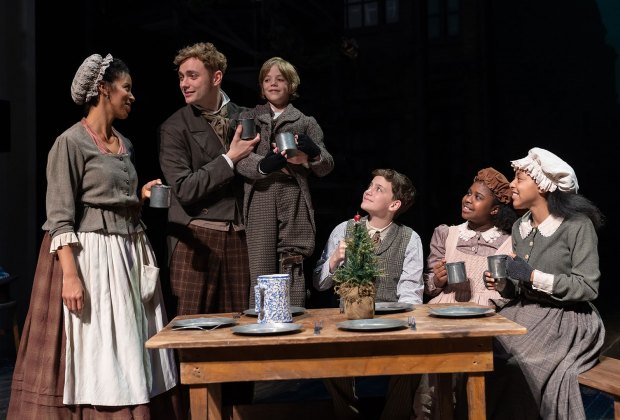 Enjoy the Dickens classic A Christmas Carol with the family at Ford's Theatre. Photo courtesy of Ford's Theatre
Enjoy Theater as a Family With A Christmas Carol
Playing at Ford's Theatre until December 31, 2019, families can enjoy the quintessential holiday production of A Christmas Carol. Add memories and joy to your season with this music-infused production that celebrates the past, present, and future.
Celebrate Kwanzaa with History, Art, and Dance
Enjoy this family-friendly event at Smithsonian's Anacostia Community Museum on December 27, 2019 with music, dance, arts, and crafts. The audience is encouraged to participate in the program, which features colorful costumes and lively characters designed for young children and adults alike.
Indulge in a Sweet Gingerbreadpalooza
Follow the gumdrops to Tudor Place for a family-friendly, gingerbread house-crafting palooza. Following a brief, kid-friendly architecture tour and story time, participants design their own gingerbread houses, cottages, or mansions. Register early as this event tends to sell out.
Take Time to Smell the Flowers at the U.S. Botanic Garden
Warm your body and your soul during the holidays with America's diverse and beautiful public gardens. The multisensory Season's Greenings exhibits feature plant-based recreations of conservatories, fountains, and sculptures.
Roast Marshmallows and Ring in New Year's Eve
Forget sitting home on the couch. Count down to "midnight" (noon) at Locust Grove Nature Center on December 31. Make noisemakers and illustrate new resolutions, and warm up by a cozy campfire while indulging in s'mores.
Welcome a new year and celebrate through the arts. Retail stores, museums, and public buildings are transformed into performance venues to showcase area talent. Perfect for kids and families, First Night Alexandria rings in the New Year with more than 100 performances, as well as clowns making balloon sculptures, face painters, and magicians.